We didn't think it was possible but it seems the temperatures outside are set to rise again as the week draws to a close.
For people commuting to work or setting off for a weekend staycation, the last thing you want is a heatwave-induced disaster en route. So, here are some tips from the RAC, Rail Delivery Group and (for those venturing to the capital) Transport for London, to help get you there safely.
The underlying theme is: don't forget your bottle of water.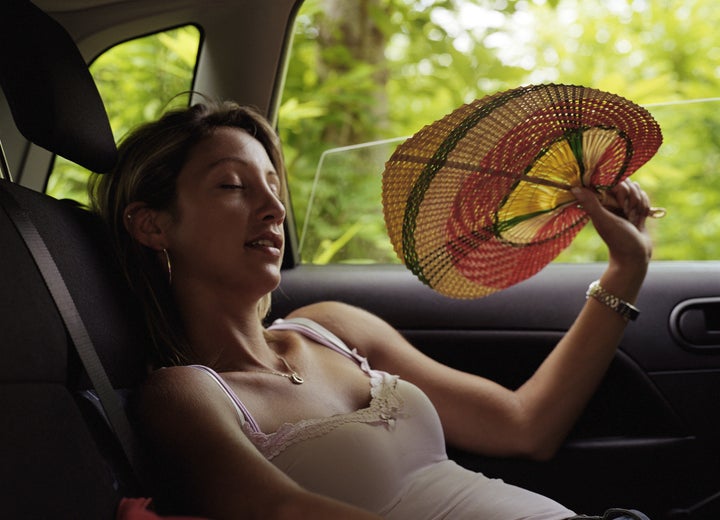 Advice for drivers
"Driving in very hot weather can cause serious concentration difficulties, particularly for those making longer journeys who aren't fortunate enough to have air conditioning," RAC spokesperson Simon Williams tells HuffPost UK.
"It is very important to stay well hydrated when driving long distances in hot cars to ensure you are fully focused on the road. It is therefore advisable to travel with plenty of water, both for the journey itself and just in case you are unlucky enough to breakdown."
While good vehicle maintenance is essential at all times, it is even more important to be vigilant in extreme temperatures, so make sure your car has the right amount of coolant and oil before setting off. Williams also recommends checking tyre pressures and tread, ensuring you have enough screenwash and checking the wipers are in good condition, so you can keep your windscreen clear of muck and dead bugs.
Advice for people on trains and buses
Paul Plummer, CEO of the Rail Delivery Group, which represents the rail industry, says: "This week could see some of the hottest weather of the year so we would advise people travelling by train to carry a water bottle and if they feel unwell, get off at the next stop where a member of staff will be happy to help." The same logic should be applied to those on buses too.
Popping a bottle of water in the freezer the night before travelling might help as the water will then slowly defrost throughout your journey. If you feel hot, you can keep your wrists and neck cool using the water bottle.
Try and reserve seats before travelling and if you're on a train or bus without air-conditioning, position yourself near an open window. It might also be worth packing a small picnic (if you're going to be travelling for a while) to keep your energy levels up.
Advice for people using London transport
Again, the key advice is to carry water at all times. A TfL spokesperson also urged people to offer a seat to those who may need it; and for those who feel ill to contact a member of staff at the next station.
There are 192 air conditioned trains serving 40% of the network. These are on the Circle, District, Hammersmith and City, and Met lines. The majority of the London Overground is also air-conditioned - so you might want to alter your trip to travel on some of these.
If you're not able to travel on one of the cooler lines, try positioning yourself near one of the windows at either end of the tube carriage to get a breeze.
"All of our buses have opening windows and all new double-deck buses use air cooling systems," TfL's spokesperson adds.
"We completely understand that travelling can be uncomfortable during periods of hot weather and are investing millions of pounds to make the Tube and buses cooler for customers."