Boris Johnson has said "a body of information" suggests the Ukraine airliner that crashed in Tehran was shot down by an Iranian surface-to-air missile and "may well have been unintentional".
The UK prime minister made the announcement after US officials and the Canadian leader Justin Trudeau said Iran looked to have been involved in the downing of the Ukrainian International Airlines Flight 752.
But the head of Iran's Civil Aviation Organisation denied the "illogical rumours" that the airliner had been hit by a missile. It initially blamed a technical issue.
In a statement, Johnson said: "There is now a body of information that the flight was shot down by an Iranian surface to air missile. This may well have been unintentional.
"We are working closely with Canada and our international partners and there now needs to be a full, transparent investigation."
Johnson also confirmed four Britons died in the plane crash, up from the earlier reports of three.
The three known British victims included engineer Sam Zokaei, from Surrey, Saeed Tahmasebi Khademasadi, from west London, and Mohammad Reza Kadkhoda Zadeh, from near Brighton.
Johnson's words were echoed by Canadian prime minister Trudeau, who said at a press conference that evidence indicates an Iranian missile downed the jetliner and that the strike "may have been unintentional".
Trudeau said Canadian and allied intelligence supports that. At least 63 Canadians were on the plane.
Earlier, it was claimed the plane was accidentally brought down by an Iranian missile, according to two Pentagon officials and an Iraqi intelligence official.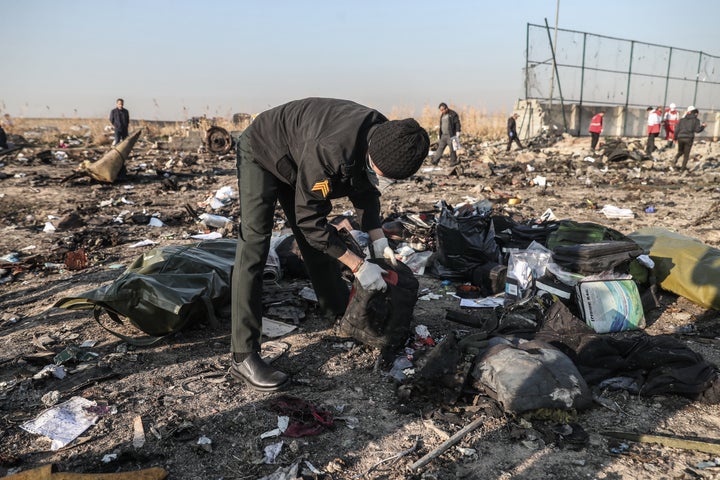 Newsweek reported the flight that crashed just outside Tehran late on Tuesday was struck by the Russia-built Tor-M1 system also known as Gauntlet.
The two Pentagon officials told the magazine that the tragedy was accidental.
Reuters also cited US officials as it reported the plane was most likely brought down accidentally by Iranian air defences.
One US official said US satellites had detected the launch of two missiles shortly before the plane crashed, followed by evidence of an explosion.
Two officials said Washington believed the downing of the plane was accidental.
The Associated Press quoted two US officials saying it is "highly likely" an Iranian anti-aircraft missile brought down the passenger plane.
The crash occurred soon after Iran launched missiles at military bases housing US troops in neighbouring Iraq amid a confrontation with Washington over the drone strike that killed an Iranian general last week.
The Ukrainian International Airlines Boeing 737-800, flying to Kiev and carrying mostly Iranians and Iranian-Canadians, crashed shortly after taking off from Tehran's Imam Khomeini airport, killing all 176 people on board.
On Thursday, a Downing Street spokesperson said prime minister Johnson pushed for the facts to be established in a phone call with Ukrainian president Volodymyr Zelenskyy.
The spokesperson said: "The prime minister said that there needed to be a full, credible and transparent investigation into what happened."
US president Donald Trump suggested he believes Iran was responsible and would not directly lay the blame on Iran, but dismissed their claims that it was a mechanical issue – and denied any US responsibility.
"Somebody could have made a mistake on the other side," Trump said, noting the plane was flying in a "pretty rough neighbourhood".
"Some people say it was mechanical," Trump added. "I personally don't think that's even a question."
The semi-official news agency ISNA reported the head of Iran's of Civil Aviation Organisation, Ali Abedzadeh, saying: "Scientifically, it is impossible that a missile hit the Ukrainian plane, and such rumors are illogical."