The number of people applying for the universal credit welfare payment has surged in the two weeks since Boris Johnson put the UK into lockdown, with 950,000 attempting to get hold of the benefit.
The total in the aftermath of the drastic move to curb the spread of coronavirus is more than nine times higher the usual 100,000 applicants for a two-week period.
The surge reflects falls in income as well as unemployment as firms go bust or lay off staff because they cannot afford to wait for the governments's bail-out scheme.
As businesses, shops, restaurants and bars are closed, the government has offered to pay 80% of employees' wages if their company keeps them on - but there is no incentive for an employer to apply for this.
A YouGov survey on March 24 found that one in 20 people in Britain had already lost their job due to coronavirus.
A spokesman for the Department of Work and Pensions said: "With such a huge increase in claims there are pressures on our services, but the system is standing up well to these and our dedicated staff are working flat-out to get people the support they need."
Universal credit is a benefit for working-age people that includes jobseeker's allowance, housing benefit and child tax credit.
Claimants wait five weeks for a first payment after applying for the benefit but can take out an advance loan to help during this time.
The seismic shift in the UK comes after the number of Americans filing for unemployment benefit shot up to a record high of over three million in the week ending March 21, dwarfing the previous peak of 665,000 in a week in 1982.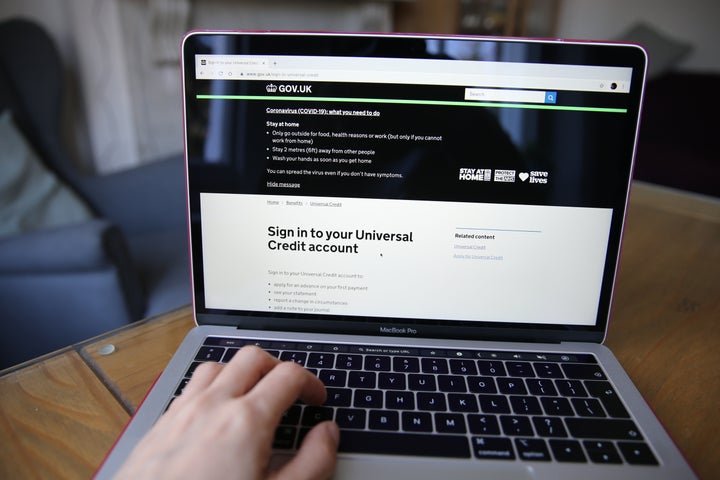 Labour's shadow work and pensions secretary, Margaret Greenwood, said: "The number of people now trying to claim universal credit is truly shocking.
"The government must wake up and take action, not leave people waiting days to verify their identity and five weeks to get the support they need.
"Advances are not the answer to the five-week wait, they are loans that have to be paid back, and nobody knows how long this crisis will last for. People need help now."
Meanwhile, the Salvation Army has called for advance payments for Universal Credit claimants to be given as grants, not loans, to prevent a "coronavirus debt crisis".
The Salvation Army said this could plunge thousands of citizens into debt, calling it a "point of critical failure that the government must address".
Since the Covid-19 outbreak, the Department for Work and Pensions (DWP) has seen a surge in benefits claims, with almost 950,000 new claims since March 16.
Rebecca Keating, the Salvation Army's director of employment plus, said: "The universal credit loan system could cause a coronavirus debt crisis.
"Thousands of people who never thought they would have to rely on state support are now making a universal credit claim.
"Many of these will be forced to take out the bridging loan which will just move their money problems five weeks down the line.
"We are particularly concerned by those working on zero hour contracts that don't have the same legal rights of other employees.
"Many will not have a financial safety net to help avoid getting into debt straight away."