Muslim and Arab-Americans have expressed fears for their safety in the wake of Donald Trump's shock victory in the US presidential election and expect to suffer "worse" abuse than they were subjected to in the days after the 9/11 attacks.
While the financial and political ramifications of Trump's win were instantaneous, another Brexit comparison was made for the coming days which was far uglier. In the days and months after the June referendum hate crimes surged in Britain.
Racially and religiously aggravated alleged offences recorded by police in July were 41% higher than in the same month last year.
TellMama, a hate-crime reporting charity in the UK, told the Huffington Post UK that the US election result is a victory for "hate".
"Today in America, the politics of hate have trumped love."
The charity said it had "battled" tirelessly for the last five years to combat anti-Muslim hated in a "climate where extremism, terrorism and the press, have fuelled anti-Muslim sentiment", and Trump's victory had made that fight "much, much harder".
"Make no mistake. What happens in America will seep into our country and will start to shape the narrative in the UK."
The group on Wednesday retweeted a message of support for its work which summed up a sentiment being widely expressed.
It also retweeted comments by MP David Lammy calling for people to not feel "lost, heartbroken and helpless" and instead galvanise and not "give up".
Amongst the fear and loathing, however, there were calls for Muslims to "stand strong".
Tell Mama added to the Huffington Post UK that the "future is very uncertain" but implored people to safeguard it by working together.
"We must pin our futures on our values and our desire to value each and every person. Around that, we will either succeed or fail."
The charity went to criticise the UK government's "half-hearted" approach to tacking anti-Muslim hatred.
"The problem of anti-Muslim hatred has been growing and they have left organisations in the field hampered by bureaucracy, slow decision making, little investment and as though they are doing us a favour.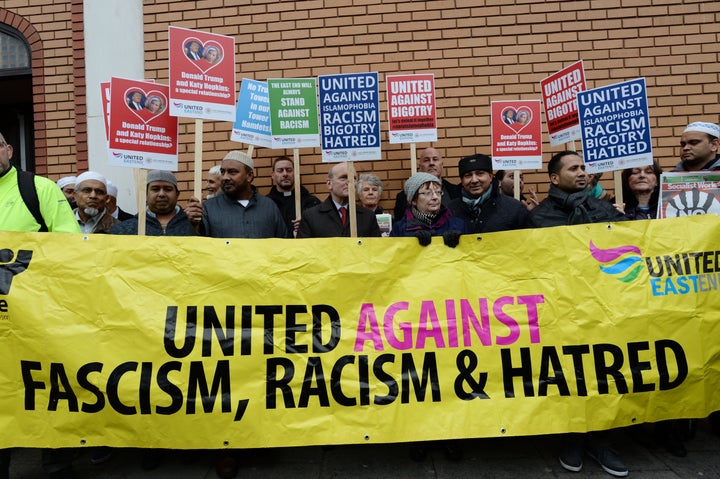 "We as Muslims in the UK are not second class citizens and we do not carry the stain of Daesh or Islamist extremism on the vast majority of British citizens who happen to be Muslim. We are equal citizens, giving to this country, patriotic and driven by a desire of care for others."
Tell MAMA called on those who want to see a "better world" to mobilise and "energise and activiate with campaigns".
"To Government we say simply – wake up! And to groups that advocate for pluralism and human rights we say – we stand with you or we go down with you in this toxic world of blame we are seeing grow".