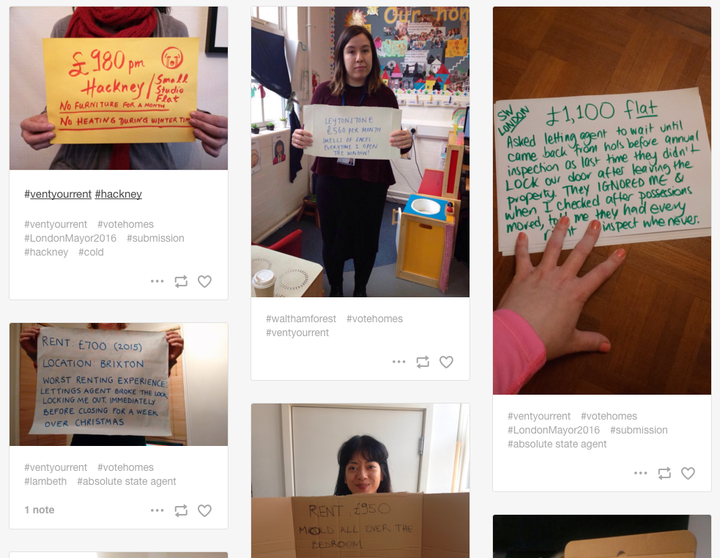 London's housing crisis has been laid bare by a campaign which casts light on shocking conditions and sky-high rent prices.
#VentYourRent began trending on Tuesday night, as hundreds of Londoners shared their stories of squalor.
Alongside their monthly rent payment, those venting their anger noted the conditions of their homes.
"No direct sunlight, smelly mould," one wrote.
"Bedroom roof fell in," another claimed.
One in six rented homes are physically unsafe, despite councils having a legal obligation to correct problems.
Young people were among those sharing horrific stories of living conditions.
London's housing crisis has been a central theme of the current mayoral election campaign.
Meanwhile his Labour rival, Sadiq Khan, says he will make housing his single biggest priority and build thousands more homes every year.
A government spokesman said: "We're determined to create a bigger, better private rented sector that meets the needs of tenants and encourages investment in quality homes for rent.
"That includes cracking down on rogue landlords with more than 40,000 properties already inspected and over 3,000 landlords facing further enforcement action or prosecution.
"We're also introducing banning orders, fines and blacklists. This is backed up by £12million for councils so they can bring an end to tenants living in terrible conditions in the name of profit.
"We are doing all this without the need for excessive state regulation that would destroy investment in new housing, push up prices and make it far harder for people to find a flat or house to rent."
Popular in the Community