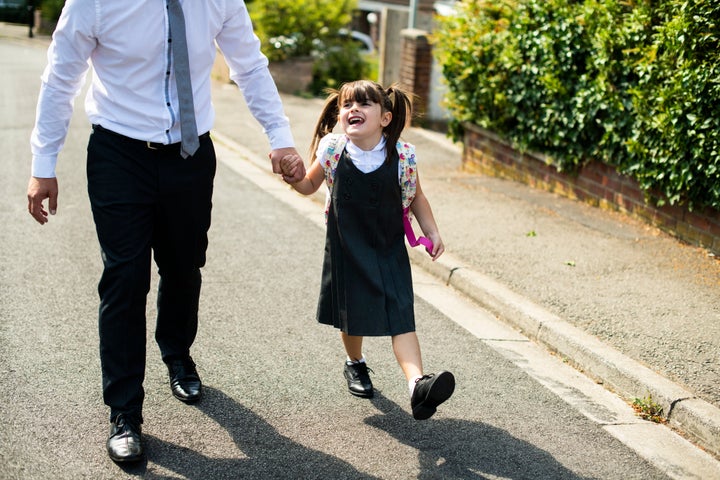 Half of parents are perfectly able to walk their children to school, but resort to driving them instead.
A survey of 2,000 parents, commissioned by the British Lung Foundation to mark World Car Free Day on 22 September, found worries about safety, time constraints and poor public transport were just some of the reasons why parents use their car on the school run.
Three in 10 said driving makes it easier to head to work directly after dropping their kids off, but nearly a third said they could also walk their work commute.
Here's some motivation for making a fresh start on Monday morning.
It's good for the environment...
Walking (or cycling) to school and work is a much more sustainable way to travel, reducing traffic and omissions. And there's evidence to prove it: research shows air pollution dropped by 89% on some sections of the London marathon route in 2018 when large parts of London were closed to traffic.
And, in June 2018, researchers at the universities of Oxford and Bath estimated that air pollution from cars and vans racks up health bills of nearly £6bn every year in the UK. The scientists concluded the health cost of an average car in inner London over the vehicle's lifetime was nearly £8,000. For diesel cars, this figure was nearly double.
Air pollution is linked to about 40,000 premature deaths each year in the UK, compared with 98,000 preventable deaths a year attributable to smoking, the report said.
But it's also good for physical and mental health.
Walking for just 10 minutes a day is recommended by the NHS, because of the health benefits that come with it. It's often overlooked as a form of exercise, but is an easy and simple way to keep your kids active. It builds bones and muscles, and helps kids grow up healthy.
It also improves stamina, reduces stress, lowers blood pressure, and boosts the immune system for 24 hours.
A daily walk can also do wonders for your child's wellbeing – walking is said to improve self-perception and self-esteem, mood and sleep quality, and reduce stress, anxiety and fatigue.
The benefits are two-fold, so if it's an option for your family, why not try and walk to school and work on Monday?
It might not be feasible every day of the week but even if you opt to walk just once a week, it's a small change that could make a big difference over time.