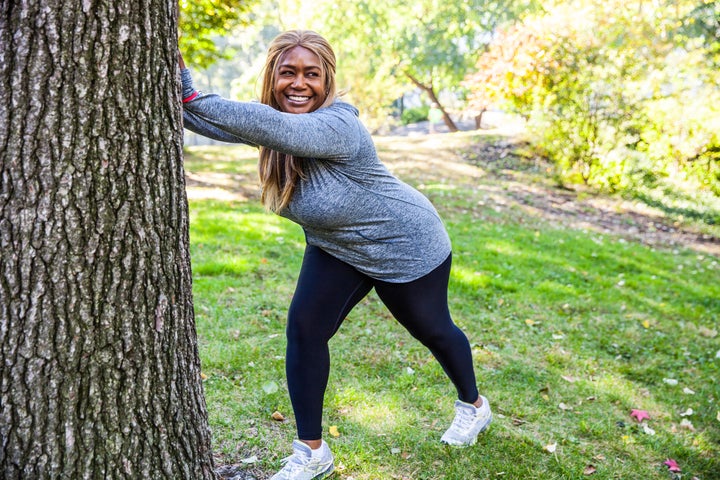 It's never too late to improve your fitness, but according to Sport England, 25.6% of the population are classed as "inactive", meaning they do less than 30 minutes of exercise each week.
If you're one of these 11.5 million people, it's normal to feel daunted about the prospect of starting to exercise, but Kate Dale, who heads up Sport England's This Girl Can campaign, says it doesn't have to stay that way.
"Remember that it's all relative - if you're currently not very active you don't have to suddenly start doing one hundred press-ups a day or committing to five mile runs," she tells HuffPost UK.
"Little things really do make a difference – it could be as simple as going for a brisk walk for 10 minutes or dancing round your living room to three or four of your favourite tunes.
"It's about finding activities you enjoy doing in a setting you feel comfortable in – or at least don't hate – and focusing on the short-term benefits they bring."
According to Dale, as well as improving your physical health, benefits of exercising can include more energy, better sleep and an improved mood.
"Don't worry about what other people think, this is about you," she says. "Some people like to set goals and share these widely with friends and family, others prefer to keep it to themselves. Whatever works for you is the right way.
"And remember that starting and then stopping is quite normal, so don't beat yourself up, just get back on it or find something else to keep you going."
Not sure where to start? Here are five ideas to get you on your way.
1. Go for a walk.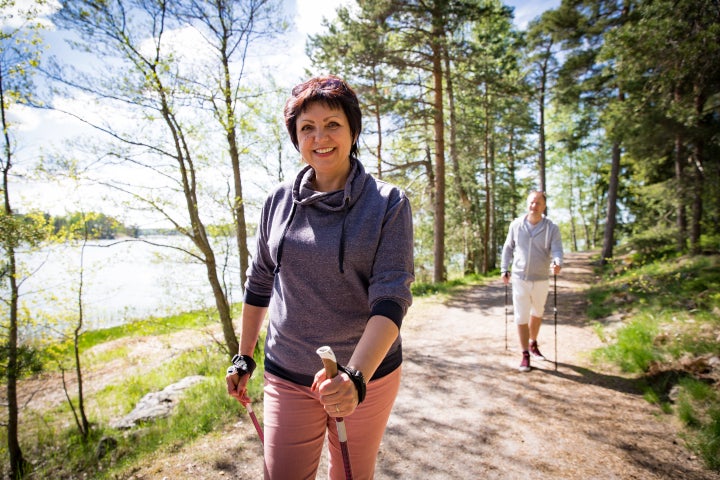 Getting up from your desk and going for a brisk lunch time walk is a simple, equipment-free way to up your fitness - and it won't cost you a penny.
It's recommended that we try to walk around 10,000 steps per day, but don't let the large figure put you off.
If you're new to pounding the pavements, gradually increase the amount of steps you do by extending your walking route in small chunks. By adding 10 minutes here and 10 minutes there, you'll hit that 10,000 in no time.
You can track how many steps you take each day by buying a pedometer or downloading an app to your smart phone.
You could even consider joining a local walking group to meet new people and stay motivated, or try Nordic Walking, which involves walking with poles. Find walking groups in your area here.
2. Give running a try.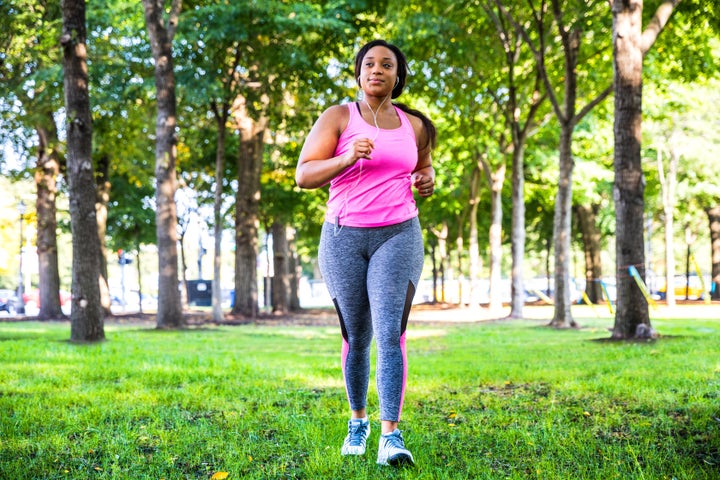 For a faster entry into the world of fitness, why not try running? The NHS-backed plan 'Couch to 5K' is designed to help complete beginners get off the sofa and start running in just 12 weeks.
The plan can be downloaded for free, but before you get that far, be sure to invest in some comfy, supportive trainers. Staff at your local sports shop will point you in the right direction if you're unsure what to buy.
The plan breaks running down into manageable steps. For example, week one begins with a brisk 5-minute warm up walk, then you will alternate 60 seconds of running, with 90 seconds of walking, for a total of 20 minutes.
Signing up to a group 5K at the end of the 12 weeks can be great for motivation. We'd recommend checking out Park Run, for an unintimidating run focussed on community, welcoming all ages and abilities. Find your local Park Run group and sign up for free on the Park Run website.
3. Head to the pool.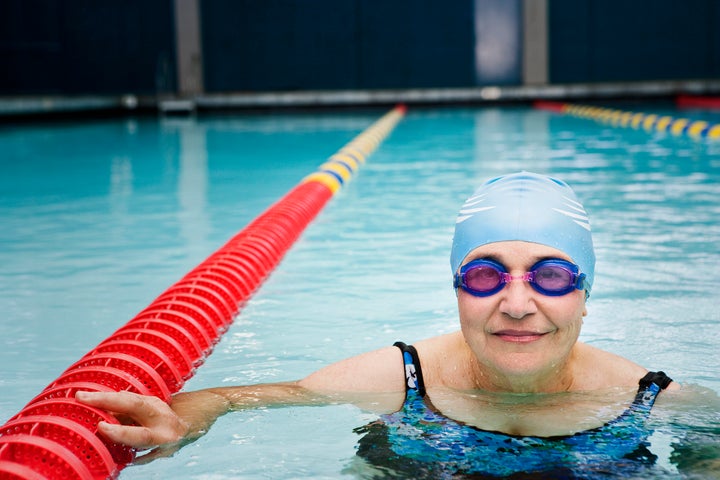 If you haven't exercised for a while, or are completely new to it, swimming can be a good option because it's easier on the joints than many land sports.
All you need to get started is a swimsuit (and possibly some goggles) and if you're feeling self-conscious, most pools are happy for visitors to wear a coverup such as a t-shirt. Email your local pool in advance to check their policy.
Like walking and running, the key to improving your fitness in the pool is gradually increasing the challenge.
Start off in the slow lane with a low-impact stroke (such as breaststroke) and aim for half a length, or even a quarter, then take a rest - you can build on the distance each session.
Keep close to edge if you're feeling nervous or boost your confidence with an adult swimming lesson. Google classes in your local area for details.
4. Find a local aerobics class.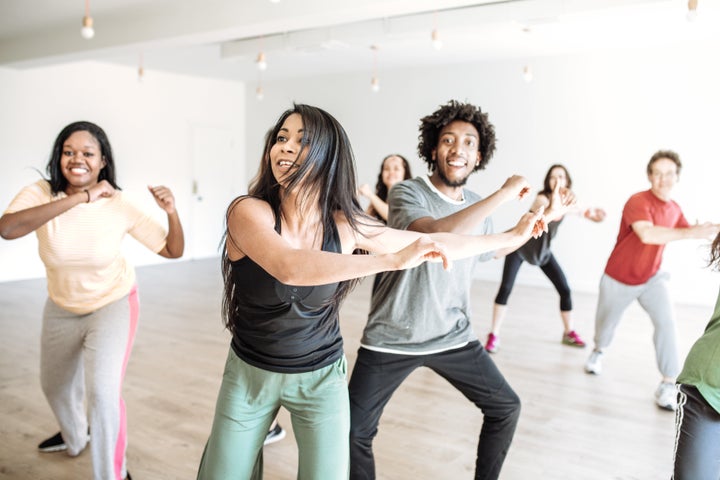 Exercising to music can be a great way to keep your motivation up and there are a variety of aerobics classes up and down the country to try.
The majority of classes will cater to all levels, with instructors demonstrating moves at level one (lower intensity) and level two (higher intensity).
For simple moves with salsa vibes, grab your pals and head to Zumba. Sessions are held in almost every town hall in the UK, so check the website to find your local group. Active older adults can also try Zumba Gold, which recreates the original moves at a lower intensity suitable to over fifties.
Alternatively Clubbercise runs sessions nationally that are conducted to club classics in the dark, illuminated by the dim light of glow sticks.
The low-level lighting is perfect for anyone feeling self-conscious because if you make a mistake, no one can see you. It also creates an instant party atmosphere, meaning you'll spend as much time laughing as dancing.
5. Try the local gym.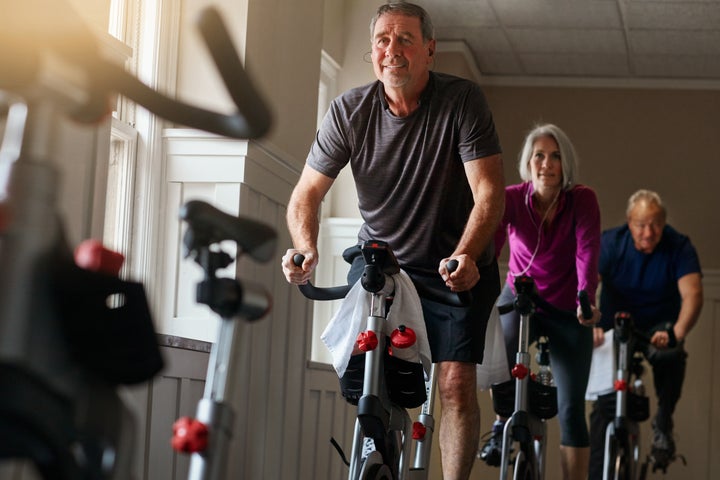 Gyms are not just for die-hard fitness fans, but first things first, don't tie yourself into a year-long contract before you've tried out your local gym. Many venues offer trial day passes, or better yet, contract-free packages, which allow you to cancel at any time.
Once you've found a gym you like the look of, be sure to book in an induction where you'll be shown how to use the machines. Most gyms will also offer a personal trainer session, l who can advise you on the best exercises for your fitness level.
Personal trainer Dom Thorpe recommends giving the treadmill a miss for your first session and focussing on "full body strengthening exercises such as squats, lunges, press ups or even the resistance machines in the gym".
"Try performing three sets of 15 repetitions initially and give yourself around a minute to recover between sets. As you get more comfortable, reduce the recovery time and up the weight accordingly," he tells HuffPost UK.
He adds remembering to warm up and cool down is essential to staying free of injuries.
"A good warm up should consist of dynamic movements - such as arm swings, leg swings, bodyweight squats or shoulder rotations - which gradually raise your heart rate, increase blood flow to the relevant muscles and imitate the movements which you're about to do during your exercises," he says.
"Your cool down is the time to gently stretch the muscles tha you've worked. Hold your stretches for 10-30 seconds for each muscle group."
For more inspiration on entry-level exercise, check out the activity finder on This Girl Can.