Pub giant JD Wetherspoon has come under fire for sending copies of its Brexit-themed magazine to potentially thousands of homes across the country.
The chain usually only makes its free quarterly newsletter available in its pubs, but has now taken the step of directly mailing an edition that features articles about the UK leaving the European Union to "stimulate debate", HuffPost UK has found.
Wetherspoon boss Tim Martin is a staunch Leave campaigner and has been touring the country arguing in favour of Brexit. Those who have received the publication have raised concerns over the magazine pushing a pro-Brexit agenda, with some describing it as "propaganda".
It is unclear how many copies in total have landed on doorsteps, though the front cover boasts the magazine is read by two million customers.
Wetherspoon is the UK's biggest pub chain, operating around 900 outlets.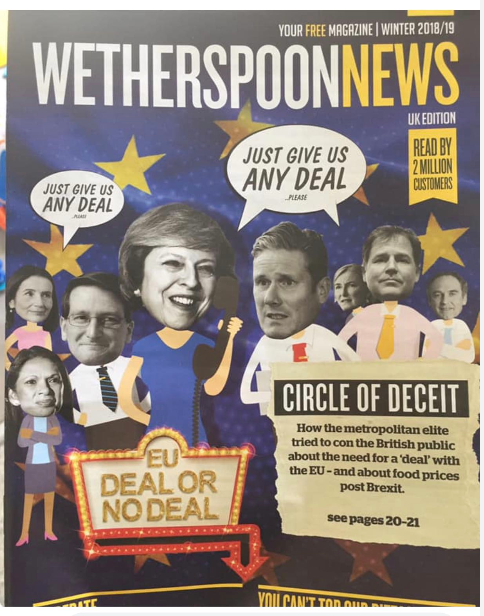 A Twitter user called "Dave" wrote: "So another day, and *another* right wing propaganda magazine from Wetherspoons has been posted through my door! I live in a very working class area which voted leave (idiots), and feel this saturation (like a Wetherspoons carpet) is deeply unpleasant and clearly manipulative".
The latest Wetherspoon News issue also landed in Sara Romeo's home. She said: "Just received a Wetherspoons magazine on the post with a proBrexit article according to which the socioeconomic situations of Greece and the UK are comparable and the (bulk) buying power of a pub chain and individuals is the same. Embarrassing."
Eddie Gershon, a spokesman for Wetherspoon, said the magazine contained pro- and anti-Brexit articles. He told HuffPost UK: "The Wetherspoon magazine is available in the pub and this edition has additionally been sent out via Royal Mail.
"It is not the first time that magazine editions have been mailed out to people, but it is the first time with Brexit articles in.
"The reason for doing it this way is because Wetherspoons is not on social media; a lot of discussion takes place on social media and Wetherspoon wanted to put out the magazine with pro and anti Brexit articles to stimulate debate."
Last year, the pub closed down all its social media accounts for its branches and head office following following concerns over the misuse of personal data and the addictive nature of social media.
The current edition of magazine contains over 100 pages – 90% of which are filled with reports and features about its venues and customers. It consists of eight pages relating to Brexit with articles both for and against it.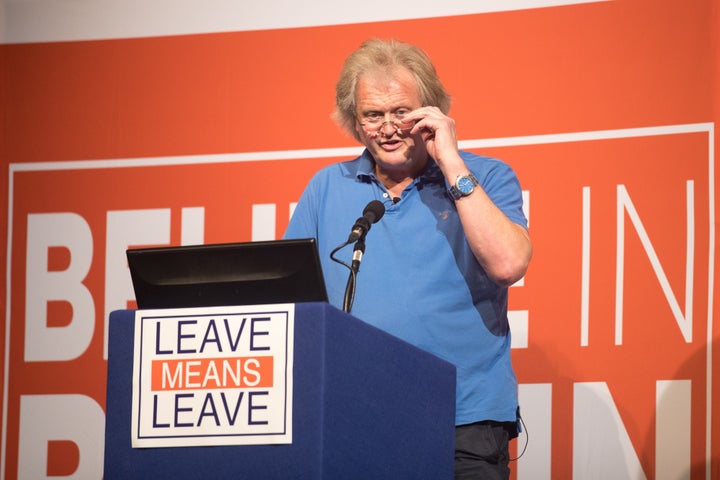 On Sunday, Wetherspoon staff, under the collective Spoons Workers Against Brexit, launched a petition urging their boss to "withdraw all pro-Brexit propaganda from the workplace", including beer mats, leaflets, magazines or menus that promote Martin's politics.
According to Gershon, the company "appreciates that not all our staff or customers agree with our stance on putting Brexit-related articles in the magazine", and managers have been advised to inform staff that they are under no obligation to put the magazines out in the pub.
The Spoons Workers Against Brexit Facebook page has attracted over 1,000 followers which organisers say comprise Wetherspoon staff and supporters.
Ahead of the EU referendum, Martin faced criticism for distributing 200,000 beer mats throughout the company, urging customers to vote in favour of Brexit.