Death: for something that's inevitable, we spend a lot of time trying not to talk about it. But a pop-up in a shopping centre has been trying to change that.
The Departure Lounge is a one-stop-shop in Lewisham, south London, designed to lift the lid on the taboos surrounding death, while opening up discussions about dying and how to have a 'good' death.
Created by the Academy of Medical Sciences with public engagement consultancy Liminal Space, it features a departures board with some of the most frequently asked questions about death, plus experts on hand to answer any other queries people have.
Professor Irene Higginson, who is professor of palliative care and director of
Cicely Saunders Institute, King's College London, has been involved with the project, which is coming to an end this week.
Here she shares the seven most common questions from visitors to the Departure Lounge – and offers some answers: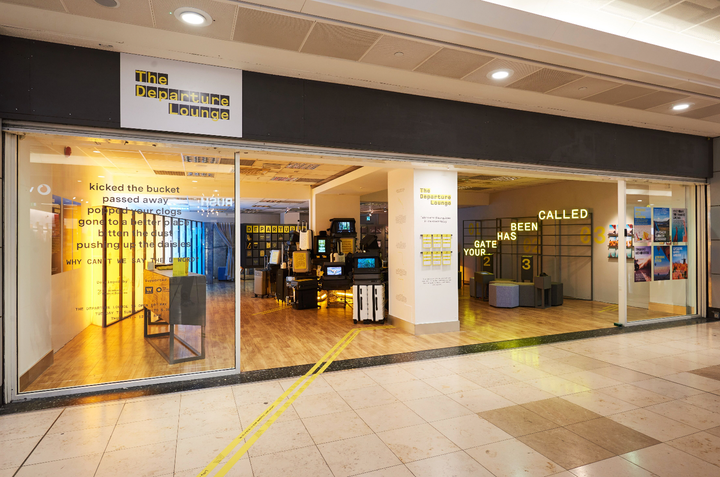 1) What happens when you die?
When someone is dying the body's systems slowly shut down, says Professor Higginson. "Often someone will slip in and out of unconsciousness until their heart quietly stops," she explains. "The actual process of dying is not painful."
The closer you get to death, the more likely your symptoms fade
away, she adds: "More than 85% of palliative care patients have no severe symptoms by the time they die."
2) What is palliative care?
In the later stages of your life, you might have a number of medical problems. Even if these problems cannot be cured, the symptoms you suffer due to them – such as pain, breathlessness, nausea or vomiting – can be alleviated.
Palliative care is the area of healthcare that supports the management of your symptoms, Professor Higginson explains.
3) What is it like to see someone else die?
When a person becomes unconscious, those around them might hear the so-called "death rattle", says Professor Higginson.
"This is an odd gurgling sound caused by the build-up of small amounts saliva in the throat and large airways of the chest," she says. "Although this can be noisy and distressing to hear, especially for family members, it usually causes no discomfort and the dying person is usually unaware of the sound."
4) Who gets to decide what happens to me when I'm dying?
You have the right to make decisions about your care when you are dying, says Professor Higginson. This includes the right to refuse treatments and state your preferences about where you want to receive end of life care – at home, in hospital, in a care home or hospice.
"You can set out these wishes in advance, and it is a good idea to make sure that those most important to you know what your important wishes are," she says.
5) How will people know what I want when I die?
There's no set way to plan in advance, but if you share your wishes about your end of life care, those close to you will know what is important to you.
Here's Professor Higginson's checklist of five things that you might like to discuss with loved ones:
Legal and financial matters

End of life care preferences

How you would like to be remembered

Funeral plans
6) Who will care for me?
The majority of people opt to die at home in familiar surroundings if they are able to. In this instance, you'll be cared for by friends and family with help from community nurses and carers. You/your family will usually need to arrange this support through your GP or social services.
Inpatient hospices are another option and can be used for respite care to give friends and family a break if you don't want to move permanently.
7) How can I pay for my funeral?
You might like to pay for your funeral before you die or leave some money in your estate to cover the cost, otherwise families tend to pay.
One in eight families struggle to pay for funerals and average funeral costs have risen 68% since 2009, with the typical burial now costing just under £5000 across the UK or approximately £7500 in London, Professor Higginson says.
She recommends visiting the following charities and organisations for support if you're concerned about funeral costs:
:: Down to Earth – a charity providing practical support for people struggling to
organise a funeral.
:: The Department of Work and Pensions – which can help to pay some of the funeral costs if the person organising the funeral receives certain benefits or tax credits, such as income support or housing benefit.
:: Beyond - an organisation that lists a range of other groups that might help with
funeral costs on their website, depending on the specific situation.
:: Citizens Advice – has advice on arranging a funeral online. You can also
call their national advice line or walk into your local Citizens Advice centre.