In 'What Works For Me' - a series of articles considering how we can find balance in our lives - we talk to people about their self-care strategies. If you'd like to contribute your story, email us.
A good night's sleep is a distant memory for single mum and business owner Carrie-Anne Roberts. The 27-year-old, who created Mere Soeur, which specialises in creating trendy merchandise for mums, works from home while juggling caring for her three-year-old son, River.
There's no structured 9-5 or even weekends – Carrie admits she often forgets what day of the week it is – it can be hard to establish a routine and she works into the early hours of the morning. She has to wait until River has gone to bed at 7pm before packing orders of branded T-shirts, pin badges, babygros until around 2am, before he's up again at 6.30am.
Averaging five hours of sleep per night doesn't phase her, it's been that way since the beginning. She started the business when River was six months old, when they were still breastfeeding, which meant being awake every two hours. Now, she's grown to a six-figure business and an Instagram following of more than 40,000 people, so things are far from slowing down.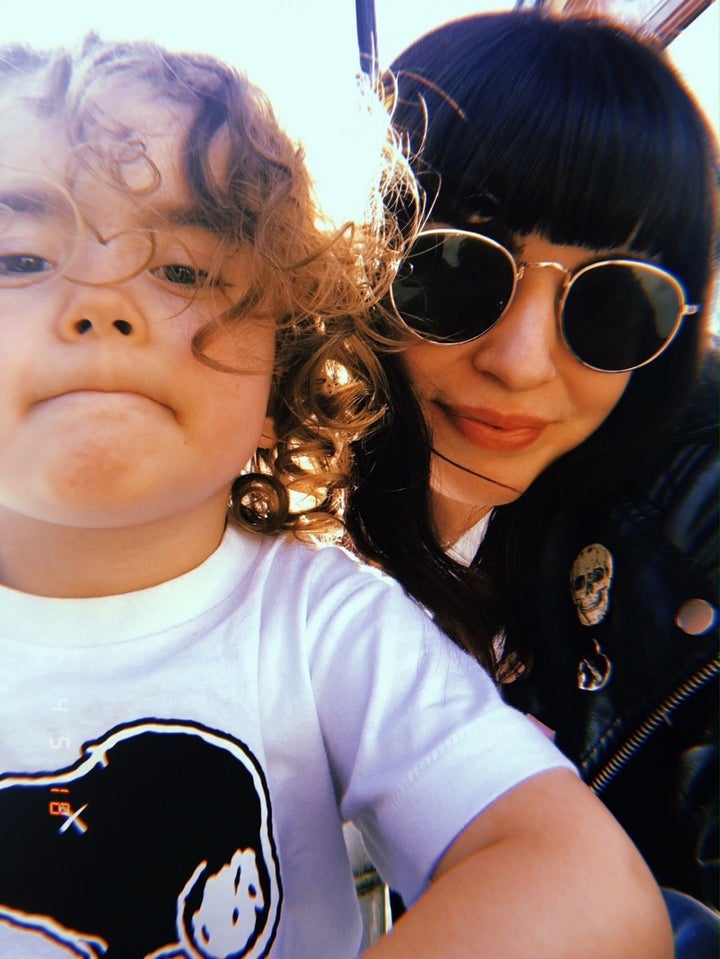 All work and no play is something Carrie's keen to avoid. Being a big kid herself, she's more than happy to escape outside and forget life's responsibilities in favour of fun, if only for a short while. "We walk to the river and look at the ducks, we go to the park, we go to the pub a lot," she laughs. "He loves Yo! Sushi, so we go there for take out, and buy and ice cream, and just walk home."
Reaching that point in the day usually happens around 5pm, but they've been known to do so as early as 10am. "If I just keep trying to push him into making me work or occupying him so I can work, it becomes more stressful than actually just stopping and saying: right we're throwing the rulebook away."
She knows it's time to take a break when she starts getting irritable and short-tempered. "I get snappy and shout at him for silly things that aren't a big deal. I just have to sit in my kitchen a lot and close my eyes and realise that I'm not being normal and I'm overreacting."
Time spent out of the house is not just good for her sanity but also their relationship: "I think it's really important as a single parent to have that time, as you can get caught up with working or doing things you have to do – you forget you need to reconnect." Even if she is exhausted, time out of the house with her son makes her feel good. "It recharges you and validates what you're doing in some way – and you feel better equipped to get stuck in."
Carrie is far from work shy, admitting in the past she's struggled to know when she was overworking. Mere Soeur has grown to a six-figure business, but it's just her doing everything – as such she's burned out on more than one occasion. "It completely wipes me out," she admits. "I get ill, I get colds, I get headaches, I sleep in the middle of the day, I fall asleep on the tube. And you think what you're doing is normal, when actually you're just destroying yourself."
Her tonic? "Being naughty" – an expression adorably borrowed from children's vernacular, which translates to them as "doing all the things you aren't supposed to do".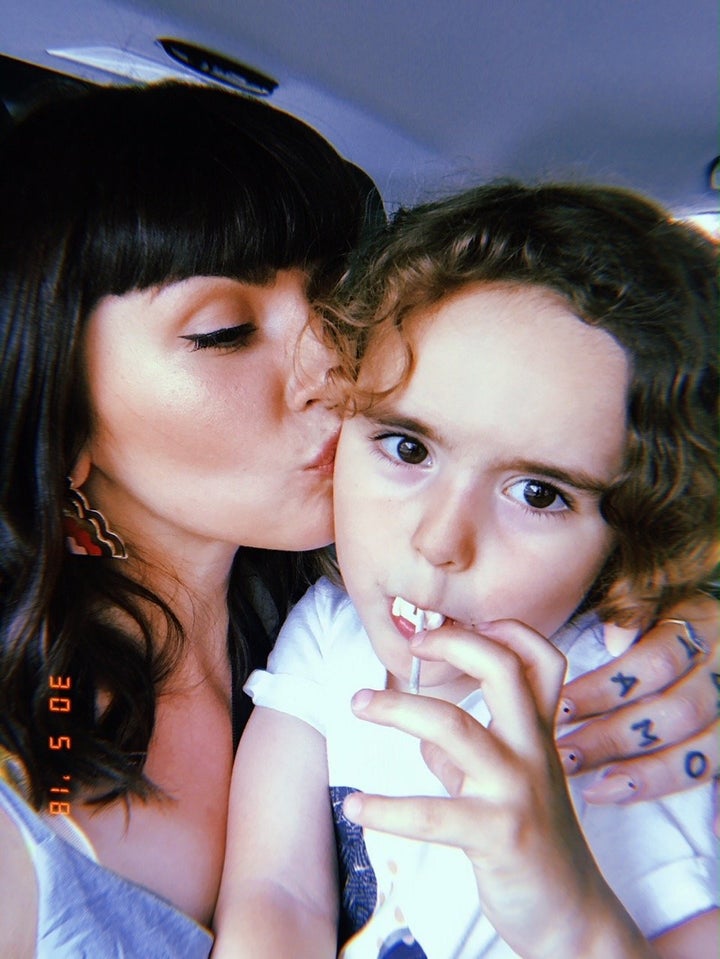 In the past Carrie has been plagued by mum guilt, pressures she puts on herself to be a perfect mum, perfect businesswoman, perfect person. Things such as getting River home for bedtime used to be a source of anxiety for her: "I would get really stressed, that every hour he is awake past bedtime is an hour I can't work. And that would roll over into the next day and that would snowball."
Now, she is much more relaxed: "In the end you have to say 'I can't do it all'. I need to enjoy some time with my child and to take some time out of my house. Because when you work at home and you're a mum at home and do chores at home, everything is at home and you need to get out."
Sometimes limiting screen, no sugar and early bedtimes just isn't possible, she admits, instead they've been known to stay up late and fall asleep watching cartoons or eat ice cream for dinner.
Her job takes the pair all over the country. They recently moved back to Chester, where Carrie was brought up, but spend a lot of their time in London – where River's dad lives in Hackney and because she's often here for work at meetings, speaking at events or taking part in photoshoots. He is also looked after sometimes by her grandparents or her mother, but mostly it's just the two of them.
For this reason, when they take time out together: River chooses what they do. If he wants to have sticky rice and ice cream, they do, if he wants to get a train, she'll ask him where to, and they'll go. "I'm always dragging him around," she says. "This way he understands that he has a say as well. It says: your opinion is important to me. He enjoys that, it gives him a bit of control."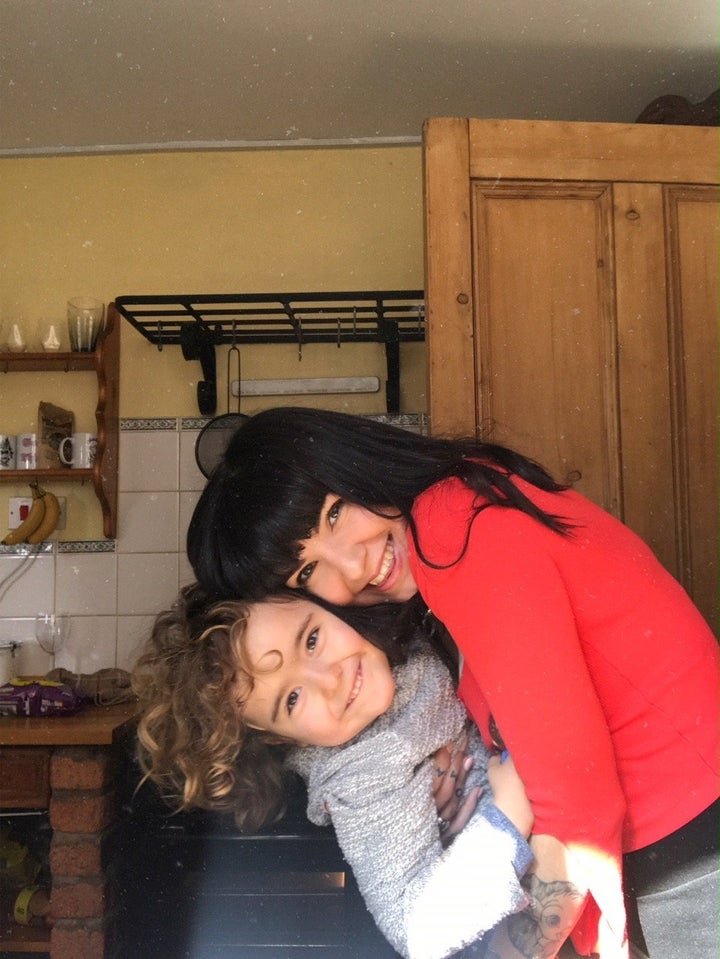 Carrie shares the ups and downs of juggling life as a single parent and business owner – whether that's moments when she's exhausted at home after River has gone to bed or in fits of giggles as the pair run around in the park together.
The reaction to her posts is overwhelmingly positive, with other mums getting in touch to tell her they relate or that she's inspired them in some way.
"I think it's really important [to be honest online] because then people aren't experiencing things on their own. They might be struggling or be difficult. I get messages from people that I've given them hope - especially from newly-single parents because you're trying to deal with a relationship break down and keep everything going - a house, job and stuff. So it's good to see someone else doing it, too."