The aim of face coverings is to reduce the spread of coronavirus. By wearing a mask, you're protecting other people from your germs – and by them wearing one, they're protecting you. This is known as source control.
While there has been debate over how effective mask-wearing is – particularly as people are encouraged to wear face coverings rather than the medical grade masks used as PPE among healthcare professionals – the UK government has concluded that there is some benefit to wearing them.
The Scientific Advisory Group for Emergencies (SAGE) said face coverings on public transport can provide some "small additional protection" to fellow passengers and help people avoid spreading the virus if they're asymptomatic – where they have the virus, but don't have any symptoms.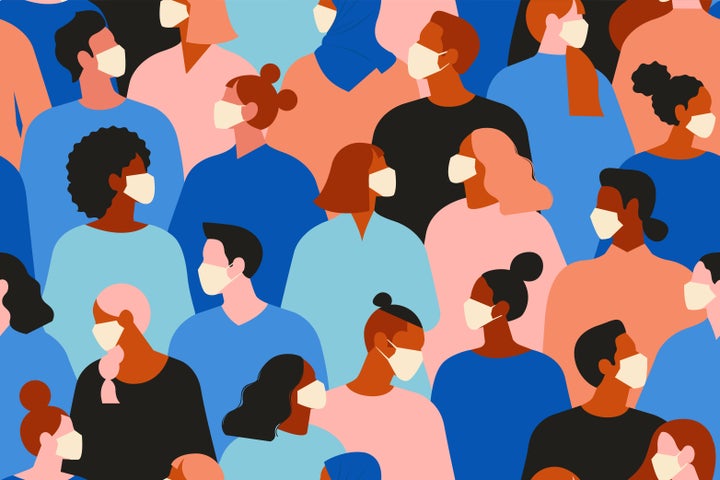 So, where do I have to wear one?
In England, face coverings are compulsory in: shops, supermarkets, hospitals, indoor shopping centres, indoor train stations, airports, ports, and indoor bus and coach stations. The rule also applies to banks, building societies and post offices. It's not compulsory for shop or supermarket staff to wear a covering.
It's also compulsory to wear a face covering in takeaways. But people will be allowed to remove coverings if the place where they've bought food or drink has somewhere to sit down and eat.
In Scotland, it's mandatory to wear face covers in shops and on public transport. A shop is defined as any indoor establishment which offers goods or services for sale or hire. Staff are strongly advised to wear face coverings even when 2m physical distancing is applied. Face coverings must also be worn on public transport including trains, buses, taxis and private hire vehicles, bus stations and railway stations, airports, ferry services and airline services.
They aren't mandatory in cafes, coffee shops, restaurants, pubs, banks and building societies.
In Northern Ireland, all passengers and staff on public transport must wear a face covering. This includes: on bus, coach and train services; in public transport stations; in indoor areas of a ferry and outdoor areas where you can't keep two metres social distance. The rule doesn't apply to tour coaches, taxis or private hire vehicles – that said, some operators may have their own rules you should follow.
Wearing face coverings is advised in places where you can't easily physically distance in Wales, but is not a legal requirement. People are being asked to wear face coverings with three layers of material in situations where social distancing isn't possible.
While shop workers will be asked to encourage compliance, retailers and businesses will not be expected to enforce them.
Those who are exempt from wearing face coverings in shops and on public transport include:
Children under the age of 11 (or under the age of 5 in Scotland)

People who have a physical or mental illness or impairment, or a disability that means they cannot put on, wear or remove a face covering.

People for whom putting on, wearing or removing a face covering would cause severe distress.

People travelling with, or providing assistance to, someone who relies on lip reading to communicate.

People travelling to avoid injury or escape the risk of harm.
If you're using a face covering, make sure you wash your hands or use hand sanitiser before putting it on and after taking it off. And avoid touching your face covering when wearing it, where possible, to avoid hand-to-mask transmission of the virus.