WikiLeaks was forced to remove a contentious Twitter poll asking people to speculate why Hillary Clinton suddenly left a 9/11 anniversary ceremony on Sunday.
More than 6,700 people voted in the online poll, which gave users the option to vote for "allergies and personality", "Parkinsons", "MS" or "Head injury complications" for the reason why the Democratic presidential candidate collapsed at the New York event.
WikiLeaks, founded by Julian Assange, later deleted the poll, saying the possibilities were "too speculative".
Clinton left the memorial event suddenly on Sunday and required the aid of several people as she appeared to stumble into a vehicle after contracting pneumonia.
The 68-year-old was given antibiotics after being diagnosed on Friday, but she became dehydrated at the event in New York yesterday, her doctor said.
Dr Lisa Bardack said in a statement that the former secretary of state had become overheated and dehydrated at the event in lower Manhattan.
"Secretary Clinton has been experiencing a cough related to allergies. On Friday, during follow up evaluation of her prolonged cough, she was diagnosed with pneumonia.
"She was put on antibiotics, and advised to rest and modify her schedule.
"While at this morning's event, she became overheated and dehydrated. I have just examined her and she is now re-hydrated and recovering nicely," the physician said.
A video shared on social media showed Clinton being supported by aides as they helped her into a black van after she departed the memorial event early on Sunday.
The clip appears to show Clinton stumbling before she gets into the vehicle.
The incident comes less than two months from Election Day.
Her Republican rival, Donald Trump, has raised concerns about Clinton's heath, saying she lacks the stamina to be president.
Political commentators have called for Clinton's collapse to be kept in perspective.
Jamie Rubin, who served in the State Department during President Bill Clinton's administration, told BBC Radio 4's Today programme that a double standard exists in the way the press deals with the Democrat and Republican candidates.
Rubin described Trump as a "pathological liar", adding: "The press doesn't know how to deal with that."
"Each time Donald Trump makes a new whooper they're focused on that one and they forget about the last 25," he said.
Rubin said that Clinton had provided more health information than Trump, still has not provided his tax returns - something which every president has provided in the modern era, Rubin said.
"For people to think that (Clinton's pneumonia) is a big issue as compared to the fact that Donald Trump has proposed the most outrageous things... that's important, this is a matter of significance but let's keep it in perspective," he said.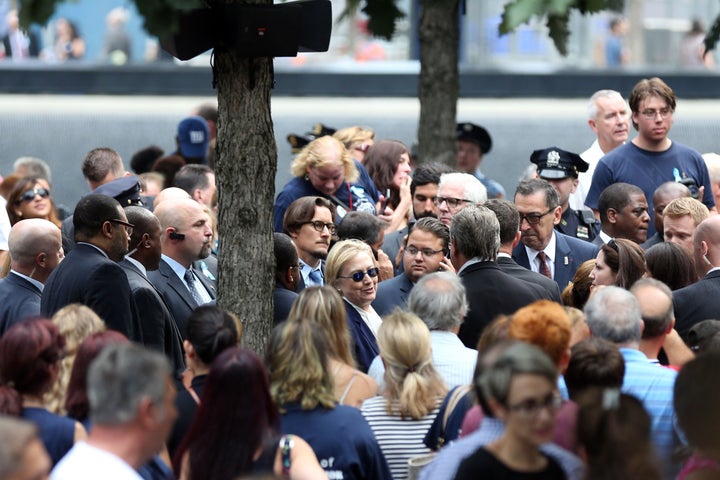 Trump, who is two years older than his rival, has repeatedly insinuated that Clinton is in poor health.
The billionaire property mogul, who attended the same event marking the 15th anniversary of the 9/11 attacks, was noticeably restrained.
There has been little evidence to support claims that Clinton is in poor health.
The former First Lady suffered a concussion in 2012 from a fall that her doctor said was due to dehydration.
As Clinton launched her presidential campaign in 2015, her longtime physician, Dr Bardack, released a statement on her health, saying: "Mrs Clinton is a healthy female with hypothyroidism and seasonal allergies, on long-term anticoagulation.
"She participates in a healthy lifestyle and has had a full medical evaluation, which reveals no evidence of additional medical issues or cardiovascular disease.
"Her cancer screening evaluations are all negative. She is in excellent physical condition and fit to serve as President of the United States."
Last year Trump also released a letter from a doctor late last year, which stated that the businessman's health was "extraordinarily excellent."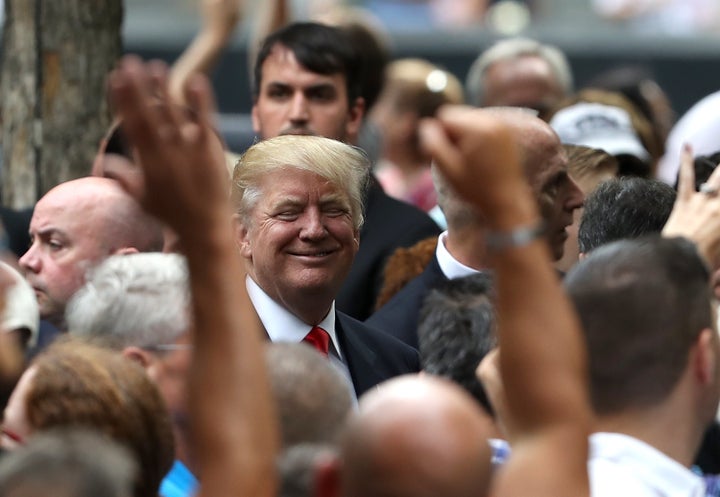 Yesterday's episode took place at a crowded ceremony in downtown Manhattan. According to reports, Clinton departed from the memorial without her accompanying reporters.
The campaign initially declined to tell reporters where she was headed and speculation ensued that she had been whisked away in a health-related episode.
Spokesman Nick Merrill eventually said Clinton had gone to her daughter's nearby apartment, but refused to say whether the former secretary of state had required medical attention.
Clinton exited the apartment on her own shortly before noon. She waved to reporters and said: "I'm feeling great. It's a beautiful day in New York."
After leaving her daughter's, Clinton was driven to her home in Chappaqua, New York, and made no public appearances.
She later called off plans to fly to California on Monday morning for two days of fundraising, campaign events and an appearance on Ellen DeGeneres' talk show.
Clinton spent about 90 minutes at the 9/11 event Sunday, standing alongside numerous other dignitaries.
The weather was warm and humid in New York on Sunday, and there was a breeze at the crowded memorial plaza during the ceremony.