The prime minister will deliver a press conference on Monday evening at which he will set out his plan for step four of the road map out of lockdown.
A delay is widely expected, amid a spike in Covid cases driven by the Delta variant first detected in India.
But there remain questions over how long it will be, whether rules for weddings or other activities could be relaxed, and what a delay means for the government's pandemic strategy.
Here's what we know so far:
What is happening with England's lockdown?
The prime minister met senior ministers and officials on Sunday evening to make a final decision about whether to proceed with the June 21 unlocking.
He is expected to deliver his verdict to the nation during a Monday evening press conference from Downing Street, after racing back from the Nato summit in Brussels.
Will lockdown easing be delayed?
But the smart money looks on the latter with England's chief medical officer Chris Whitty reportedly favouring a longer delay.
Scientists advising the government have also now predicted that the PM will announce a delay on Monday.
Why will the June 21 unlocking be delayed?
The latest figures from Public Health England (PHE) on Friday showed there have been 42,323 cases of the Delta variant confirmed in the UK, up by 29,892 from the previous week.
It estimates the strain is 60% more transmissible compared with the previously dominant Alpha, or Kent, variant, and that cases are doubling every four-and-a-half days in some parts of England.
The Delta variant also now accounts for 96% of new infections.
Johnson said on Saturday that cases and hospitalisations are now going up and that he has "serious concern" about this potentially feeding through to more deaths.
Foreign secretary Dominic Raab said on Sunday that ministers would be looking at whether vaccinations have "broken the link" between rising cases and rising hospitalisations, "not just severed or weakened it".
Professor Andrew Hayward, a member of the Nervtag group which advises ministers on new respiratory diseases, said it was clear the country was facing a "substantial" third wave of the disease.
He said the key issue was the extent to which that led to more people becoming seriously ill and requiring hospital treatment.
But what about Covid vaccines?
More than three quarters (78.9%) of adults have now had their first dose of the vaccine.
But the latest PHE estimates suggest that one dose of Pfizer or AstraZeneca is only around 33% effective against the Delta variant, compared with around 50% against the previously dominant Alpha variant.
Encouragingly though, once people have two jabs the vaccines' effectiveness is only slightly reduced – from around 88% to 80%.
The problem is only 56% of adults have had both jabs, so a delay would give the NHS more time to give more people their second dose, and so reduce the risk of rising hospitalisations that could put the NHS under pressure.
Johnson said on Saturday that "we need to make sure we give the vaccines extra legs."
On the plus side, deaths are still very low, although there is always a lag between rising cases feeding through to more deaths.
Health minister Edward Argar said that if the June 21 lockdown easing were to be delayed for one month, another 10 million second vaccine doses would go into arms in this time.
"Were there to be a delay, were that to be what the Prime Minister announces, we will see what he says and he will make a judgment if he were to delay it on how long by," he told BBC Breakfast on Monday.
"If we are going at a run rate of about 250,000 to 300,000 second jabs being done each day, a month gives you roughly that 10 million, which closes the gap… 10 million you have got to do to get from 29 million to 40 million, so that all 40 million have had their second jabs."
Could a lockdown delay last longer than four weeks?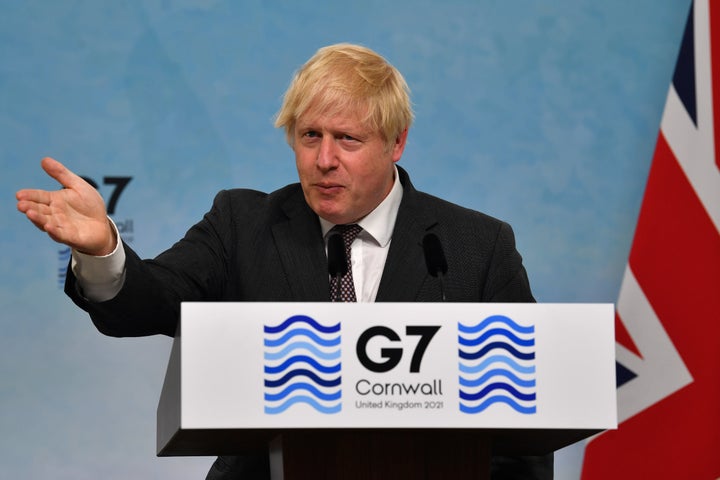 Foreign secretary Dominic Raab meanwhile said that unlocking needed to be "irreversible" and so the government needed to proceed "carefully and cautiously".
"We don't want to yo-yo back in and out of measures," he said.
He also refused to rule out the possibility that restrictions could stay in place beyond the end of July.
"We want to be irreversible so we have just got to be careful that we are there in terms of data," he said.
Professor Stephen Reicher, a member of the Scientific Pandemic Insights Group on Behaviours (Spi-B), has meanwhile warned that there is a risk the Covid situation could go "backwards".
He called on the government to provide more financial support to help people self isolate to stop the spread of the virus.
Could there still be some relaxation of Covid rules?
HuffPost UK last week revealed that Michael Gove said he would "bet" on some kind of "relaxation" of restrictions.
Reports suggest that Johnson may delay most of the roadmap, but lift the cap on the number of people who can attend weddings, which is currently at 30.
The PM may also choose to relax rules around attendance of large events to enable at least half-full stadiums at Euro 2020 games hosted at Wembley, including the final.
Will there be a backlash?
Polling by Opinium suggested broad public support for the government's approach, with 54% in favour of a delay and 37% against.
But there is frustration among some Conservative MPs – already unhappy over the impact on the economy and on civil liberties – at the prospect of further delay.
Writing in the Mail on Sunday, Sir Graham Brady, the influential chairman of the backbench Tory 1922 Committee, said that it must be the final time.
"On any reasonable assessment we should be still on target for lifting restrictions on June 21," he wrote.
"There is no excuse for this further catastrophic delay. It is unacceptable to restrict people's most fundamental rights. And it must never ever happen again."