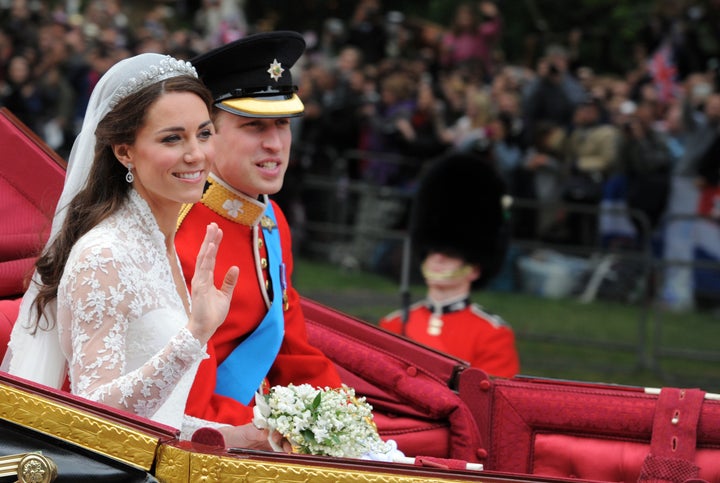 The security operation for the wedding of the Duke and Duchess of Cambridge cost police more than £6 million, figures have revealed for the first time.
Nearly £3 million was spent on overtime costs alone, with hundreds of officers drafted in to help police crowds watching the event in London in 2011.
While next month's wedding of Prince Harry and Meghan Markle at Windsor Castle will be on a smaller scale, Thames Valley Police are preparing for around 100,000 spectators.
That will make it one of the force's largest ever security operations, which will require reinforcements from other forces, including the Metropolitan Police.
Ken Marsh is chairman of the Metropolitan Police Federation, which represents rank and file officers in the capital.
He said the extra hours required of officers for a combination of large operations and an "unprecedented" level of violent crime in London have become a "huge drain" and must be seen as part of a wider welfare issue which is putting front line services at risk.
Figures obtained by the Press Association through several Freedom of Information requests showed that, in total, £6.35 million was spent policing Kate and William's wedding, including £2.8 million on police overtime.
Of that, £3.6 million was paid by a Home Office grant to cover "additional costs", the Metropolitan Police said.
An estimate for the total cost of the security operation put forward by the Metropolitan Police in 2011 placed the figure closer to £7.2 million, according to a previous Freedom of Information disclosure.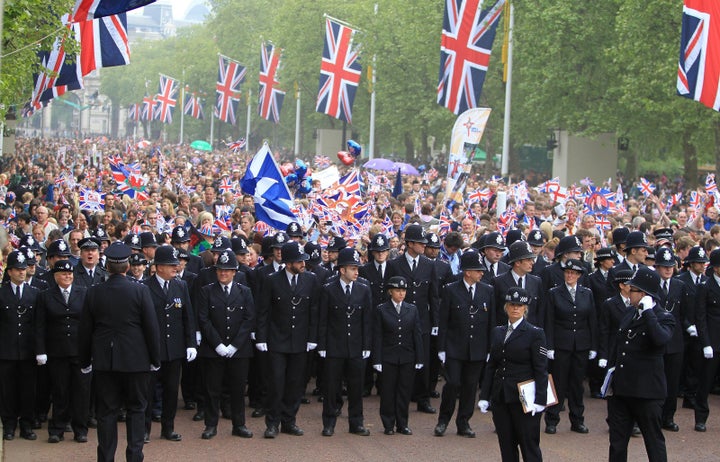 And while the UK's national tourism agency Visit Britain said the country experienced a 7% increase in visitors between April and June 2011 compared to the previous year, those hoping for a boost to the wider economy may have been left disappointed.
Figures from the Office for National Statistics (ONS) show the combination of an extra bank holiday and the warmest April for 100 years contributed to a slight dip in economic activity.
This included a 1.2% fall in output in service industries, a 1.4% drop in manufacturing production and a 1.6% fall in the index of production compared with the previous month.
The policing cost figures come ahead of preparations for the next royal wedding on May 19, and a row over police staffing levels amid claims that the spike in killings in London is linked to cuts in police numbers.
Marsh said: "Obviously, this is a huge drain on my colleagues in terms of the hours that they have to work."
He added: "If you ask human beings to work the sort of hours they're working, something has to give."
A further Freedom of Information request by the Press Association found that the overtime cost for the 2011 wedding represented around 4% of the total £74.4 million overtime bill for the force that year, which also featured extra demands due to the London riots.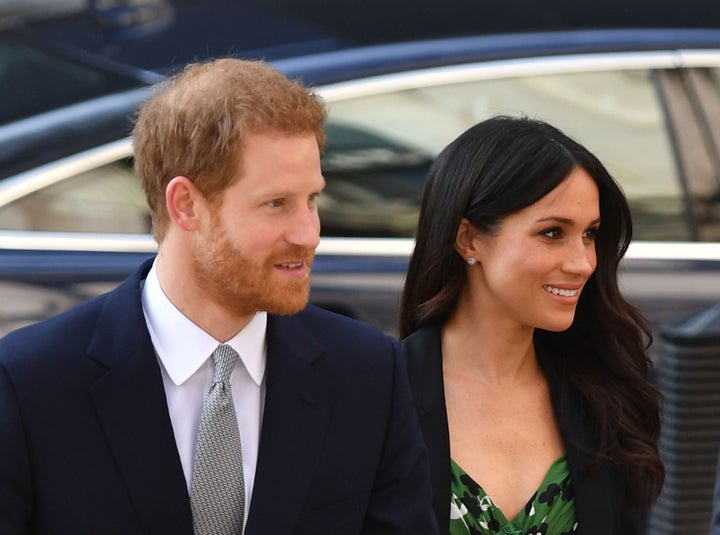 Last week, Calum Macleod, chairman of the Police Federation in England and Wales, said the wide-scale cancellation of rest days was having a worrying impact on morale, mental and physical health, and the efficiency of the service.
Marsh said continued cuts in day-to-day resources may eventually prompt senior officials to start having to decide what jobs officers can attend.
He said: "Being burgled is not routine. Having your car smashed in is not routine – but we're going to have to decide what we do and don't attend."
Graham Smith, the chief executive officer of Republic, which campaigns for the abolition of the monarchy, said: "The bottom line is that it is a private wedding and if they want to hold it in Windsor and in such a way that it is going to require crowd control and security then the royal family should be paying for that."
A Thames Valley Police spokesman said costs for the police operation and any additional infrastructure will be shared between the force and the local council, but that any opportunity to recover costs from the Home Office at a later date "will of course be explored".
A Home Office spokesman said: "Police funding has increased £460 million in 2018-19, including £280 million from council tax precept, so that at a local, national and counter terrorism level the police have the resources they need.
"Forces include reasonable contingencies within their budgets for unexpected events in their areas and they also hold usable reserves of over £1.6 billion, compared to £1.4 billion in 2011."