A teenage girl was stabbed and raped after a man dragged her from a Pizza Hut restaurant in front of terrified staff in a busy town centre.
The 17-year-old was subjected to the "violent and pre-planned attack" on Friday evening in Epsom, Surrey.
A man entered the Waterloo Road takeaway at around 10.30pm and assaulted a member of staff who tried to intervene, before dragging the girl from the building and leaving the area on foot, The Press Association reports.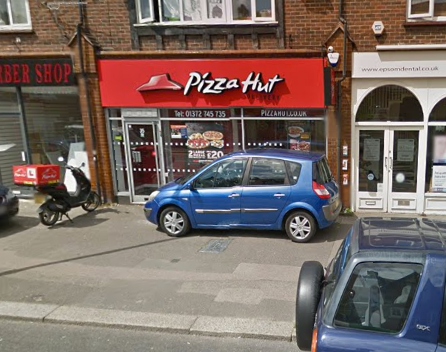 Police arrested a man in a nearby recreation ground shortly before 10.50pm and moments later found the teenage victim, who had been stabbed in the stomach.
She was taken to St George's Hospital in Tooting where she is in a serious but not life-threatening condition, Surrey Police said.
A 32-year-old man from Epsom has been arrested on suspicion of attempted murder, kidnap, rape and grievous bodily harm and is in custody.
Detective Inspector Nick Chambers said the girl had suffered a "horrific ordeal".
He said: "This appears to have been a violent and pre-planned attack which took place in a very public location in the centre of Epsom.
"Epsom on Friday night is a busy place so I'm sure passers-by and motorists must have seen this incident unfolding and I would like to hear from anyone who saw anything out of the ordinary in or around Pizza Hut or Court Recreation Ground last night.
"A member of staff at Pizza Hut tried to intervene when the man entered the restaurant and suffered injuries to his arm as a result but fortunately his injuries are not believed to be serious."
He added that she and the man are thought to know each other, and officers are not looking for anyone else in connection with the incident.
Anyone who witnessed the attack is asked to call Surrey Police on 101 or Crimestoppers on 0800 555111.
Related