A couple who were sent unsolicited dick pics by a fellow passenger on a British Airways plane, as they sat with their six-year-old daughter waiting for take-off, have criticised the airline's response.
Kate O'Sullivan, 37 and Ysolda Teague, 33, boarded the flight from London Heathrow to Edinburgh on the morning of Monday 5 November and were helping their daughter* put her seatbelt on, when Teague received an AirDrop notification on her phone. It asked her to accept five unsolicited dick pics.
The couple have since criticised the response of BA to the incident, after the company made clear it had no policy on cyber flashing, and instead stressed that the women should have turned their phones to Airplane mode.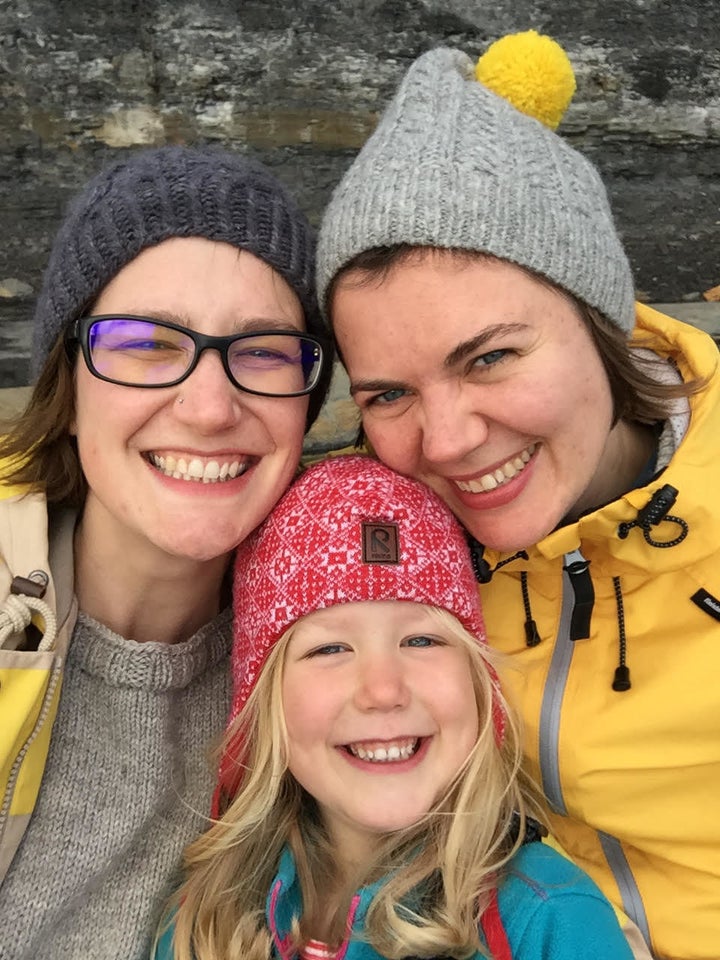 Teague, having declined the AirDrop notification on the aircraft, left her seat to inform cabin staff about the dick pics, and was taken to the galley at the rear of the plane to discuss the matter. "The staff were completely flummoxed, all getting their phones to see if they too had [received] anything," O'Sullivan told HuffPost UK.
After a brief chat, one employee offered to call airport security, O'Sullivan said. The couple were also asked if they wanted to tell the flight captain. However, in both cases O'Sullivan claims there was a suggestion that doing so would have held up the flight further.
Passengers had already been told the plane was going to be delayed on the tarmac by 30 minutes.
Additionally, staff suggested the couple could accept the images and hand their phone to ground security to see if they could trace who sent the pictures. But this would have required the family to give up their places on the flight.
"We weren't expecting them [British Airways] to fix the problem, said O'Sullivan, a writer and former mental-health worker. "But we were concerned about the staff response, the staff themselves said to us they felt completely unprepared to deal with the situation."
During the discussions on board, Teague also tweeted British Airways, asking whether the company had a policy for dealing with passengers harassing others on the plane by sending them unsolicited dick pics.
The official British Airways Twitter account responded, saying that all passengers should have had their phones on airplane mode – which would have avoided the situation.
Teague's response was that BA should look at creating a policy rather than "blaming the victim".
A follow-up tweet from BA to Teague added: "However, we don't underestimate how uncomfortable this must have made you feel."
The women, who regularly fly the same route with British Airways, said they were never usually told to turn their phones off as soon as they entered the aircraft. "Especially when things are delayed, realistically you've got people sitting there for an hour playing around," said O'Sullivan.
The family decided to stay on the plane as they were trying to get home, but O'Sullivan said that throughout the 90-minute flight they were afraid to take their daughter to the toilet or move around in the cabin, aware that others had heard what had happened and that the perpetrator was sitting among them.
Upon reaching Edinburgh, the family waited until last to disembark.
"You've got someone who is harassing women on the plane. I knew, based on my former mental health training, that sex offenders escalate [behaviour]. You've got someone here who is doing this, it could escalate," said O'Sullivan.
The response was "completely unacceptable," the couple told HuffPost UK.
A spokesperson for British Airways, told HuffPost UK the airline stood by its Twitter response to Teague on Twitter. She said: "We don't underestimate how uncomfortable this incident must have made our customer feel, and we're pleased that our crew were able to offer their support on board.
"We do not tolerate this type of behaviour and will always support customers if they choose to involve the police. Our intention was to offer some helpful advice, however we apologise for any offence caused to our customer."
"As we discussed, sadly this is something that could happen anywhere, not just on board an aircraft. But our crew will always support customers if they choose to involve the police."
On Twitter, some people suggested they wouldn't fly with the airline again following its response.
One wrote: "That's an awful response. Not having a policy at the moment is one thing; not acknowledging that a policy is needed is something else."
Another wrote: "Wow. With all the bad press British Airways is getting, now they add victim blaming .... Cute. Watch your sales decline. This is one passenger who will definitely never fly with you."
Responding to BA's suggestion that phones should be in aeroplane mode after boarding, another wrote: "Phones to airplane mode when the doors are closed, not when boarding. You can also use your phone when taxiing after landing. You also have Wi-fi on some flights."
*This article has been updated to remove a name at the request of the interviewee.