It was close to mid-night when followers of the Twitter-feed of Al-Arabiya, one of the leading satellite news channels in the Middle East, began noticing a series of controversial news post relating to the State of Qatar.
The first post suggested that Sheikh Hamad bin Jassim, the Gulf Emirate's Prime Minister and Foreign Minister, has been relieved of his duties and replaced by the country's heir-apparent, Sheikh Tamim bin Hamad bin Khalifa Al-Thani.
This post was quickly followed by another news item suggesting that there was an explosion at a Qatari natural gas field which killed dozens of people.
The news was spreading at a rapid pace as people began predicting a rift within the Qatari Royal Family.
Within moments, a counter-tweeting campaign was launched; most notably led by the prominent Doha-based blogger, Ammar Mohammad (@Ammr).
Mohammad, who works in the New Media division at Al-Arabiya's main rival, Al-Jazeera News Channel, confirmed that there was neither an oil-field explosion nor a change in government.
He then went on to reveal that a number Al-Arabiya's Twitter's accounts have been hacked; while also retweeting a message found on the channel's main account suggesting that the perpetrators were an unknown group known as the "Syrian Electronic Army" (SEA).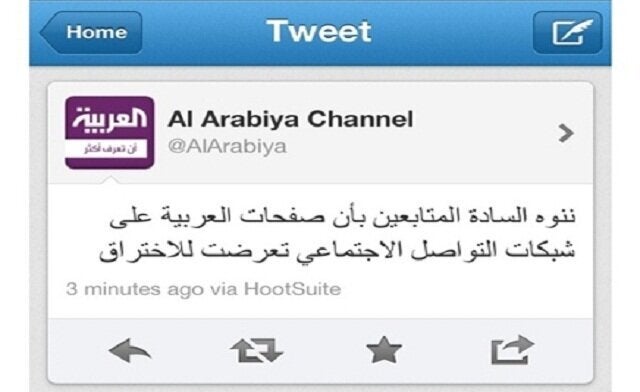 (Al-Arabiya's main Twitter account announcing that the channel's social media accounts have been hacked)
Shortly afterwards, reports were coming in that the channel lost control over its YouTube account and Facebook page as well.
Seeking an explanation, people turned to Al-Arabiya's main website - one of the channel's few outlets which escaped last night's cyber-attack - where a confirmation of the hacking was finally posted.
Al-Arabiya journalist, Alaa El-Menshawi, posted a report saying that the social media accounts of his employer were "infiltrated by unidentified hackers who posted false news attributed to the channel".
"Al-Arabiya's social networking accounts have been subjected to several hacking attempts by the Syrian Electronic Army for covering anti-regime demonstrations and exposing the brutality Bashar al-Assad's regime", he added.
Al-Arabiya is part of the Saudi-owned MBC Group; many supporters of Syrian President Bashar al-Assad oppose the Saudi Arabian stance against the way Damascus is handling the pro-Democracy protests which started a year ago.
Recent United Nations (UN) estimates say nearly 9,000 people have died since the protests started in March 2011, the Syrian Government put the death toll at 3,838 - 3,493 civilians and 1,345 security forces personnel.
Mazen Hayek, MBC Group's Official Spokesperson, tells The Huffington Post that last night's attacks weren't an isolated incident nor were they the work of amateurs as well.
"We were and still are subject to a cyber-war from governments and financially/technically well-equipped institutions" he says.
According to Hayek, Al-Arabiya has had to constantly deal with matters such as transmission frequency jamming, a massive amount of targeted messages against a specific portal at one time (a.k.a "e-bombs") and the hacking of social media outlets.
"We expect this cyber-war to continue simply because we produce credible and interesting News", says Hayek suggest that the perpetrators goal is to stop Al-Arabiya from uncovering wrongs, reflecting the truth and encouraging the proliferation of citizen journalism.
According to El-Menshawi's report, hackers affiliated to SEA had previously managed to penetrate the account of Al-Arabiya English on Facebook, but the page was restored a few hours later.
"This page has been hacked by the Syrian Electronic Army," read a message on the page which was accompanied by two long statements in Arabic and English in which Al-Arabiya was criticized for its coverage of the Syrian revolution.
The report goes on to suggest that the broadcast of both Al-Arabiya's main satellite and "Al Hadath" (Events) channel was also recently subjected to constant jamming while it was running reports about Assad's leaked emails.
Members of SEA have two Facebook page, which could be found here and here - the first page has 3,640 members and the second only 1,040.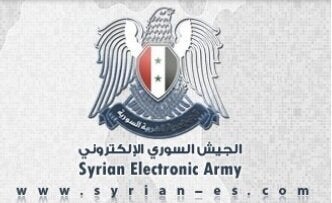 (The supposed Syrian Electronic Army logo as it appears on their Facebook page)
On the other hand, supporters of the opposing Free Syria Army - which composed of dissident Army personnel who decided to join the protesters, are believed to have developed their own electronic army, a page associated to them could be found here.
Many online activists and observers suggest that SEA might just be a "fancy name" rather than an organised legion with a clear hierarchy; most of the "members" on their page are people who simply "liked" it and are not involved in cyber-attacks.
The prevailing view is that it is composed of a few independent hackers; who have been most likely financed by rich members/friends of the Assad regime to undergo these operations.