On April 23rd, 2012 a series of crippling cyber-attacks were waged against the social media outlets of the Dubai-based Al-Arabiya News Channel.
Within moments, editors at this leading newscaster lost all control over the channel's Facebook, YouTube and Twitter accounts as they (the accounts) began disseminating false information relating to the neighbouring State of Qatar.
Indeed, the channel's Breaking News Twitter account began tweeting news items insinuating a rift within this Gulf Nation's Royal Family and spreading rumours of a gas-field explosion (neither claims were true).
As executives at the Saudi-owned channel's newsroom sought to gain control over their social outlets, they soon realised the cyber-attacks weren't over yet; Even the personal Twitter accounts of leading Al-Arabiya and other MBC Group (the news newscaster's owning company) presenters were targeted throughout the night and the following day.
The perpetrators?
A group known as the "Syrian Electronic Army" (SEA) which believes Al-Arabiya, like the Qatari-owned Al-Jazeera, are biased and serving as mouth-pieces of their respective governments in their vocal criticism of the Bashar al-Assad Regime's handling of the pro-democracy demonstrations which has left thousands killed since these protests began last year.
A spokes person for Al-Arabiya has declined commenting on the content of SEA's claims, but an authorised source within the channel has said that their comments resemble a typical case of "blaming it on the media" stating that it wasn't a media outlet which has instigated or caused the loss of the thousands of lives.
Al-Arabiya, like other international news channels, are banned from reporting on-the-ground in Syria.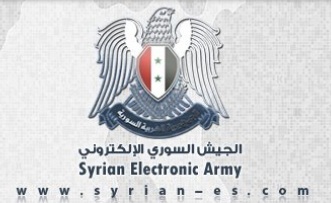 (SEA's logo)
Now, if you haven't heard of SEA yet or if you are tempted to think that their potential damage is going to be contained only within the Middle East, then it is time to guess again!
The Syrian Electronic Army, said to be composed of thousands of hackers in Syria and around the world, are making their cyber-war global.
Only two days ago (Thursday 26 April), SEA hacked and defaced the blog of the business networking site, LinkedIn. The attack generated global headlines within hours.
Similarly, in September 2011, the same group of online activists hacked and vandalised Harvard University's website; at the time, pundits rushed to the conclusion that the attack was the work of a heavily-financed and possibly government-backed organisation, not individuals.... they were wrong!
Over the past few days, I managed to make contact with one of the leaders of SEA via Twitter and Gmail Chat.
Known by his code-name of "THE PRO", he confirms he is a Syrian living in Syria and suggests that he is a member of the Special Operations Department (SoD) of the so-called Syrian Electronic Army.
In the first part of the interview, published yesterday, he revealed that SEA has thousands of members around the world who are waging an on-going cyber-war against those who he believes are "distorting the facts" in Syria.
Today and in this second and final part of the interview, THE PRO reveals why this "on-going cyber-war" isn't limited to media organisations; as well as other details regarding the financing and hierarchy of this virtual army.
However, before I go on detailing what other details were discussed during the interview, I wish to state the following:
An independent verification of the identity of THE PRO as one of the leaders of SEA wasn't attainable; however he has provided enough confidential "insider" information to support his story. He has also provided a number of exclusive images, such as - but not limited to - a screen-grab of the hacked "Dash Board" of LinkedIn's blog below.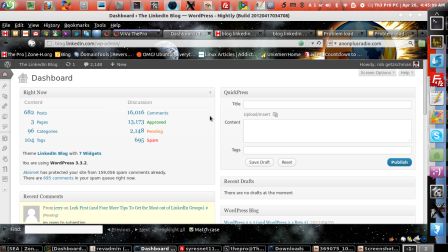 (A screen-grab taken by SEA's of LinkedIn's blog "Dash Board" upon hacking it yesterday)
Why LinkedIn?
I had originally thought I had more than enough material following my first interview with THE PRO on April 24th (the day following the attacks on Al-Arabiya); yet, I had to get back in touch when SEA generated headlines again by hacking into LinkedIn's blog yesterday.
I could understand - though not agree with - why the group might have an issue with news channels, but what could possibly justify attacking a social network which has a primary concern of helping people find jobs?
"LinkedIn a very famous website, we can sent our message through it to a lot of people that they know it and use it", answers THE PRO.
He denies that this social networking site has done or published anything anti-Assad, however says that LinkedIn was head-hunted in particular to "make all people know that there are armed gangs killing innocent people in Syria and that through our peaceful message"
THE PRO also confirms he leads the same "Syrian Electronic Army" which hacked Harvard University's website and left a picture of Syrian President Bashar al-Assad in his military uniform on its main page.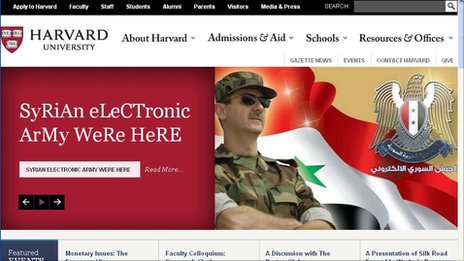 (Harvard's defaced website)
Given its Ivy League university status; Harvard's fame played a vital role in making it a seductive target for SEA as it served the purpose of attracting attention. However, it also being an American institution seems to have made it "fair game" even more.
"You know it's an American university, and we all know what America do to our country and the Middle East", says THE PRO.

(THE PRO confirming attack on Harvard and explaining reasons behind it during Gmail Chat)
FALLEN COMRADES
Throughout my conversations, I tried several times to get to know who THE PRO really was, how old was he or what he does in real life.
He gives a very strong argument for why he prefers to stay anonymous.
"I like to give you my name, but anti-Assad (demonstrators) killed 2 of our members", he explains.
He went on to elaborate that at the early stages of crisis in Syria back in 2011, SEA members used to interact on Facebook using their real names; something they realised later was nothing short of a fatal mistake.
He shares a link to a news report produced by Dunya Television (a recently-launched, privately-owned, pro-Assad local channel); the report mourns a 17-year-old Syrian by the name Mohammad Ahmad Kabbani who is said to have been a member of SEA. (Notification: video contains graphic images, viewer discretion is recommended).
According to the report, the 17-year-old Kabbani who hails from Idlib - a city in North-western Syria - was kidnapped, tortured and killed by anti-Assad forces strictly because of his affiliation to SEA.
THE PRO claims the killing occurred on August 26th, 2011 and explains that the attackers were able to track Kabbani because he had used his real name while commenting one of SEA's many Facebook pages.
Shortly afterwards, SEA mourned another member. This time it was Sergeant Major/Lawrence Fawaz Barakat; whose is referred to here by a military rank because he served in the "real" Syrian Arab Army (SAA).
SAA is the country's formal army and is tightly controlled by the Assad-Clan; it is said to be responsible of the killing of thousands of civilians since last year, though the regime also claims that many of the causalities are from SAA itself.
Now,according to several online photos available of Barakat; including one (available here) where he paused with a gun, he seems to have intentionally publicised both his SAA and SEA military background.
In his memory, SEA launched an honorary Facebook page for Barakat where it is claimed that he was killed by "gangs" in Damascus Countryside on November 29th, 2011.
Following these incidents, SEA members decided to work anonymously. However, even then, things were still getting complicated.
THE PRO claims Facebook has shutdown their page 148 times. This explains why when I first reported Al-Arabiya's hacking on Monday 23rd , I was wondering why SEA had two official pages, these were the ones that the virtual army managed to convince Facebook to unblock.
Both pages are real and were set up by SEA, in addition, there is the current page number 149 which could be accessed here (however, it seems the page has been shut-down since the interview was conducted)
The Price of Loyalty
So, is the Syrian Electronic Army fully behind current President Assad? Does THE PRO not see anything wrong with the practices of the current regime? And does he and his fellow online activists not aspire for democracy like the protesters do?
"I am not with the protesters", replies the SEA leader, stressing that that he believes President Assad IS making reforms.
"We are with Syria and stability of Syria and President Assad is the only guarantee for Syrians for not having (a) civil war", he adds.
So does this loyalty come at a price? Or in other words how much is the Assad Regime directly or indirectly paying for this sophisticated online operation?
"What you call The Regime is at the heart of its people... we do not and will not charge any money to defend Syria because it is our country", responds THE PRO as he claims that SEA fully-finances itself.
Now, according to Facebook, it seems that a counter virtual effort conducted by the Syrian FREE Electronic Army has also emerged.
Effectively, SEA is now facing a brigade of online activists fighting alongside the pro-democracy demonstrators against the current Syrian Regime.
"This talk does not concern us all as we are concerned is to be shareholders in protecting our country from terrorism", responds THE PRO.
As for the hierarchy, THE PRO stresses he is "a" leader not "the" leader of the alleged thousands of activists who belong to SEA.
"We (have) coordination between us in all our work to achieve the goals we had agreed upon", he concludes.
I try to get THE PRO to reveal SEA's next target; so I ask him if there is anyone they would like to send a warning to?
"We don't threat anyone, but we hack to put our message to the world", he replies.
It SEAms clear that for THE PRO, the end always justifies the means.
END OF PART II AND INTERVIEW