Douglas Fir isn't a true fir, hence its Latin name Pseudotsuga menziesli and is a native of the USA. One of the oldest Doulgas Firs in the UK is planted in Scone Palace in Perthshire Scotland. It was brought to the UK, in seed form from North America by David Douglas in 1826. The flavour of Douglas fir combines well with chocolate and infused in cream, it makes delicious chocolate pots. For extra Christmas colour and texture add some pomegranate seeds.
This recipe for Douglas Fir Christmas Tree Cookies is taken from The Forager's Kitchen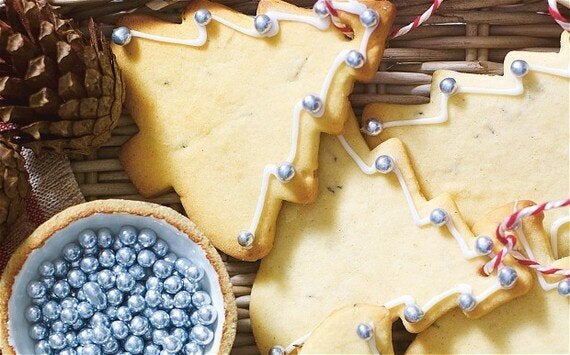 Makes about 40 depending on size and thickness
2 tablespoons Douglas fir needles and seeds,washed sieved and patted dry
200g butter, cut into small cubes
300g plain flour, plus extra for rolling
Glacé icing and silver balls, to decorate (optional)
Preheat the oven to 375°F/190°C/gas 5.
Put the dry Douglas fir needles and any seeds with the icing sugar in a food processor*. Cover with a tea towel (the dust seems to escape even when the lid is firmly on), and blend to chop the needles finely.
Add the butter and egg yolk to the food processor, and then enough flour to make dough. Wrap in cling film, and refrigerate for at least an hour before using.
Lightly dust a work surface with flour, and roll out the pine dough. Stamp out thin 3mm Christmas trees with a biscuit cutter, place on a non-stick baking tray, and bake for approximately 8-10 minutes (depending on thickness).
Check after 8 minutes -- the trees will brown very suddenly. Cool for 2-3 minutes, then use a spatula to transfer the trees to a wire rack.
To hang the cookies on a Christmas tree: use a skewer to make a small hole in the dough of the Christmas tree (to thread ribbon through) before baking. Decorate with glacé icing and silver balls if desired, or frame the trees with a small amount of icing, thereby accentuating the natural speckles of the pine needles in the dough.
For those unable to forage Douglas fir, rosemary leaves work well too.
*The Douglas fir icing sugar is delicious sprinkled over mince pies too