Trigger Warning: Suicide / Transphobia
Following the result of the US presidential election, I was contacted yesterday by a mum of a young trans boy who runs an international support group on Facebook. She sent me screengrabs from another closed support group for the parents of trans children. The mum wanted me to know the gravity of the situation and to try and get the message out there to other upset trans youth, that there was a number they could call and some place they could get support.
As patron for the LGBT Switchboard, I know how life-saving a phone-call can be. I wrote a quick tweet which has been retweeted, less than 24 hours later, over 7000 times: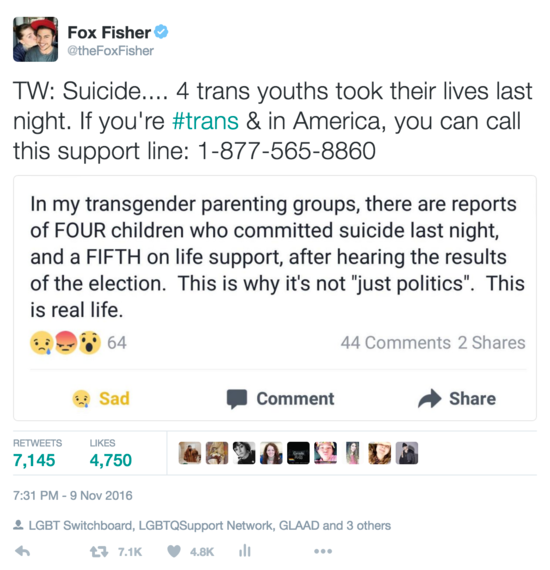 An article quickly surfaced poo-pooing this reality, because the source material was from a closed facebook group. Naturally, due to privacy and sensitivity no parent wishes to speak publicly about this. There are many other trans people who attempted suicide and are now in critical condition. And these are only the reported cases.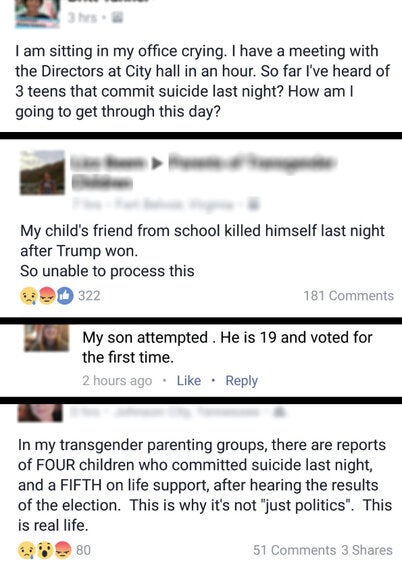 The nature of this situation is about so much more than 'just an election' - there are so many people and groups out there terrified about what is to happen to them. The discourse used by the winner of the election to get votes is deeply concerning and hateful towards almost any group out there: women, people of colour, people with disabilities, LGBTQI people and more. And this is something people need to realise: people no longer feel safe. They fear for their lives. They fear that their rights will be taken away and they fear more discrimination, harassment and violence.
As terrifying and concerning the situation is, it is also important to remember that we can each make a difference and find support and solidarity with one another. It is important to reach out, support and celebrate who we are. Now is the time for you to stand up for what you believe in and show the world that hate will not prevail.
It is more important now than ever that we rally behind and support trans people and especially trans youth. They are our most vulnerable and face horrendous challenges, including being disowned by their families, no access to health care, having no support and recently a case happened here in the UK where a young trans girl was removed from her supportive mother.
This is why we declared Trans Youth Week for My Genderation, from the 5th-12th of November: to raise attention to trans youth and underline the importance of supporting them. For the past few years, we've been following the growth of a number of people, including an amazing young trans boy, Kai. Yesterday we also released a film where Kai talks about what is happening in his life, hormone blockers and the importance of supporting trans youth: