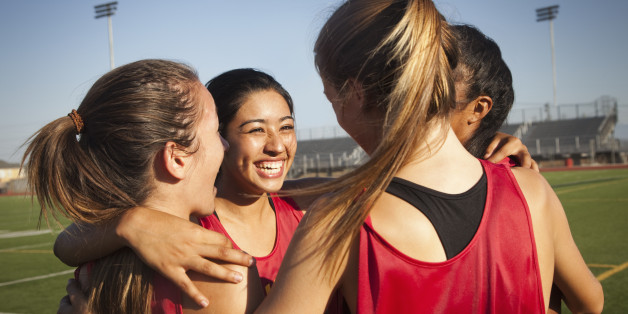 Blend Images - Moxie Productions via Getty Images
Where would I be today, if I hadn't had a helping hand?
I didn't have the best start in life. I didn't have a strong relationship with either of my parents and ended up having to go and live with my grandmother.
I found my confidence and strength in football. Whenever I could, I would be kicking a ball with other kids in the neighbourhood. I soon started playing for Manchester United Community Football Club and then for Manchester City's under 16s team. I even secured a Boston scholarship to go to the United States. I had achieved my dream of becoming a semi-professional footballer.
This dream came crashing down when I sustained a career ending injury and was told I could not go to the United States.
My confidence plummeted. I was heavily depressed, all the issues I had faced in my young life took their toll. I was in a very dark place and even tried to take my own life.
If it wasn't for my grandmother, I would probably not be here today. She has been and continues to be my rock. But once I got better, I decided I needed to make a life for myself and moved down from Manchester to London.
I got on the train with a tenner in my pocket and sofa surfed for a while as I tried to figure out what I would do with my life. I knew I wanted to work with young people, help them get over some of the issues I had faced myself. The best way I could help them was by getting a football development programme together to help them find their path and grow in confidence.
I trialled the idea for two years on a voluntary basis. I realised, working daily with the young people, how effective this could be if I could set up a proper structure. I went to The Prince's Trust for help, enrolled on their Enterprise programme and learnt everything I needed to launch my business. The Trust helped me set up Goals4Girls, a development programme which empowers young women through sports and education.
Since I launched it two years ago, Goals4Girls has helped over 700 young women, many of them moving into college and securing work placements thanks to the confidence and skills they gained through our programme. Some have even gone on to join professional football clubs.
Last October, I was honoured to receive a Pride of Britain Award which was presented to me by HRH The Prince of Wales, in recognition of the work I had done with Goals4Girls. In just a few years, I have completely turned my life around and now feel that I have found my path and my mission in life: helping young people thrive.
If I have learnt anything through the highs and lows of the last few years, it's that we need to provide a helping hand to young people so they can realise their full potential.
It is particularly worrying to read in the new Prince's Trust Macquarie Youth Index that one in four young people say that they don't feel in control of their lives. It shows that young people's confidence and happiness are at their lowest levels since the study was first launched in 2009.
A few years ago, I probably would have said that I did not feel in control of my life. I was fortunate to have loving grandparents who never stopped supporting me and to come across The Prince's Trust which helped me set up my business. They were some of the helping hands which have enabled me to be in a position today to help so many young girls reach their potential.
Politicians, businesses, youth organisations, and indeed each and every one of us need to step up to make sure we don't leave a whole generation behind.
Young people need us more than ever today. What is our individual and collective response going to be?