It's Monday 3 September, and I've officially been at Washington College for a fortnight. And goodness me, what a fortnight it has been. Having began my Atlantic adventure on a Sunday morning British time and concluded it on a Monday night U.S Eastern Time, I travelled for the best part of two days. Passing through four airports, three states, two rail stations and a hotel, I felt like I was living out of a suitcase. Luckily though, I still had time to absorb a warming sunset over the Manhattan skyline during a layover at New York JFK, which you can see below.
Sunset over Manhattan, during my layover at JFK Airport, New York.
Since my arrival at Washington College though, it's been a bit of a blur. Orientation week was jam-packed with activities, memories, laughter and food. And whilst the specific events of each day have since blended into a single entity, there were some things that stuck out. We were introduced to the Blue Crab, a scrumptious local delicacy of Maryland; and whilst most of us sampled two or three, a German friend of mine managed no less than seven of these tasty crustaceans. We also took kayaks out onto the Chester River, and explored some of the famous Chesapeake Bay and the wildlife that calls it home. From barbecues with the local townspeople, to hour-long talks about the College's Honor Code policy, it's safe to say that every day of our first week was a long one. Typically, we'd start at around 9am and finish at 4pm, with temperatures consistently in excess of 30 degrees.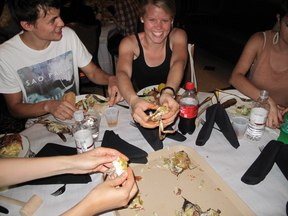 Julian and Johanne enjoy the Crab Feast!
For me, there was also the small matter of starting Varsity Soccer during orientation week. I was always keen to be involved in college sports during my time here, so when the opportunity presented itself I was quick to take it. Preseason training camp however, ran alongside orientation week, meaning that we'd be doing 2-a-day practices leading up to the season. Promisingly, the College and the Athletic Department worked hard together to ensure as little overlap as possible between practices and the international orientation events. And whilst on the surface that may have seemed a good thing, this meant that the team had practice at 6am, and again at 5pm - every day. My average day looked like this during my first week in America:
5:15am - Wake up for Practice
6:00am-8:00am - Soccer Practice
8:30am - Breakfast
9:00am-4:00pm - Orientation
5:00pm-7:00pm - Soccer Practice
You get the idea. But I've had so much fun and met so many brilliant people; both on the field and off it. Within 15 hours of arriving, I was kitted out in the school training gear and practicing with a group of 28 guys who all shared a passion for the same thing; soccer. We'd end the days sore, aching and exhausted; but we shared the pain together and the unity of sports teams here is great. We eat as a team, practice as a team and have fun as a team. We had our first game of the season on Friday night, beating Shenandoah 3-0; our home crowd were fantastic, and the noise they make when you score is like nothing I've experienced before. Scoring my first goal for Washington College was a proud moment, and rather fittingly it came during the pouring rain; naturally, the jokes flew about me feeling "right at home!" If you're coming to an American university, I'd strongly recommend getting involved in sports; be it varsity, club or intramural. There's nothing like it.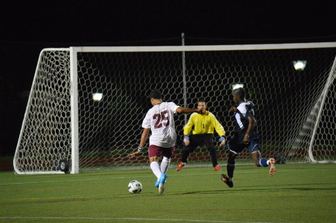 My first game for the Washington College Shoremen, which we won 3-0!
And then lastly, there's the classes (oh yeah, I've done a little work here, too). The first week was mostly syllabus/administrative stuff, so I haven't had the true experience yet. However, I've already been re-introduced to something I thought I'd never see again; homework. Upon completion of compulsory education some five years ago, it never crossed my mind that I'd be assigned such a thing again in the future; but it's common here, and I have to say it at least keeps your brain active. It's a little odd to have someone tell you what to do outside of classes, but it's all part of the adjustment. There's also less emphasis on referencing other scholars in your writing here, and I have one professor who actually insisted on us not using any at all. By contrast, at Hull I'd be unable to achieve anywhere near a respectable grade without scholarly analysis. Like I said though, it's early days so perhaps things will pick up as we settle in.
All-in-all, it's been a phenomenal start to my Year Abroad. If the next nine months are anything like the first two weeks, then I'm in for a good year. This week sees me have lunch with the College President, Mitchell Reiss, who before his time here served as Director of Policy Planning under Colin Powell, and also as Mitt Romney's national security advisor. I'm also heading to Camden Yards in Baltimore, MD with my roommates, to watch the Orioles play the Yankees in what will be my first ever baseball experience.
Until next time,
George