I moved to Spain just over 3 months ago and I am frequently asked what it is like for an Italian girl, studying in the UK, to move to Spain. Of course, Spain being extremely diverse from one end to the other can lead to one's experiences to vary, depending on the locality.
I am living in Madrid, a vibrant, high-density foreigner city but when I arrived I was surprised by the lack of unhappiness I was told I would find due to the crisis. The city centre was buzzing with tourists and people shopping as if they had all the money in the world, but after a couple of days of superficial touristy walk-abouts, reality hit me. The people that had told me about Madrid were tourists; they had seen the city for a long weekend and were not able to take in the local vibes and daily hardships.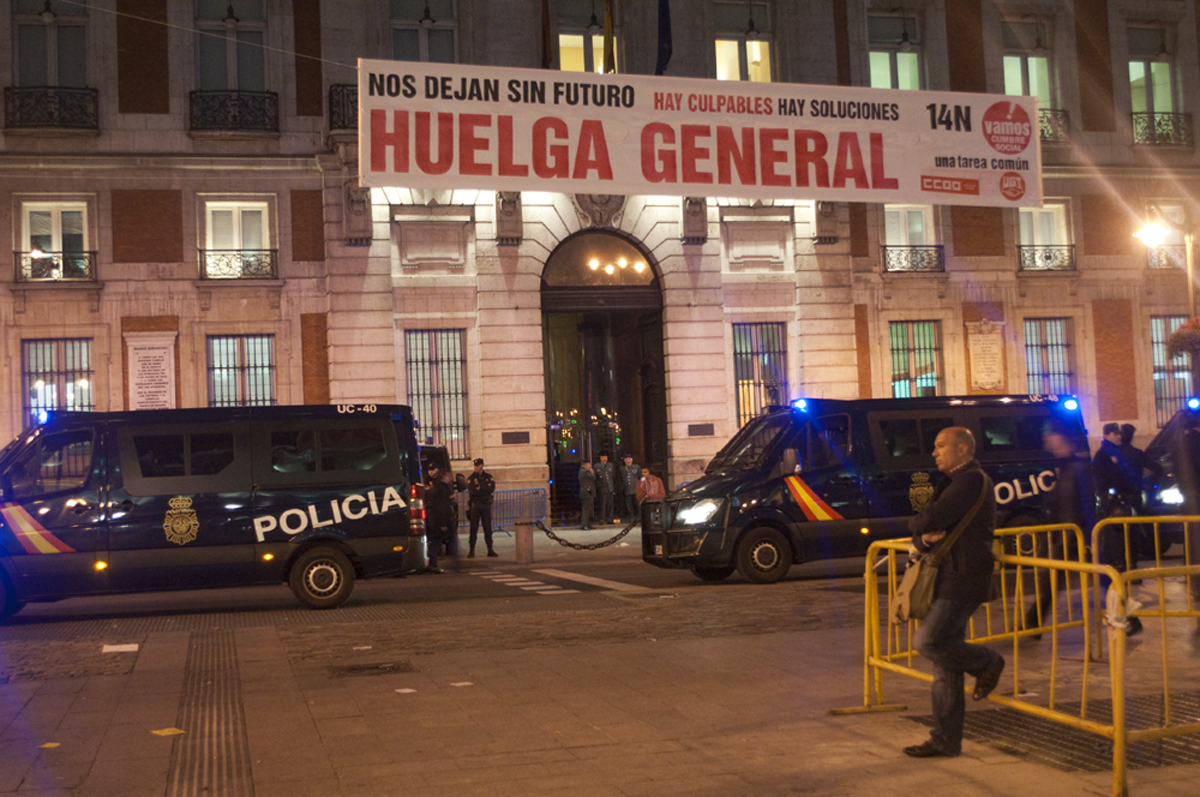 Covering the walls of the centre is graffiti insulting the government, the banks and the citizens' consumerist attitude. Stickers over the windows of the police stations publicize the 'huelgas', the strikes in Spain, and homeless people can be found on every corner, begging for food and money. Many of them are immigrants but a surprisingly large number of them are locals who have lost their jobs and can't afford a living. Sadly you discover that here in Madrid even the elderly are forced to beg due to their pensions not being high enough to support them.
Around the city you see excited tourists laughing and enjoying the street performances and walking from Puerta del Sol to Gran Via you see hundreds of different acts. The initial amusement however, quickly dissipates when you settle down and you see the same guy everyday, painted from head to toe, sitting in a position balanced for hours on end, making only a couple of Euros an hour.
The life here is very hard for many, but I have also had the chance to meet locals, who continue living life to the fullest. I walk around the town and take it all in, because as much as Madrid is in an economic and social struggle, I know there is so much more to it. I explore the small up-hilly streets, I talk to locals and discover the city and it's rituals. The loud and cheery Madrileños welcome you with two loud kisses on the cheeks that you won't be able to pull away from and the warmth can be felt everywhere whether you are asking for directions or meeting with a long lost friend.
In these 3 months, what has really amazed me and has stuck with me is the "movida madrilena". Here in Madrid the madrileños will not leave the house before 1am to go to bars, clubs don't fill up until 2.30am and the partying continues until 8am, leaving you to watch the sun rise. Having lived in England, specifically Leamington Spa where clubs open at 10.30pm and close at 2.30am, this was quite the shock, although my Italian roots made me easily malleable to this culture. Nightclub culture is without equals here in Spain and you will usually end up eating "churros con chocolate", fried pastry dough dipped in dark chocolate, before heading home. The street life is always animated and you will never feel alone. You can wander for hours on end exploring all the distinctive "barrios" from Chueca, the gay pride neighbourhood, to Lavapies and La Latina, the colourful and exciting more "southern" areas.
My time here, although brief, has been packed with amazing experiences and events and I am excited to spend another 7 months here. I'm hoping to gradually become more of a 'local', absorbing what this remarkable city has to offer, through its fights but also its more peaceful moments.