Who decides when I'm too old? No-one, so mind your own business!
Would you ever have surgery to hide how old you were, possibly to keep your job? Despite working in the beauty industry, it had never occurred to me that I might be judged on my abilities and effectiveness in doing my job based on my age.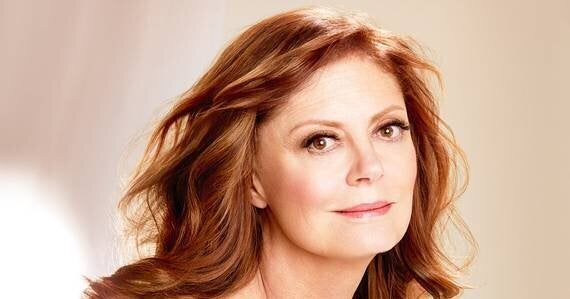 Susan Sarandon, in her role as the 'face' of L'Oreal Paris
So I was shocked to read the Telegraph's Leah Hardy's recent expose: 'would you have a nip tuck to keep your job' which highlighted the toxic effects of ageism on women's attitudes to their appearance when at work.
Despite offering evidence suggesting that our brains don't slow down until we are seventy plus, she revealed that women in their forties are turning to surgical intervention and lying on their CV's to stop themselves facing prejudice and demotion in the workforce.
She went on to talk to a number of 'ageless' women, whose aim is to look like they could be anything from 35 - 50, who deliberately 'blur' the years to avoid detection as an older woman for as long as possible.
That this prejudice exists is supported by a study by Kent University, for Age Concern, which showed that a third of the people not in work in this country were between the ages of 50 and retiring age. Women aged 55+ were found to be twice as likely to suffer age discrimination.
Whilst our mantra at Studio 10, the brand I founded specifically for 35-plus women, is all about ageless beauty, this is meant as a celebration of the beauty in every age. Not hiding your age as a form of self-protection from discrimination.
Whether we like it or not, there is an exception around women, how they look and their age. I'll never forget reading a 'hilarious' anecdote from Charlotte Metcalf on High50.
Her friend was on a date with a man in his seventies, who delightedly confessed to knocking a few years off the calendar. He thought this was oh-so-clever of himself, but was horrified when she confessed to being just three years older as well - 51 instead of 48.
He instantly ended the date.
And therein lies the rub. No matter what we do, someone somewhere is going to make a judgement on how we age. Get surgery and you're lying. Don't and you're past it. Is it really that surprising that women resort to such measures; even though they shouldn't have to?
Personally, I'm not anti-surgery in the slightest little bit; as I confirmed in a recent piece for beauty blog 'Really Ree'. I believe that if you look in the mirror and feel that some Botox or a 'nip and tuck' is for you, makes you feel confident and proud, go for it.
I don't want you or any other woman (myself included) to feel that we 'had' to though.
There's such pressure to remain and look 'forever young' which leaves women miserable, confused and held-back.
Why can't we take the Japanese approach? They respect their elders and, as a result, their elders suffer far less from not just emotional and psychological effects of ageing, but also physical such as Alzheimers.
It's an interesting paradox, that being valued, not being critiqued keeps them younger for longer.
When it comes to getting older, I sort of feel we're damned if we do and damned if we don't. The irony is that at sixty plus, it seems all the insecurity finally fades and women report feeling stronger and happier with themselves than at any other age. What we need is to show off and highlight our fabulous, fearless older role models.
Elizabeth Banks, who at 42 is arguably at the peak of her Hollywood career is featured in this month's Glamour magazine discussing the prevalence of ageing for women in the public eye.
She recalls being told she was too old to star opposite Tobey Maguire in Spiderman, despite being the same age at the Glamour Women of the Year awards, where she received the award for best film-maker.
She was supported at the event by actress Susan Sarandon, who was recently shamed by Piers Morgan on her revealing red carpet cleavage, is an ageing 'activist', keen to prove that being older is no barrier to being beautiful or successful.
In fact, Susan echoes my own beliefs about beauty, saying in a previous interview:
"Whilst I think we can retain some control over our ageing faces, we should be allowing one another to decide where that control is."
The thing is. We all need to look in the mirror and like what we see. And what we all like is totally different. As the population ages, women are becoming wealthier and more independent than at any other time in history - and all the more powerful for it.
Surely it's time to give us credit for making our own choices about how we look, without having to hide it for the sake of outdated, outmoded means of judgement?