It was young men behind the controls of RAF Spitfires who bravely flew over the burning East End and towards danger in the harrowing summer months of 1940, repelling Hitler's Luftwaffe and saving Britain from invasion.
Seventy-four years on, the heroism and sacrifice of these young men is the stuff of legend, romanticised and steeped in patriotism. So often portrayed with the iconic RAF moustache, the majority were probably too young to even have a moustache. Who were these men? How do they remember the Battle of Britain and what became of those who survived the years of war? What happened when they stopped being pilots, stepping out of uniform and back into civilian life?
Squadron Leader Nigel Rose is one of those young men who survived both the Battle of Britain and the remainder of the war. His motivation for joining the RAF Volunteer Reserve in 1938 was simple: he wanted "to impress a girl."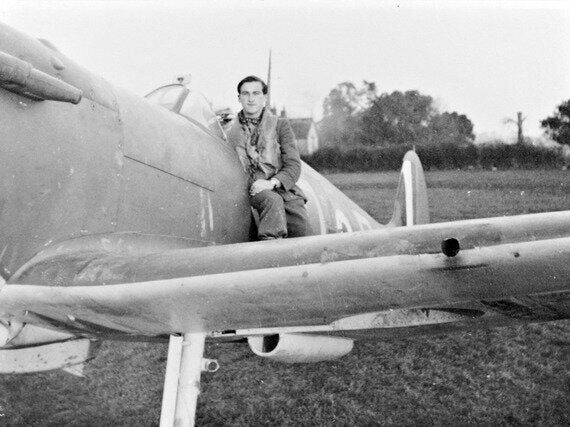 Caption: Squadron Leader Nigel Rose and his Spitfire.
Less than two years later, Nigel was stationed in West Sussex and flying out to meet the enemy. His preparation for a ground invasion was less than extensive: "I remember one weekend we were issued with revolvers and about 15 rounds I think to go with it. And I remember going out in the garden of the farmhouse and putting up some empty beer tins and potting at them to get some practice at shooting. So that was about all the preparation we had at the time."
Wing Commander Bob Foster who sadly passed away earlier this year, flew Hurricanes while stationed in Croydon and recalled life going on as usual during the battles.
"I remember once when I was taking off from Croydon over the sports ground with tennis courts, people had stopped playing tennis and waved their racquets and I waved back at them and went on doing my job and they went on doing theirs.
"And I mentioned this to someone a year or so ago and he said: 'What! They were playing tennis while you were fighting the battle?' And I said: 'What did you expect them to do? You couldn't just expect them to stand around waiting!' Life went on; that was it."
The Battle of Britain was just the start of service for both Nigel and Bob. After the Battle of Britain, Nigel became a gunnery instructor and was later posted to El Ballah in Egypt. He was released from the RAF in 1946. Bob's Squadron was transferred to Australia where he downed Japanese aircraft and earned the title of 'ace.' He returned to Britain in 1944, arrived in Normandy not long after D-Day, and joined General de Gaulle's triumphant procession into Paris.
Nigel left the RAF in 1946 and resumed his studies. He qualified as a Chartered Quantity Surveyor in June 1948 and is one of the few surviving Battle of Britain pilots. Bob left the RAF in 1957 and resumed his pre-war employment with Shell-Mex and BP, whom he'd last worked for in 1939! Bob died in August of this year.
Serving alongside these veterans through all those years was the Royal Air Force Benevolent Fund, the RAF's leading welfare charity. Since 1919, the RAF Benevolent Fund has supported RAF personnel and their families through times of war, but we have also been there for the transition to the civilian world and whatever life brings in the decades after service.
From those who served in peacetime to veterans of WW2, the Falklands or Northern Ireland and more recent veterans from Iraq and Afghanistan, the RAF Benevolent Fund is here to repay "the debt we owe."
Bob recalled the generosity of the public during the Battle of Britain. "People would buy you pints of beer when you went in the pub, which was all very welcome," says Foster. But for times that call for more than a pint of beer, the RAF Benevolent Fund is at hand.
Should you know of anyone that has served in the RAF and is struggling please do let them know that the RAF Benevolent Fund is able to help.
Learn more about these pilots in our special series of Battle of Britain blogs: www.rafbf.org/BoB
Related