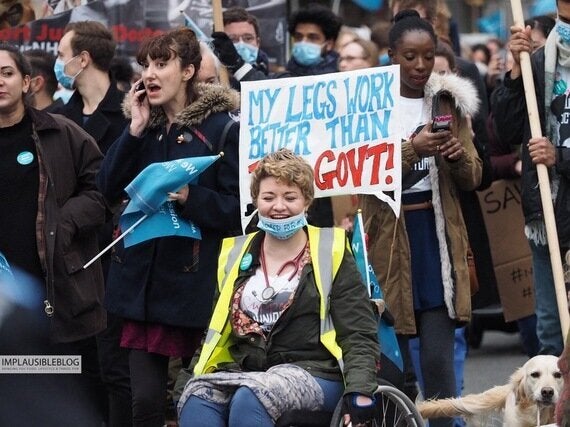 Being a doctor is hard. Frankly, it should be. As a patient, I want someone who has put in long hours to become 'an expert', someone who has dedicated themselves to this role because they want to care for people. Perhaps selfishly, knowing that they have made sacrifices for their future patients helps me to feel reassured that they're not going to see me as anything less than an individual person, with my own needs and problems.
We do however, need to care for doctors too. In the last year, we have seen the frustrations felt by junior doctors played out on the national stage, and morale seems to be at an all time low. It often feels like there is little acknowledgement that we too are human - we also have to handle health problems and family needs of our own.
As I've written before, I don't want an exhausted automaton looking after me. I want to know I'm safe. As a doctor, I know my decision-making skills are worse when I'm sleep deprived. That I don't communicate as well when I'm fuelled on coffee and sugar alone. We need to ensure that doctors are cared for by their employers; as has been proved in companies around the world, staff who are happy, rested and invested perform better.
A huge issue for doctors around the country is where they are based, and which hospitals they work in. Perhaps unsurprisingly, many medics are in relationships and have families with other medics - often meeting during the many years spent in medical school, and assured that if anyone will understand the sacrifices we make, it will be another doctor. I am one such example - my partner is 18 months off qualifying, so we shall be two years apart in our training stages.
It is not uncommon for couples who are both doctors to have to live apart for significant periods of their training. These young people, who want to be starting families, buying homes, and who need the support of their loved ones while working stressful, emotionally exhausting jobs, can find themselves living in hospital accommodation, miles from their partner. This is a particular problem when like me, the doctor in question has health needs themselves, and needs more help from loved ones than your average person. Previously, as a disabled doctor, when applying for training posts, the need for me to be near my partner has not been considered. If I were caring for a disabled relative, that would not factor into where in the UK I was placed to work. Thanks to a huge victory between Health Education England and the British Medical Association, this is changing.
As of the agreement this week, doctors applying for training programmes who have a medical condition or disability, or who care for someone who does and thus need to work in a particular location, can be pre-allocated to that region. Even if doctors don't fit into this criteria, for the first time there will be a formalized swapping system, where doctors can swap with fellow applicants, or into a vacant space.
As medics, we well know the frustration of being told which hospital we will be working in only days before we start, or getting our rota on the first day of the job, often making planning life events such as getting married, or simply going on holiday with our partner a challenge of Herculean proportions. This has also been tackled, with the new Code of Practice, where notice of your post is given 12 weeks in advance, generic rota information will arrive 8 weeks in advance, and actual rotas 6 weeks before we start. This will enable annual leave applications to be processed in a timely manner, and should improve the working lives of the 54,000 junior doctors in this country.
Since qualifying, I have always had one eye to the future, worried about what will happen to my career and my relationships, and how my disability could make a hard career even tougher. While this victory with HEE is not going to improve everything, I now know that I will not struggle alone, isolated from my loved ones, while fighting a body that never learnt the rules. We still have a way to go, but I'm going to savour this win for a long while.