For the past few years we've done an alternative advent calendar for our children. They have a small bag to open each day in which is a challenge or treat. They range from choosing some toys to give away to charity through to going out in their jammies to see the house lights, with the odd chocolate coin chucked in for the days when the elves mess up the arrangements (flaming elves).
We are hoping to teach them empathy & compassion as part of the fun at Christmas.
I then realised that I could be doing a bit more of this myself, after all the way we teach our children is through the examples we set. With everything happening in the world currently it feels like a good way to channel some positive energy and actually do some good.
I'm also really aware that as mothers we ask a whole lot of ourselves during this time of year, the expectations are often huge and there is always the risk that amongst trying to work out how to turn a blue pillow case into a Mary costume the night before a nativity (this definitely wasn't me last year) we miss some of the magic and burn out. We can dash through the 24 days of December towards that final page of the 25th rather than enjoying and embracing the whole story.
There are plenty of new advent calendars now on the market and I am definitely not against one where you receive cheese every day (apparently this does exist) but how about one that's a bit different. We decided to create a Mothers advent calendar both to help create a December which is more mindful, more present, more enjoyable and also to raise money for a really good cause.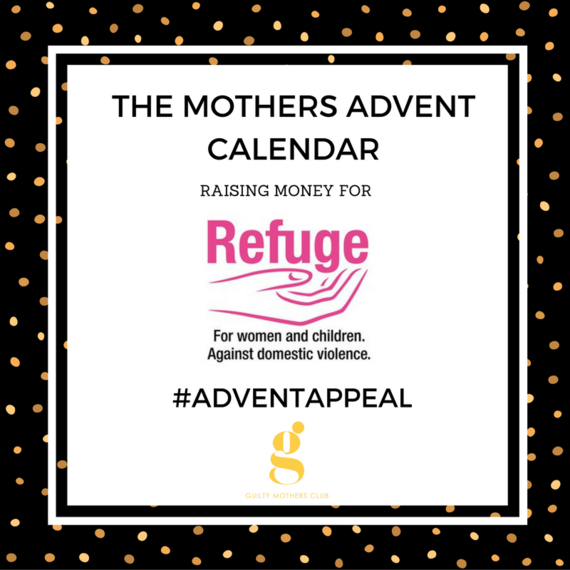 We have chosen to support the charity Refuge - which supports women and children escaping domestic violence. Every woman has the right to live life free from violence. The police receive a domestic violence call every 30 seconds. We are aiming to raise £500 through an online competition which could go towards 100 women and children having Christmas lunch in a Refuge Centre.
What are the 24 ideas for the advent calendar?
1. What do YOU want and need from Christmas? It's o.k to ask this question
2. Thank those who lift you up, make you shine
3. Sit down, two hands, eat the cake. Enjoy every, single, moment
4. Tell a fellow Mama how great they're doing
5. Let go of anything that you can't control
6. Do something just for YOU - paint your nails, read a book...
7. Have a date night or if easier just a cheeky night in where you actually talk!
8. Remember that the best gift you can give yourself and others is time
9. Embrace Hyyge, slow down, snuggle up, get cosy with those you love
10. Write to someone you won't see over Christmas
11. Start your own new tradition
12. Write down 3 things you are grateful for this Christmas
13. Get creative in whatever way works for you
14. Maybe a little pampering? Or even just spending more than 30 seconds in the shower?
15. Just breathe, it's not a race to the 24th, enjoy every minute along the way
16. Do a random act of kindness, it's amazing
17. Get yourself a Christmas cocktail
18. Know that you are enough and you have done enough
19. You don't have to do everything yourself - it is o.k to ask for help
21. Celebrate everything you have achieved
22. Get outside in the fresh air - go for a long meandering walk
23. Give out as many hugs & christmas kisses as it is possible to give!
How can I get involved in the campaign?
We'd absolutely love it if you could. Each day on our Guilty Mothers Club Facebook and Instagram feed will be a post reminding you of one of the ideas above and a 'door' behind which a new gift will be revealed. A ton of super kind businesses have donated some amazing prizes and by entering just once you are in with a chance of winning ALL 24!
1. Comment on the one of the Facebook or Instagram posts with your name
(REALLY imp you do this so we can contact the winner)
2. We'd love you to donate to Refuge by texting the code GMCR60 £2 (or more) to 70070
You can also really help by spreading the word on social media. Please use the #adventappeal, we promise you'll feel that warm glow from doing something wonderful.
All terms and conditions can be found here too.
Hope you enjoy the calendar and wishing you a wonderful Christmas.