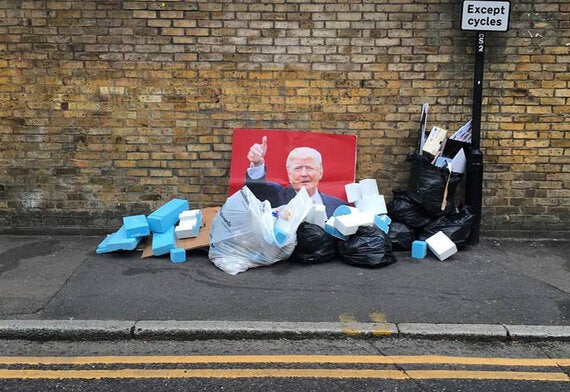 Photo by Paulius Chmieliauskas, captured in Shoreditch, London
Politics, sometimes, may seem not entirely related to fashion, but voting in EU Referendum should be an ultimate 'must' to every British fashionista. As strong supporters of borderless talent exchange and European fashion, Fashion Bloc prepared a simple no-brainer guide helping to decide if you should vote #strongerin or #weakerout (no pressure).
1. UK fashion industry Votes 'in'
If you follow fashion news (sure you do!), you already know about the survey conducted by the British Fashion Council which revealed that of the 290 fashion businesses that disclosed their vote in the forthcoming referendum, just 4.3 percent said they intended to vote to leave. If you look up to the guys like Vivienne Westwood, Burberry's Christopher Bailey, J.W. Anderson, Vogue's Alexandra Shulman or BOF's Imran Amed, you know what to do.
2. Your favourite fashion houses will lose their core talents
Did you know that surprisingly big numbers of employees in the major fashion houses are non-British? The competition calls for higher quality, as simple as that. In the scenario Britain votes #weakerout, to source your talented team (hassle free) in Paris, Milan or other European cities will become more complicated. Burberry, which can be rightfully considered the most successful British luxury fashion brand, has hundreds of European talents from Italian Director of Merchandising to Greek Footwear designer.
Without any doubts, Britain is rich of artistic talents on its own, but how many McQueens can you expect to meet in a century? Major art schools such as Central Saint Martins or Royal College of Arts are thriving not just because they are based in London but also because they attract top international students (and are supported by EU funds). Tuition fees and complicated rules for non-EU students will put a strain on these universities. Did you know that currently, international students have to leave the country if they don't nail a sponsored work visa within 6 months after graduation? Let's be honest, the fashion industry is based on extensive internships, not quick-to-nail jobs. And yes, Greek Mary Katranzou, as well as Georgian David Koma or Cypriot Hussein Chalayan, are CSM alumni.
4. What about the non-British fashion in the UK?
If you don't care about the trade regulations that thousands of British companies will face if Britain is to vote 'leave', think personal. What about the European brands in Britain? Will major European high-street labels such as Spanish Zara or Diesel still be reasonably priced? Or will you have to travel to Barcelona each time you consider buying a new pair of jeans (that wouldn't be too bad, actually)? And one more thing, if you haven't heard of Customs Duty, you don't really want to find out what a hassle it is.
5. And most importantly, voting 'out' has no class (see the photo).
Who supports 'leave' campaign? People like Donald Trump (the most famous crazy person on Earth) and Nigel Farage (who suggested that breastfeeding mums should sit in a corner). Who supports 'stay' campaign? From reasonable politicians (Barack Obama, for example) to all the major figures in the arts, culture and the media: Vogue, i-D magazine, British Fashion Council, Business of Fashion, University of the Arts London; artists and entertainers from Steve McQueen to Eddie Izzard, from Keira Knightley to Benedict Cumberbatch, from Vivienne Westwood to Christopher Raeburn.
Fashion Bloc is a London based online platform for carefully selected designer fashion from new European capitals. We support Made in Europe, free talent exchange and borderless fashion.