You can't avoid it; in every newspaper, every day, another story about the NHS under increasing strain from all areas.
As the image below shows, if up to a quarter of pharmacies have to close then 49% of people say that they'd go to their local GP, while another 28% would go to a walk-in clinic or hospital – this is a pressure that the NHS simply cannot handle. One million extra people a month will be forced into their GPs surgeries or A&E departments.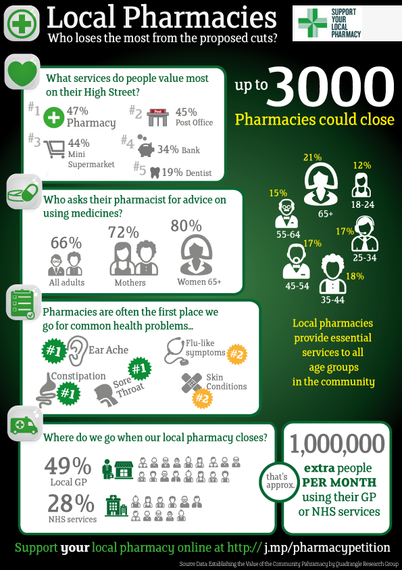 Diabetes, asthma, allergies, minor burns, sleep disorders, skin conditions, digestive conditions, high cholesterol; all things that can be aided by a pharmacist. On every high street there is a readily available service to aid all of these conditions and you don't even need to book an appointment.
It's more important now than ever that we recognise that pharmacy is an important pillar of the NHS, and allow pharmacists up and down the country to take on the management of some of these conditions to help free up the already enormous pressure on our other NHS services.