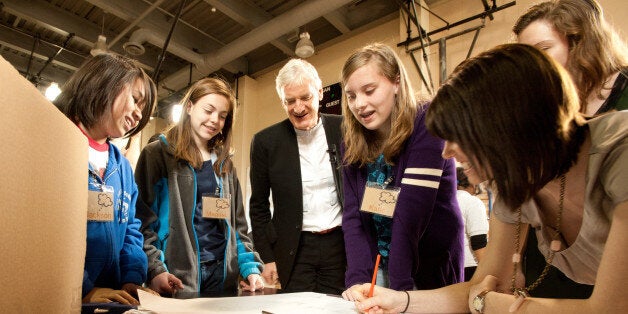 The UK faces a deficit of 340,000 engineers by 2020. Only 6% of Britain's engineers are female. China produces 20-times more engineers than the UK every year, and one in three of them are women.
At school and university women outperform men in Science, Technology, Engineering and Mathematics. Indeed, the few who do become engineers enjoy it - 98% of women engineers find their job rewarding. Who wouldn't?
It is therefore incomprehensible that 93% of parents would not support their daughters in pursuing a career in engineering. Actually it's not that surprising. My parents, classicists, were not engineering advocates. Nor was my careers advisor at school who having taken one look at me, and noting my enjoyment of the outdoors, suggested I become an estate agent. He could not have been more wrong - and thank god I didn't listen to him.
We need to change young people's assumption of what an engineer is, or more accurately, their parents' assumptions, and excite them about the prospects. It is fulfilling and frustrating, in equal measure, and you can be confident your skills will always be in demand.
Inspiring teachers and an inspiring curriculum are the catalyst to creating more engineers. Design and Technology lessons put Mathematics and Physics to practical use. Done well, it provides a window into the real world of engineering. Not oily rags and spanners, but a job in which you see the world's problems - and solve them. Unfortunately, so often D&T is viewed as the second best... but it is the food of future engineers.
My charity, The James Dyson Foundation, works with five schools in Bath - we are reengineering D&T curriculum and getting industry grade equipment into the labs. No more key fobs and bookends - instead, students work in teams to prototype inventions which answer a brief, then iteratively test and redesign.
It is real life engineering - a curriculum designed by real-world engineers. It shows what engineering is really like and the children are hooked. D&T teachers say the subject is more respected than ever, and engineers are seen as heroes.
150% more girls are choosing D&T at GCSE as a result. Include the boys, and we have doubled the potential number of engineers in the making. Food for thought as the government redesigns the D&T GCSE curriculum. Make it relevant and engaging - a perfect pipeline for future engineers.
Changing perceptions and making it inspiring is a start, but there are other barriers to girls becoming engineers. At A-level only 20% of those studying Physics were girls, versus 55% in Biology and 50% for Chemistry. This is a problem: studying engineering at university requires Physics. Remove this barrier and the applications flow.
The new Dyson School of Design Engineering at Imperial College London has attracted a cohort of 42% females for its four year course, by waiving the requirement for an A-level in Physics and introducing a hefty focus on design. That is three times the national average - University College London is doing a similar thing and achieving a similar result. The Physics still has to be learned, but learning by doing is the best way. They will be better engineers for it - and more importantly they have the opportunities to be engineers in the first place!
Ultimately we need more engineers: male or female. But getting women into engineering is vital. It will not just alleviate the shortage, but could actually improve the engineering solutions that are developed. Rather than bemoaning the lack of engineers, let's celebrate our female role models and excite our children about the possibilities of a career in engineering. Britain's high technology companies need their brain power.
Sir James Dyson is Chairman and Founder of Dyson Ltd.