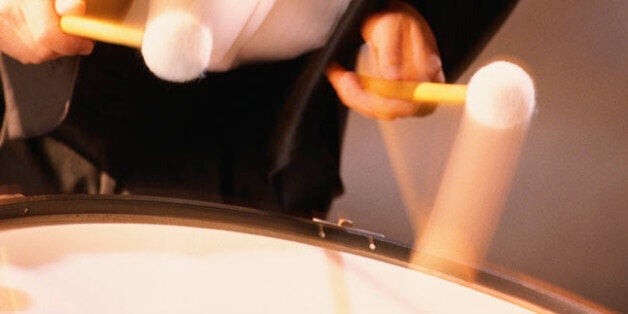 A few days ago, just as the 2017 BBC Proms embarked on another summer of spectacular music, commentators predicted the season would tastefully sidestep politics.
Indeed, one pundit stated that classical music transcends such matters, its whole purpose to provide an escape from worldly affairs.
Oooops. Three days into the Proms, its world-class artists have defied all such expectations.
On the First Night, pianist Igor Levit gave a surprise encore: Liszt's transcription of the Ode to Joy from Beethoven's Ninth Symphony. Hardly a lethal weapon, one might think, given the charming arrangement was published way back in 1865.
But the symphony was since appropriated as the EU's official anthem and - look closer - Levit was wearing a pin badge of the EU flag. That he played it with such tenderness made it all the more potent.
Two nights later, conductor Daniel Barenboim and the Berlin Staatskapelle brought an all-English programme to the Proms: new music by Harrison Birtwistle and Elgar's century-old Second Symphony. Birtwistle has roused a rumpus at the Proms before, but this time it was Elgar's turn, not so much in the symphony, but in two encores: Nimrod from the Enigma Variations and the first of the Pomp and Circumstance marches.
Both hallowed entries in the Classic FM Hall of Fame, neither usually incites much contention, but they bookended a delicate yet emphatic speech from Barenboim, expressing his concern about 'isolation tendencies' and Europe drifting apart.
Depending where you look, social media is half in rapture about this, and half enraged. Were such gestures long overdue, or should music purely exist beyond political taint?
From where I'm standing - in charge of an orchestra that empowers young players to keep their art-form alive for decades to come - the issues are indivisible. It's all well and good to think music occupies a higher plain, that having prospered for centuries, we'll still be relishing Beethoven, Liszt and Elgar for centuries more. But that sadly isn't the case.
Show me a professional orchestra in this country that isn't significantly populated with musicians from the EU. Let me save you the effort: there aren't any.
While we pray the Brexit negotiations won't uproot the current mix of players that give such orchestras their character and depth, as I write, David Davis' team is yet to secure their position. We may still find our orchestras pillaged of their vital DNA.
In a recent survey, the Association of British Orchestras found that 20% of professional orchestral players are from EU countries beyond Britain. Thanks to our woefully underfunded music education provision, there isn't an infantry of equally able British players waiting in the wings to take their place.
In fact, in young orchestras like mine where regular turnover offers some insight of future trends, we find an even higher proportion from other EU countries (last year, 39% of Southbank Sinfonia, and 38% of the Guildhall School Symphony Orchestra) - the upswing, a stark symbol of British music education's decline.
Even if the Europeans currently in our orchestras can remain, what happens as they or their colleagues retire, change jobs or move on? And what will happen to vital young orchestras like my own, suddenly ravaged with cavities? If a hard Brexit prevails, it's likely Game Over for many of us.
I wonder how many Brexiteers blissfully enjoy the BBC Proms, quite mindless that the government has no contingency for when the music stops.
Amid all this, I'm yet to meet a musician who thinks any orchestra would be all the better for being solely British. Orchestras remain one of the world's very best embodiments of what happens when diverse individuals unite to achieve wonders beyond themselves. Where is that ideal left if we wilfully wrench the Europeans from it? Who gains?
Fans of classical music often talk about it being 'without borders'. Barenboim remarked at the Proms that while you need a translation to read Proust, no such intermediary is necessary to be invigorated by Beethoven. A piece of classical music can be heard on concert hall stages and radio stations worldwide, speaking its universal language in more territories than any other musical genre. Why bring the portcullis down on that?
Brexit won't just impact Britain's own orchestral scene. Right now, most of our orchestras perform worldwide. For many it's financially vital, subsidising what we enjoy of them here. Moreover, like our champion athletes, they act as terrific emissaries for Britain, showing the world how we lead the field.
The red tape around taking orchestras to Europe is already extensive but we'll be strangled by it post-Brexit. Our music will literally stop taking flight.
Countless great artists only find their voice and talents by being able to roam. Sir Nicholas Hytner charted this in a recent article: all he said there about theatremakers goes equally for musicians. Many British players in our orchestras have benefitted from studying and working in mainland Europe where the orchestral tradition began.
Famously, Sir Simon Rattle did us all proud becoming the first Brit to become Artistic Director of the Berlin Philharmonic. 18 years later, he brings home extraordinary experience from that post, sure to propel the London Symphony Orchestra to greater heights.
While visas may still be viable for isolate cases like his, why rip up the principle, confining every young musician's dream of where music can take them?
Edward Elgar likewise spent much time working abroad. We think of him being thoroughly British but, like most of the composers we love, his music was beholden to European traditions, and he wrote some of his greatest works on the continent.
This goes two ways, of course, and it's startling to think how many European ensembles and artists may no longer find their way to dazzle us at the BBC Proms or elsewhere nationwide. It was therefore tremendously poignant to hear the Berlin Staatskapelle play all-English repertoire with such warmth at this weekend's Proms. Their rendition of Elgar's Second Symphony and Nimrod were second to none.
But their masterstroke was to conclude with Pomp and Circumstance. We rarely hear that work beyond the Proms' famous Last Night, where it has become a bit of a warhorse, laden with Union Jacks and jingoistic spirit. In that context, you'd never know its title comes from a play set in Italy and Cyprus, uttered by a character from Spain.
In this performance, the audience started clapping along as they do on the Last Night, but remarkably they couldn't quite keep pace with the Berlin Staatskapelle. Barenboim and his orchestra shrugged off the work's familiar shroud and, in place of that old mare patriotically trotted round the paddock, emerged an agile stallion, seemingly new-born, exhilarating the senses, inviting us to keep leaping hurdles with it.
It took a German orchestra (its players from all over Europe) and an Argentine-born Israeli conductor, in music more powerful than any words, to remind us what we stand to lose if we don't defend music from the crushing thump of politics in the coming months.
We've another eight weeks of the BBC Proms. Listen carefully. I can't wait to hear what else it has to tell us.