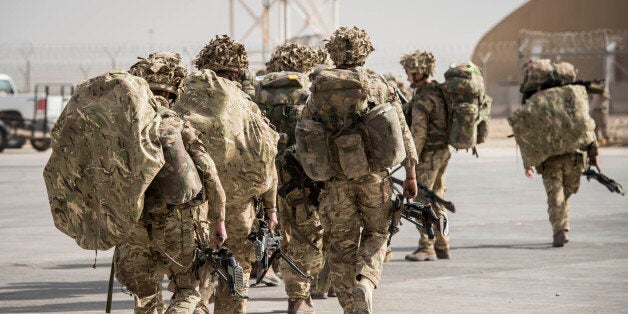 Jeremy Corbyn calls for troops to face prosecutions, an event at the Labour conference in Liverpool hands out materials mocking injured British soldiers, door security at a bar in Reading turns away members of the Navy and a leading charity for veterans draws back its operations significantly due to lack of funding.
When our armed forces are not engaged in conflict, society cares less about them. It could be an overzealous bouncer who assumes service men and women will cause trouble, it could be the leader of the opposition backing Taliban bomb-makers' claims of abuse at the hands of army personnel in Afghanistan. It's councils not providing due support to veterans in towns and cities up and down the country and it's the Government turning a blind eye to the fact service veterans are more likely to end up in jail, homeless of commit suicide. It all points to a nation shamefully turning their backs on those who deserve better.
It's a bitter pill to swallow. When the coffins stop being slowly transported through Royal Wotton Bassett, when the wearing of wristbands supporting Help for Heroes has declined and national newspapers stop reminding readers of their moral duty to get behind those sacrificing their lives, empathy and social consciousness all but disappears. Today, the second most influential person in British politics is taking the side of enemies of this country, those who have British blood on their hands. And the general response has been that of ambivalence; many of Corbyn's younger supporters think he has a point. It's a disgrace, an insult and nothing short of treachery.
Last month, Soldier On announced it was drawing back some of its work, notably that of the support it offers veterans suffering PTSD from the conflicts of the last two decades. They cited 'donor fatigue' as a reason; members of the public becoming less willing to give money to service charities. But the real tragedy here is the fact these organisations need public generosity to operate in the first place; we seemingly live in a nation that haphazardly sends young men and women to war, generally under-equipped, but then refuses to pick up the pieces later. After all, if we send troops to war without proper boots on their feet, can we really be surprised to learn we don't fund their aftercare?
Troop numbers and the attraction of a career in the military is on the decline. Sooner or later we will have to go in to conflict again; we are not going to be able to turn a blind eye much longer to some of the terrible atrocities occurring on Europe's doorstep. When we do, we need our boys and girls to know we have their back. We cannot have one second of doubt in the minds of those troops about the support their country has for them, because a second's hesitation on the battlefield is the difference between life and death.
It's perilous to the future defence of this country that stood in the wings of any military operation, waiting to pounce at any moment, are financially driven claims lawyers happy to represent terrorists and win prosecutions on technicalities with a lack of understanding on what conflict really is. And what's sickening is the lack of support those facing claims of misconduct receive to defend themselves from these lawsuits.
We all have to fight against this, whether you be a business owner, a door man on a club or a typical person on the street. We need to get behind our veterans and troops just like we did ten years ago and we can do so by writing to our MPs, popping a couple of quid in collection buckets or by simply taking half an hour out to talk to somebody who might need some company.
We need to get behind our veterans, and that includes you, Jeremy Corbyn, You can start doing this by distancing yourself from the materials on display this weekend at the Momentum event in Liverpool and by reassuring our troops of your support, not by threatening them.
Popular in the Community