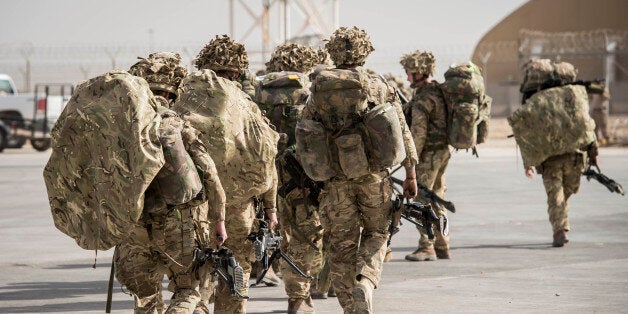 In light of the on-going witch hunt against heroic British Army veterans of Northern Ireland, no young person would be wise to consider a career in the UK armed forces. Why should they?
I return home to a little village in my native North Wales every Christmas, an annual trip I originally started while I was a young soldier 13 years ago. Based in London with the Household Cavalry from the age of 17, escaping the city, the pressures of carrying out constant duties around members of the Royal Family and the day-to-day weight of being a member of the military collectively provided me ample motivation to make the journey out of the capital and spend time with family.
I left the army almost four years ago, remaining in London afterwards and today I still only rarely make the pilgrimage home to that village near the English boarder in Wrexham, but when I do often people who remember me as a local boy will stop me in the street or in the supermarket and ask how my military service is going, mistakenly assuming I'm still a soldier. "How's the Army, James?" and I'll then tell them I'm no longer serving, but that it's probably in good shape. That is, of course, up until recently.
I was in one of the local pubs on Boxing Day, I'd taken my father out for a few hours from his care home, and is often the case I was asked about the army. When I replied that I had actually left, the gentleman quickly asked If I would mind having a quick chat with his 16-year-old son who was about to apply to join, "Have a word with him and point him ion the right direction, James."
The Army is a big place, and this lad was overwhelmed with the many different options in front of him in what's supposed to be one of the finest professions in the country; a proud job that gives you values and makes you a well-rounded human being. He asked where I'd served and how difficult a job it really was? He was genuinely enthused about the years in front of him and I could tell he would likely be an asset for the organisation, too.
But how could I possibly do that thing I instantly want to do every time a young person asks me about a life in the military? What sort of intelligent human being would encourage someone barely out of childhood to sign up to a job that might, in all possibility, land him in court defending himself for obeying the government of the day's demands? I always relished the chance to ask a proper soldier about a career in the military whenever I met one as a kid, and I knew my advice would crush him and his enthusiasm.
I simply couldn't. Instead of pulling the lad to one side and giving him career advice, perhaps a tale of adventure from the ten years I spent traveling the world having good times, sometimes having traumatic times with my fellow soldiers, I felt I could only offer him some words of warning. I couldn't in good conscience offer him any better advice than to stay as far away as possible from a career in the UK armed forces, telling him he would be an idiot to sign up to an organisation that will ask him to kill in the name of Queen and country, but then later leave him hung out to dry while former enemies of the state employed money-chasing shark lawyers to pursue claims against him for following those very commands. What other country in the world would do this to the people who swear an oath of allegiance to defend it?
But of course this is the same group of extraordinary young men and women who were sent to Iraq without boots, it's the same community who have lost their human rights in times of conflict, and let's not forget, they have been paid pennies for their superb abilities since Charles II formed the origins of this army during the Reformation. In those days at least the state had the backs of everyday soldiers. Today, British politicians court Gerry Adams as a colleague and Martin McGuinness is applauded for his so-called statesmanship. It's an utter disgrace and a dagger in the backs of the men who survived those awful troubles, and a betrayal to those who didn't. In a nutshell, members of our military are used to getting screwed. But it absolutely shouldn't be this way.
A lack of a law-binding armed forces covenant, a culture that sides with terrorists and those who are well-known to have been responsible for mass murder, including infants, and the incompetency of the Blair-led government and their willingness to hand out 'get out of jail free' cards willy-nilly to killers, means that our ageing veterans who served on the world's most dangerous streets in Northern Ireland in the 1970s and 80s are now being hunted in the courts without anybody willing to step forward and defend them. Where is the popular Conservative government of today leaping to defend these men? Where is Ms May and her so far empty promises to protect our armed forces? One hopes that includes these now vulnerable veterans, because if action is not taken to block this outrage, people will stop joining the army, and rightly so.
I'm sad I had to to tell that young man on Boxing Day that the Army is not a sensible option to pursue, but until there are some assurances from our parliament that veterans like me, those older than me and those who are still serving, will always have the legal protection and support from the state that orders given in name of the Queen will be met with government level defiance decades into the future, I will continue to advise people against a life in military. And I call on all members and former members of the military to do the same until this disgusting witch hunt on our ageing heroes is brought to an end.