We've been wowed this last week by some of the world's brightest minds and creative thinkers sharing their vision for making malaria no more.
Bill Gates set the bar high at Facebook HQ in London with a Q&A in support of Global Citizen's campaign to end extreme poverty by 2030. See the highlights here. One of our supporters, malaria survivor Alex Carter asked Bill for his view on an end date for malaria with the reply between 2030-2040, with a "personal hope that we can get it done more like 2030".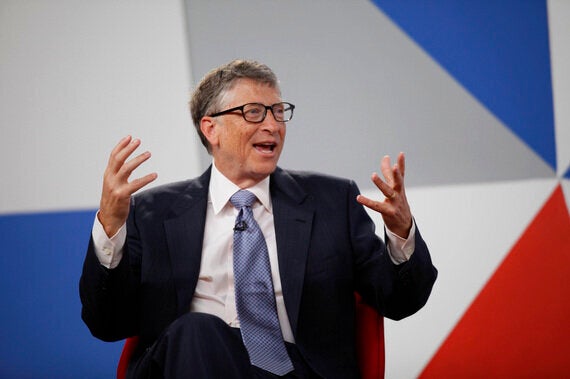 It is an extraordinary fact - this is one disease that we believe we can beat within a generation. Some reckon that it has killed half of all humans that have ever lived (it's been with us for 200,000 years) and now our generation could, if we are truly determined, defeat it. Child deaths have been cut by more than half since 2000 and the next 15-20 years offer a once-in-a-lifetime opportunity to help end malaria deaths. Bill went on to outline the critical factors to make this a reality including innovation at every level; access to the very cheap medicines and getting more people engaged in the malaria fight.
Cue Dr. Alan Magill, Director of the Gates Malaria Programme who describes his job in four words: A malaria free world. Last Tuesday Alan addressed a group of MPs, many new in this Parliament about how we will build on recent success with malaria deaths now halved. "Now the fight has to go from good to great, saving lives now and saving lives forever". Alan reminded us that investing in the malaria fight is not just one of the best buys in global health or an essential path to helping end extreme poverty and better global health security, it is also a matter of justice and equity. As Melinda Gates said in her 2007 statement, her children are not going to die of malaria, why should anyone else's child? Yet, today a child still dies every minute from a disease that costs less than £1 to treat.
The malaria fight has gained monumental ground but there is a real risk of backsliding if we don't keep up the pace. Alan's malaria address was accompanied by incisive commentary from Professor Chris Whitty, Chief Scientific Adviser at the Department for International Development. Whitty talked about "rocks under the surface" in the coming years in the malaria fight, particularly drug and insecticide resistance. Innovation remains a critical component in every area of the malaria fight, the mosquito continues to adapt to its surroundings and so must we.
I heard last week about an exciting new drug which by passes the resistance to current drugs. It has shown promising results in mice. Estimated to cost around 60p it has the potential for a double whammy, both treating malaria and critically killing the parasite, so the killer disease cannot be transmitted on from one person to another. Clinical trials are expected within a year.
Bold, creative ideas to fight malaria came to life last week too. 29 teams from global media agencies entered the Young Lions Media competition for charity in Cannes. Held as part of the world's biggest ad festival, Cannes Lions, the competition saw the brightest professional minds compete to develop an innovative communications plan to help us recruit major businesses and high net worth individuals to take the malaria campaign to the next level. Read the highlights from Arabella Gilchrist, our Director of Communications.
Brilliant business minds and entrepreneurial approaches to tackling malaria are in our DNA and paramount to our future work. 10 years ago Wall Street pioneer Ray Chambers co-founded Malaria No More to help unlock private sector clout and expertise to solve the curable crisis of malaria that still keeps so many in poverty. I'm therefore delighted that Malaria No More UK's Board is expanding to include two individuals who epitomise creative thinking: Ije Nwokorie, CEO of Wolff Olins who has established a career that blurs the lines between technology, strategy, creativity, innovation and entrepreneurialism and Philip Thomas, CEO of Lions Festivals who brings with him a firm belief in the power of creativity as a force for good.
We need the philanthropists of this world along with scientific genius, pioneering business leaders, creative communicators - and we need you, if we are all to beat this terrible disease. I invite you to join us and make ending malaria a legacy recognised by all generations to come.