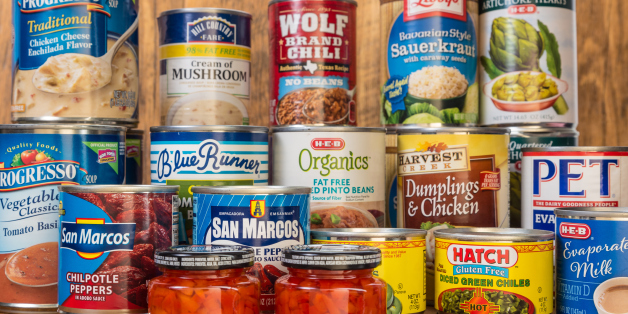 Warren Price via Getty Images
The latest 'trendy' Tory, Jacob Rees-Mogg, has described food banks as "rather uplifting" saying that the public's voluntary support "shows what a compassionate country we are". The Tory MP who represents North East Somerset spoke to LBC where he attributed the rise in the use of food banks to people "knowing that they are there" before claiming the previous Labour government had failed to inform people of their existence.
One of the UK's major food bank charities, The Trussell Trust has recorded a 76% increase in the number of foodbanks launched since April 2012 and has seen a 170% increase in numbers of people given emergency food. People using Trussell Trust food banks has gone up since 2010 from 41,000 to 1.2 million. In another major research study of food bank use by the charity, it was highlighted that three-quarters of households using food banks contained someone with a health condition and/or disability.
Further research by Oxford University published in 2014, was able to link benefit sanctions and use of food banks, the research led calls for changes to the UK's increasingly threadbare social security system which was demolished and rebuilt by the Tory led government over the last 7 years. The calls which followed the publication of the research were constantly ignored and brushed off by the government and conservative party.
However, while two of the top reasons given for using food banks in the last year are Benefit Delays and Changes, the top reason is Low Income. There is a long list of extremely nasty policies that impact people's finances, enforced by the current government including The Bedroom Tax, rewriting the law to deny increased benefit payments to 165,000 people, Scrapping housing benefit for 18-21-year-olds and cutting legal aid.
Everything that came out of Jacob Rees-Mogg's mouth on LBC demonstrates a typical Tory response to pretty much anything; attempt to put a positive spin on a dire situation created by their own hands, blame the Labour party and deny the state can help solve the problem. The Party also seem to be extremely talented at ignorance and cherry picking evidence to suit their agenda.
Rees-Mogg's vomit inducing voting record which is almost guaranteed to leave you with your head in your hands paints a dark picture and even shows he has voted twice in favour of repealing the Human Rights Act 1998. He has also consistently voted against raising welfare benefits at least in line with prices and has consistently voted for a reduction in spending on welfare benefits a whopping 52 times.
It is increasingly clear that Rees-Mogg alongside the government and the rest of the Conservative party lack the ability to understand what their actions have done to the most vulnerable people in the society it has created over the last 7 years. They constantly ignore the stark research that serves to bring to their attention what is going on in society and they refuse to acknowledge, let alone attempt to fix it.