Crombie's autumn/winter 2012 collection possesses what you would expect from a company that has dressed the likes of the Duke of Windsor, Winston Churchill, Cary Grant, The Beatles, JFK and Barack Obama: and that is ineffable classic style, but with a modern twist. Jason Holmes met Crombie's head of wholesale Gordon Ritchie to try on the king of coats
The Crombie flagship store on Conduit Street in London's Mayfair is a retail space at peace with itself. Nothing about the layout conveys the desperation of the hard sell. This is, after all, a 200-year-old company that has always steadfastly produced classic handcrafted garments made from the finest fabrics.
'We're refurbishing the flagship,' says Gordon Ritchie. 'There's a Manchester store, and one in Edinburgh too. The three stores were the only places you could buy a Crombie.' Were? I ask. 'We're taking Crombie global,' he says with a grin.
'There's a very direct lineage of ownership,' he says. 'The Crombie family founded the company in 1805, establishing its reputation first in London and Paris, the Crombie name becoming linked, from the very beginning, with the finest craftsmanship.
'Now, some clothes are made abroad, but we've always maintained manufacturing in the UK. We're a privately-owned company, owned by Alan Lewis since 1983,' says Gordon, taking an olive green greatcoat with chalk-filled brass buttons off a coathanger and handing it to me. I try it on. 'That's based on a design from our archive,' he says. He watches me admire myself in the mirror, then reluctantly unbutton it and hand it back to him.
According to Gordon, the green greatcoat provoked a passing Paul Weller to slam on the brakes of his Mini, rush into the shop and say 'I want that coat!' It is also coveted by the head tailor from Brioni and the actor Vincent Cassel, who bought a blue one (pictured).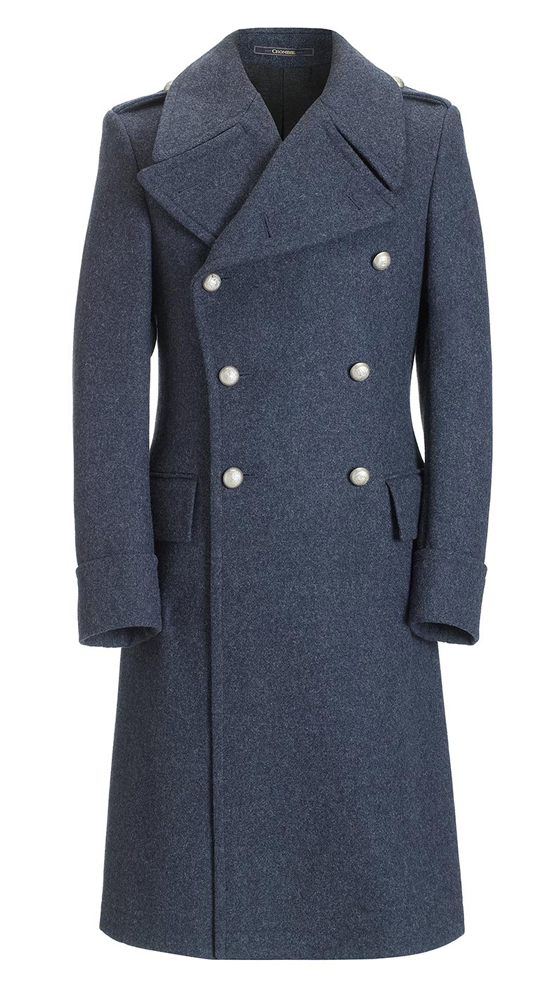 'Crombie has been a brand that's never really shouted about itself. It is part of the fabric of British menswear. It has been a worldwide brand in the past,' says Gordon, leading me to the rail on which hang the key coats of the AW12 collection. 'The company established itself in North America and the Far East in the 19th century. Crombie also supplied cloth to the Confederate army during the American Civil War and to the Norwegian resistance during World War 2,' he says, as I fold a red silk handkerchief into the breast pocket of a black melton coat.
Before the Conduit Street flagship, which has existed for four years, Crombie was based on Jermyn Street. 'We're currently sourcing antique pieces for the refurbishment, along with some Persian rugs. We never use agents, distributors or a PR agency. Crombie is an authentic brand and middle men are anathema to us.'
Gordon's own family wore Crombie coats all their lives. His mother would buy Crombie fabric and make clothes with it. 'My enthusiasm, love and genuine feel for the Crombie product is what I hope will get the brand out there into the places we want it to be.'
Crombie coats are stocked in Harrods, Liberty, Brown Thomas in Dublin and Barneys New York. 'We're taking the company out into the wider world again,' says Gordon, handing me a peacoat (£695) from AW12. 'We're launching in 20 countries. I've spent the past year travelling the globe, offering it to select stores. That peacoat is a bit special, isn't it.' I can't disagree. Five minutes later I take it off and hand it back to him. But then that is topped by the wool/cashmere-mix bridge coat which is sharper and longer, its horn buttons pebble soft.
'Mr Lewis has said he foresaw the current global economic crisis, and decided to make the company a smaller, tighter organisation,' says Gordon, leading me into the back room where sits a summer collection of classic sporting blazers, merino knit T-shirts, dolphin grey wool cardigans and a summer mac (£750) made from one piece of double-faced fabric. This spring/summer 2013 collection was inspired by Crombie swatch books from 1865.
'Crombie was looking for someone to run their wholesale operation, so I left my job at a denim brand. It's a great opportunity,' says Gordon, handing me a silk scarf blocked in gold and black paisley (£75), each tassel hand tied, and so soft around my neck I cannot feel it. 'Mr Lewis is very protective of Crombie. He wants Crombie to be in the best stores in the world, so I have travelled to the Far East, Europe and the US East Coast and Midwest.' Gordon and an assistant devise the strategy, travelling together, samples crammed into cases as they move from country to country.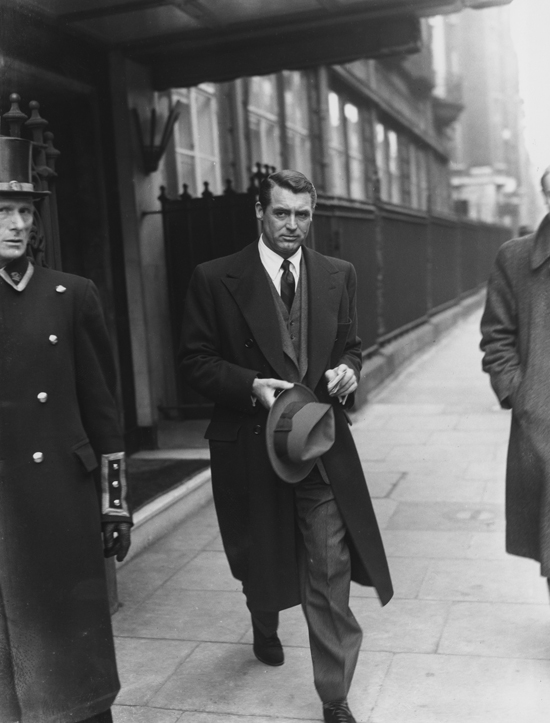 The AW12 range comprises classic covert coats, peacoats and greatcoats that possess Modernist twists. 'In 1852 the Earl of Chesterfield commissioned a bespoke coat. Our original coat was therefore called a Chesterfield. And today we have this,' says Gordon, showing me a sharper cut covert coat with softer fitted shoulders, a velvet collar and perfect lapels, the trademark red lining still present. I tell him every City gent, Mod and stylist will want one. 'We make wool coats that retail at £795, but the cashmere coat costs £1,700. A new cashmere/vicuña-mix coat is in development and will retail next year at £5,000. It's the next level up. People still aspire to own a Crombie, such is its prestige.'
Crombie's in-house design team comprises people who have worked for the company for many years. The coats, for women now as well as men, have been slimmed down and shortened. 'It's not our aim to become a fashion brand,' says Gordon. "We want to become more of an upmarket, luxury brand.'
The bespoke suit service starts from £900 and goes up to £1,500. Plans exist to develop the tailoring side of the business, and there's even a repair service in place to take care of injuries your coat might sustain.
'People are looking for quality now; with historic provenance and style,' says Gordon finally. 'When you buy a Crombie coat, you develop an emotional attachment to it. The brand is cross-generational, with coats being passed from father to son. And we'll always have people coming in and saying "You make the best coats in the world".'
Never a truer word has been spoken, I think, as I bid Gordon goodnight and take the London air, coatless and cold.
© Jason Holmes 2012 / jantholmes@yahoo.co.uk / @JasonAHolmes
Photographs courtesy of Crombie