Festival season is in full bloom. As revellers once again descend upon their field of choice, there's an interesting and distinct undercurrent that exemplifies all that has gone right and wrong with current drug policy.
Let's look at Seattle's Hempfest: Seattle Police Department embarked on a spirited promotion on the State's new marijuana laws. Under Initiative-502, Washington State has a now fully 'legalised' model for cannabis use, production and cultivation. The minutiae are still being thrashed out, but in principle we are looking at uncharted territory with regards to how the cannabis debate will be shaped. With reform comes inevitable confusion; what's allowed, what's restricted, what is permissible? This is where Seattle PD stepped in. The innovative approach, under the guise of 'Operation Orange Fingers', saw the police hand out packs of Doritos to the Hempfest patrons in efforts to draw attention to the fine print of I-502. Some claim this to be an inspired move, not only for making a cogent case of the dos and don'ts, but also demonstrates the improved relations between the police and the public.
The work of the organisation comprised of senior police personnel that actively campaign for regulatory models, Law Enforcement Against Prohibition (LEAP), points out the fragmented relationship between the public and the police under punitive drug policies. The overlooked aspect of how enforcement-led policies affect society is something in much need of an address. It was clear this was very much not the case at Hempfest. Despite a prominent police presence, they were not held up as the emblematic enemy, there was no ill feeling towards the police, and there was a distinct flavour of cheesy jollity at the Doritos stunt. Many will see this as a gimmick, which of course it was, but the improved connection between the public and the police cannot be diminished through cynicism. This is real drug policy reform in action.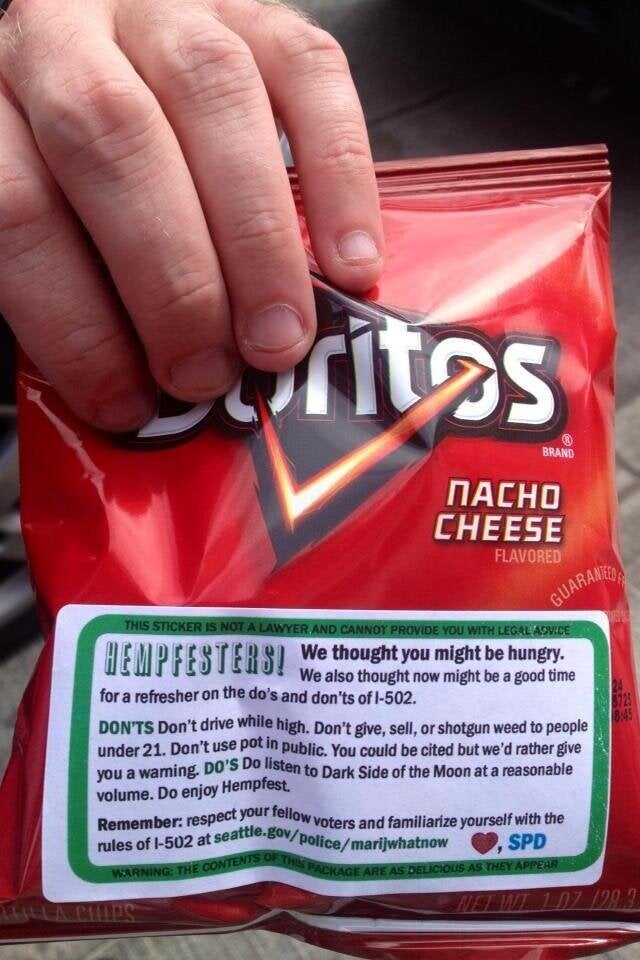 We now turn our furrowed brow towards V-Festival, the antipodal of the Hempfest tolerance. In the UK we still hold true to the ban everything in sight, prohibit all we can, course of action. Where does this leave us? Shipwrecked on the shores of all out confusion.
V-festival embarked on a zero-tolerance approach to drugs. This may seem perfectly sensible, but there's the oblique point of operating outside the actual law. Those that attended V were warned that the possession of 'legal highs' could carry penalties such as being ejected from site, and confiscation of tickets. This is a peculiar move given that no actual law would have been broken if a 'legal high' had indeed been carried by an individual. This lays down a concerning precedent; where such confusion pervades through UK drug policy, we are seemingly making it up ad hoc. The UK has Temporary Class Banning Orders for some legal highs (or New Psychoactive Substances is the preferred term) - the temporary banning order does not criminalise the individual as the Home Office recognises that needlessly criminalising the young has no societal benefit.
To go one step further on V's drug control approach, they made an interesting statement that still fails to reverberate with any note of sense:
Firstly, can anyone make a case to what a "fake drug" actually is? Definition is needed, and clarification is vital. Does it refer to something that is inert? Or someone that has been duped into buying a substance that is not exactly what it says on the tin? But there is a rather more invidious aspect to this statement. Despite no legal remit to arrest, the clear message is that you could face punitive consequences if found with "fake drugs". This is simply not a legal course of action given its oversimplification. There would be need for statements to be made from the defendant on how they believed the drug to be the real deal, and this would then fall into the Criminal Attempts Act. We've entered finger in the wind territory. Tenuous.
When we address what drug law reforms mean in real terms, we can use this as a case in point. Seattle are in process of a rational, humane, affable conversation of responsibility, compared with that of V-Festival who are flailing in the wind and are arguably operating outside the laws that we do actually have.
The overriding and sober point of this needs reiterating. We have clear examples of how drug policy reform has wide implications. We can see how reform equals good, sensible messaging from authority. It's crucial we have a system whereby it's police by consent. Strained community relations can be turned into cordial or even gregarious interactions when mutual responsibility - and tolerance - is permitted. Drug law reform makes eminent sense and leaves a far more palatable taste in the mouth compared to the bitter confusion that we're forced to swallow here in the UK.