Salami slicing. That phrase was used so often during the Labour Party conference earlier this week that, at one point, I wondered if I'd accidentally ended up at a cured meats festival. Sadly, that was not the case.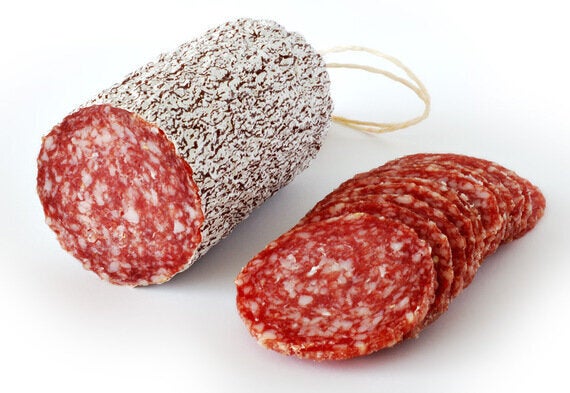 The 'salami slicing' in question refers to the small tranches of money being taken away from various pots of public funding or resources. Slice by slice, these austerity cuts are building up to the extent that many long standing services that we are quite rightly proud of are reaching the point beyond which they will become unsustainable.
The first is the justice system. Legal Aid cuts since 2004 mean that the pot of money available has halved in real terms. The people who suffer are not the lawyers, but those who need them. If a parent raises allegations of domestic violence against a former partner, the Courts will need to investigate them. If the former partner can't afford a lawyer, then he or she usually just give up trying to fight to see their children. Broken families are the 'new normal' of austerity Britain. The diminishing number of solicitors applying for Legal Aid franchises means that many areas of the country may not have enough local lawyers to deal with a case. Add to that the cuts made to Court staff, leading to many leaving the profession, and the increasing caseloads of judges, and you can see that 'salami slicing' is slowly killing the British justice system.
Next is the area of defence. By the end of this decade, the Army will have decreased by 20%, the Navy by 15%, and the RAF by 12.5%. Britain will no longer be the country that the US turns to in times of crises. Some may think that a good thing, as a repeat of the 2003 Iraq war will be increasingly unlikely. However, given the current situation in the Middle East and the threat from the barbaric IS, the need for a strong defence policy in Britain has never been more important. Regardless of whether Trident is renewed, something that I would personally support, the diminished size of our Armed Forces will soon mean that Britain's days as a world power are numbered and in time we may not even be able to defend our own shores.
Labour now has a Shadow Minister for Mental Health, and the appointment could not have come sooner. As a family law barrister, I have seen at first hand the devastating impact that substandard mental health resources can have. Children can be taken into care because of the deterioration of a parent's mental health when a small amount of appropriate support for that parent could have been enough to ensure that the family remained united. The 'Child and Adolescent Mental Health Service' (CAMHS) is falling apart at the seams and, in the words of one expert I spoke to, is only able to provide help when a child is 'just a few steps away from dying'. If the child is under 5, then CAHMS will not provide any support even when other experts feel that therapeutic work must be carried out immediately to help the young child overcome issues which could otherwise last through to adulthood and beyond. What's to blame for the poor provision of services for mental health? You've guessed it - 'salami slicing' and cost implications for resources.
English local authorities are now wholly responsible for the provision of public health, having taken over from NHS England. Those same local authorities have had their own 'salami slicing' in the last five years, losing over 40% of money from central government. Services are being cut throughout the country and it is us, the taxpayers, who have to cope with the fallout. In my own area of Lambeth, the local council is reluctantly having to close libraries simply because there isn't enough money to go around. Refuse collections, maintaining parks, services for children and the elderly, even filling in potholes on roads have become subject to cuts and prioritising.
In Kent, the resources are stretched even further by the influx of asylum seekers and refugees seeking safety in the UK. The county council has run out of all local authority foster carers as a result of the large number of unaccompanied children that they have to accommodate by law as the first place in the country that the children arrive at, and Kent is having to pay double the amount for private foster carers elsewhere. Such a situation cannot be sustained for long, and it is only a matter of time before that too all falls apart.
Bit by bit, slice by slice, the money has been taken away from these areas and countless others. Services and systems are close to breaking point, and yet the cuts keep coming. Austerity is simply making things worse for everyone in society, not better, and it's no wonder that Jeremy Corbyn's call for an anti-austerity Britain is so popular. The Government must acknowledge that 'salami slicing' isn't working and act fast to put things right as soon as possible because, if things continue at this rate, there won't be much of a salami left to slice.
Popular in the Community