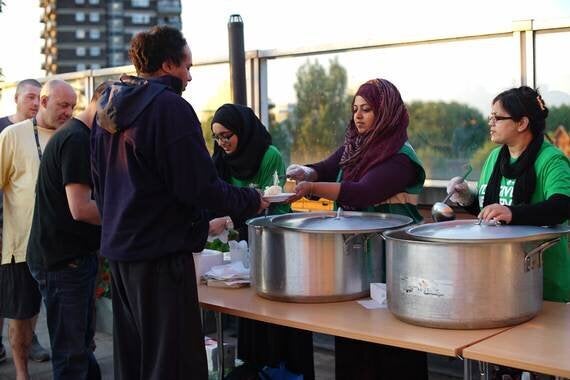 A few days ago, Amazon, the online marketplace, unwrapped a new advert featuring an Imam and a Vicar exchanging gifts ahead of Christmas. I tend not to put too much store in advertising but it did seem an important message of friendship for Christians and Muslims when regardless of politics - be it Brexit, or the aftermath of the US election - people of all faiths are given a chance to reflect and come together.
While Muslims don't celebrate Christmas, many of us have decided to take to the streets of London during this festive season to give gifts. Our mission - to extend warmth to the homeless and elderly to help them through the cold winter - regardless of their faith or background.
As a British Muslim and the Chief Executive of Muslim Aid, I am excited to be taking part in a campaign to stop vulnerable people going cold or hungry this Christmas. I will be joining others to deliver winter gifts, including blankets and food items, to the homeless and elderly. Several mosques across the Capital will help us by becoming food collection spots from where volunteers will send food out to soup kitchens, care homes and food banks across London.
Similar to Christians who are motivated by their faith to help others, for Muslims charity is one of the all-important pillars of our religion. And as such I'm privileged to have the opportunity to help the less fortunate this Christmas.
Our duty to help the homeless
We have a duty at Christmas to help others, whether we are Christians or Muslims or any other faith, not because of the religions that may differentiate us but by the humanity that unites us.
While there is a great need for Muslims to help their brothers and sisters in afflicted areas across the world, like Syria and Yemen, there is also a need here at home in the UK. As austerity continues, thousands of families in the UK are facing benefits cuts. Too many are unable to pay skyrocketing rents, putting them in danger of being out on the street where no one should be at any time of the year. This Christmas thousands of families will face impossible choices, caught between spending money on heating or putting enough food on the table.
As a British Muslim living in the UK, I feel it is important to promote and remind each other of the British values of hospitality, tolerance and generosity. These values are particularly important at a time when an unfortunate tide of xenophobia aimed partially at Muslims is surging around the world. And for us at home Brexit has exposed deep divisions within Britain. Now more than ever, we have a responsibility to tackle problems here in Britain and promote positive aspects of British Muslim life.
Charity is a very important tenet of Islam, and one that begins at home. This Christmas, Muslims and Christians alike have a duty to deliver kindness this festive season.
You can get involved in Muslim Aid's winter campaign by signing up here:
http://bit.ly/RucksackChallenge
Popular in the Community