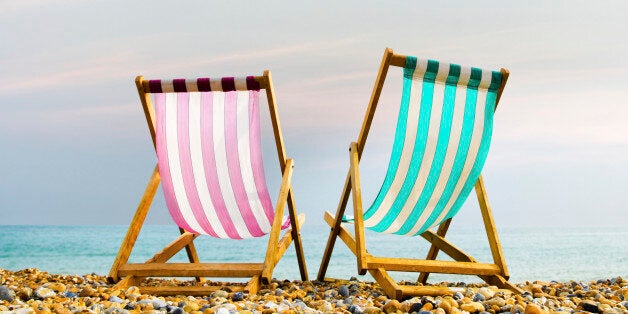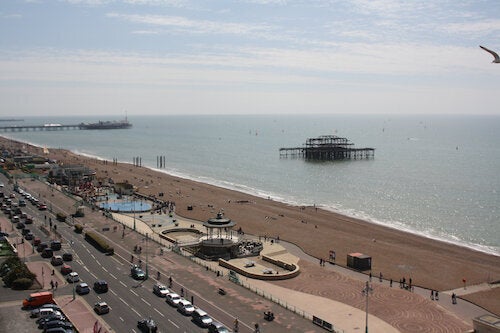 Brighton piers, old and new, Photo courtesy Paul Allen
The first long weekend in May was the ideal time to visit one of our favourite English towns as it was the launch of four festivals which run throughout the month until early June - the Brighton arts Festivals (Brighton Festival, Brighton Fringe and Artists' Open Houses), and a fabulous outdoor food festival on the seafront.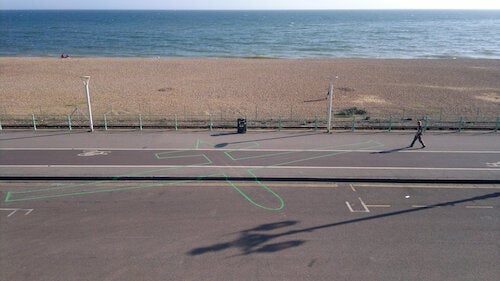 James Briddle, Under the Shadow of the Drone, Photo courtesy Paul Allen
On the opening night of the festivals, our first stop was the seafront to view James Briddle's rather ominous installation Under The Shadow of the Drone, a Lighthouse gallery commission which happened to coincide with the day the UK approved the use of Drone aircraft. On a lighter note, we then hit one of the main festival venues, Spiegeltent, for La Clique, a riotous combination of cabaret and circus, featuring a 6 foot 4 inch man in a shiney blue bunny costume and towering perspex heels, twin trapeze artists who smoked and drank throughout their impressive act and a rather disturbing striptease by a person of indeterminate sex.
Chapel Street, a gritty Fringe piece showing at Marlborough theatre, a tiny venue above a pub, is another reason to go to Brighton this month. Featuring overlapping monologues, the play details one drunken Friday night out, in what could be any town in Britain, from the starkly different perspectives of the two male and female characters.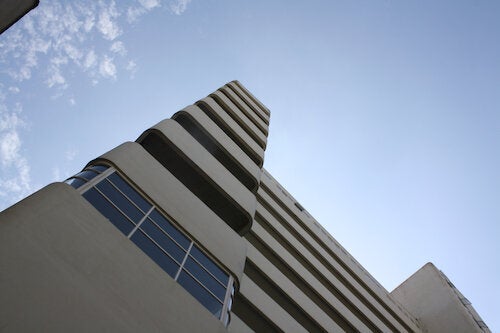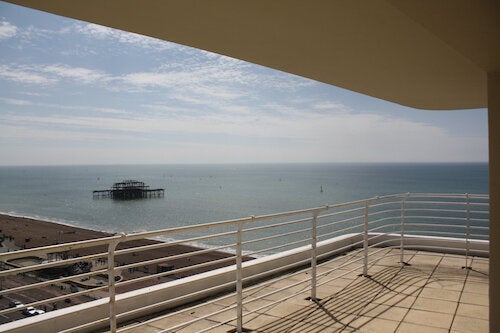 Embassy Court, Fringe Festival, Photo courtesy Paul Allen
We packed a lot into our three-day weekend and one of the highlights was a visit to Embassy Court, a 1930s apartment block designed by the Canadian architect Wells Coates who also designed the famous Isokon building, a similarly striking apartment block near where I live in Belsize Park. As part of the Brighton Fringe, the tour of Embassy Court, revealed many of its original art deco features, along with stunning views from the communal roof terrace. We stood on the site of the former 1930s rooftop cocktail bar wishing it was still open and imagining how fabulous the parties must have been.
Decidedly less breezy and scenic but fascinating nonetheless was a journey underground through Brighton's Victorian sewers. Starting just inside the Brighton pier, we ventured below through a labyrinth of tunnels and discovered that Brighton owes its pebbled beaches to the fact that the sand was used by the bricklayers to secure the millions of bricks in the sewers. The tour was definitely smelly and I was somewhat on edge by our jovial guide's constant references to rats but happily the only rat we saw was the stuffed toy one perched at the entrance.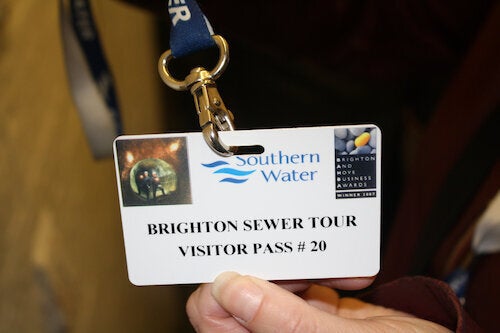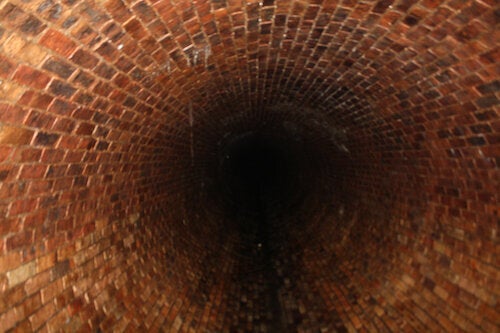 Brighton Sewer Tour, Photos courtesy Paul Allen
As part of Artists' Open Houses, J Kay Aplin's 'Ceramic house' is definitely worth a look. The house is decorated throughout in the artist/owner's ceramics and features an annual exhibition of ceramic artists from around the world. Kay has also started a supper club and offers accommodation in the house.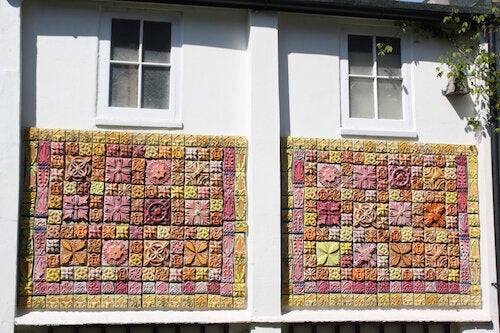 Ceramic House garden wall, Photo courtesy Paul Allen
Another must-see in Artists' Open Houses is St Michael's Church which features Pre-Raphaelite stained glass windows designed by Morris, Burne-Jones and Rosetti and a temporary exhibition of gorgeous 'dress' paintings by Richard Nott, former assistant to Valentino.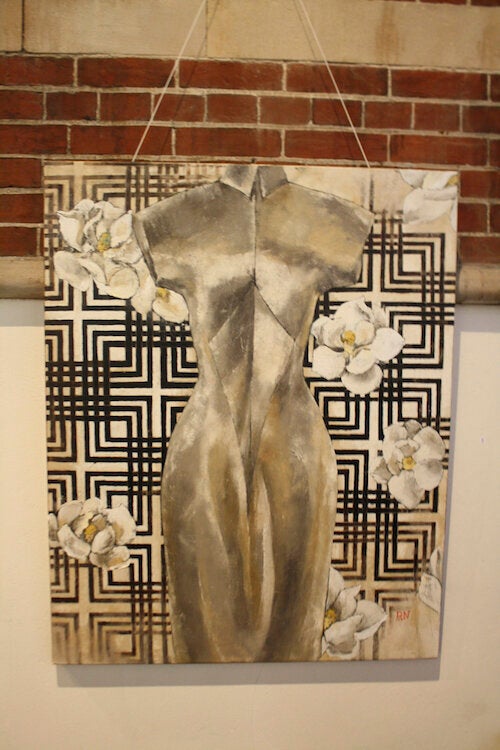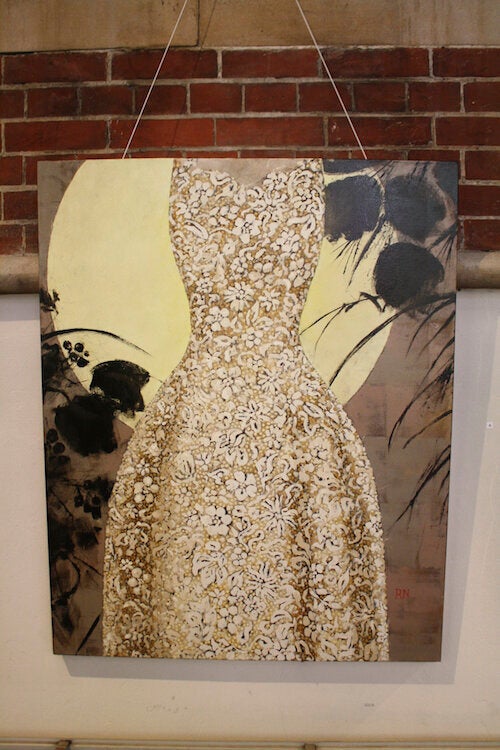 Richard Nott's paintings at St Michael's Church,
Photos courtesy Paul Allen
We stayed in the very comfortable and centrally located Myhotel. Cocktails in the sleek, space-age bar were a hit as was our morning breakfast at Small Batch Coffee, a bustling cafe connected to the hotel. We also dropped by Drakes hotel on the seafront for an afternoon cocktail and lusted after the rooms with their sea views and roll-top bathtubs.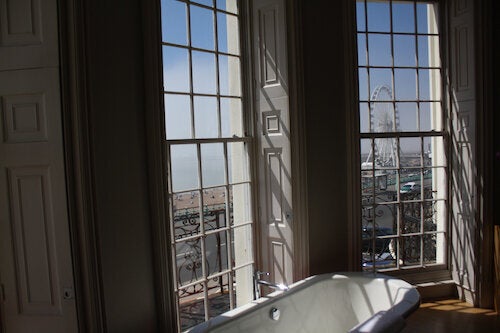 Drakes Hotel, Photo courtesy Paul Allen
Brighton is not short on decent restaurants. We love Okinami, co-owned by Japanese Chef Mike Dodd and DJ Fat Boy Slim and Bellota serves up tapas and cava to rival anything we've had in Spain. But perhaps the biggest surprise and treat was the Veggie restaurant Terre a Terre. My main course, the amusingly named 'Britainy Spears', was a delicious mixture of white and green asparagus, courgettes, cheddar soufflé and truffle oil sauce while Paul feasted on 'Terre a Tiffin', an Indian-based dish of cauliflower, chickpeas, cardamom and lime.
We found the Visit Brighton website a good source of new ideas for this visit. The Brighton Festival runs until 26 May while the Fringe ends 2 June.