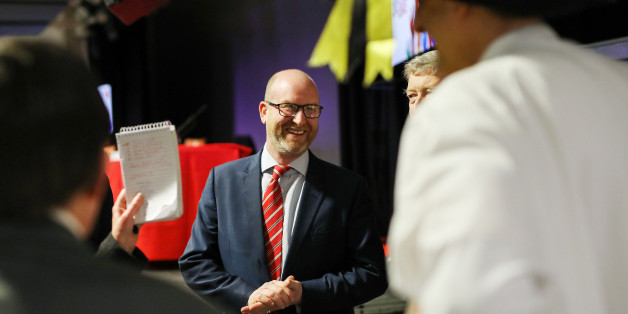 Bloomberg via Getty Images
The 23rd February 2017 will be a day of great reckoning for the UK Independence Party. It is on this day that it will be fighting the Labour Party for the supremacy of Stoke Central, a constituency of which 70% of people voted to leave the European Union, a seat that epitomises the cause that UKIP has fought for. These votes are there for the taking and the result could make or break the populist party.
In the most recent general election Ukip were runners up in the seat, finishing about 5000 votes behind Labour. Since then Ukip's campaign has been further strengthened through the candidature of Labours Gareth Snell, a man who is quite possibly the worst candidate that could have been selected to fight the seat. He is an individual who has insulted a whole host of people through sexism, calling the journalist Janet-Street Porter "a polished turd. Shiny and ****" and mocking a woman on public transport for occupying two seats. When it comes to the core issue of the campaign, Brexit, he tops it off by referring to it as a "massive pile of ****". For a parliamentary candidate to talk in such ways especially in a constituency such as this, is surely manna from heaven for Ukip. This perfect cocktail of a poor opposition candidate, a disunited party and a Brexit supporting seat mean that this by-election is a must win for UKIP. If they do not it will greatly weaken their claim to being the true party of opposition, probably launching them into their death throws. If one of their most prominent figures cannot win in a seat like Stoke Central under such favourable circumstances, where can they win?
On the other hand if Ukip do win (which I believe is a very genuine and likely possibility) it could represent a paradigm shift leading to a possible domino effect across the North as other leave constituencies with a strong Ukip showing in the last election are emboldened to fight, sensing blood. As Clive Lewis the former Shadow Business Secretary stated recently, "If they make a breakthrough (in Stoke), there'll be a rout." A Ukip win here and a Conservative win in the Copeland by-election would most surely bear a hatchet to Jeremy Corbyn's leadership. The remaining leader would be impalpable with a party that needs to be fighting for government, not fighting to stop themselves losing seats in opposition.
It will be fascinating to see how this by-election plays out, especially in light of a UKIP campaign that seems to be struggling to shake off substantive allegations of its leader and candidate, Paul Nuttall, lying about Hillsborough. It has been a truly dirty campaign of nastiness, desperation and anger on both sides, and as with any by-election the level of turnout will be crucial to the result. Nonetheless the Potteries and how they vote in this by-election will be the true judge of whether UKIP's claim to be the 'Patriotic voice of working people' measures out in reality.