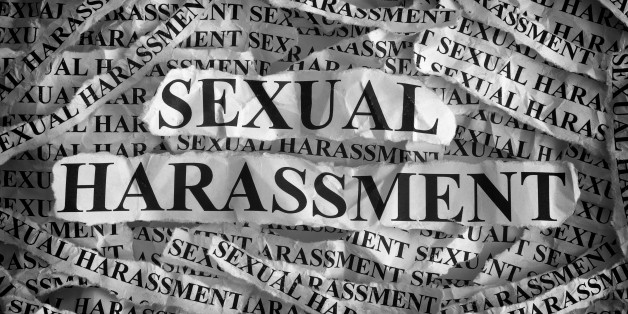 Professor25 via Getty Images
Sexual harassment is an abhorrent abuse of human rights.
Sexual harassment includes long lewd, sexually aggressive leers, inappropriate sexual comments or unwanted touching.
Sexual harassment is most commonly found in the street and generally involves men leering, hissing and yelling out sexual obscenities at women as they walk by. Sexual harassment involves stalking or imposing one's presence on another in a sexually aggressive way. Sexual harassment can also commonly take place in the workplace. A superior may use his position of authority to pressure or intimidate a woman into a sexual relationship which may be followed up by possible retributions should she try to challenge or reject his advances.
Explicit sexual jokes that are designed to demean and humiliate another can constitute as sexual harassment.
Sexual harassment also includes refusing to stop sexually aggressive behavior despite requests to do so.
Basically, sexual harassment is any behavior that is of a sexual nature and is intended to intimidate, degrade or to treat another human being as having the same value as an object.
Sexual harassment is a global problem and indeed, statistics continually emerge showing that sexual harassment is a pervasive problem throughout the world.
Recognising the severe psychological harm caused from sexual harassment a number of countries have taken steps to criminalise sexual harassment.
In 2014, Egypt officially criminalised sexual harassment and introduced penalties including prison terms and fines. A decree was approved where offenders of sexual harassment could be punished of up to five years in jail or fines between $400 and $7000.
In Algeria, a person convicted of sexual harassment is subject to imprisonment of two months to one year and a fine of 50,000 to 100,000 dinars.
China amended their law in 2005 to provide protections to victims of sexual harassment at work and in 2008 a woman was the first to win a criminal case related to sexual harassment under the new law and her harasser was sentenced to five months in jail.
Kenya passed the Sexual Offences Act in 2006 and declared in Section 23 that, 'any person who being in a position of authority or holding a public office who persistently makes any sexual advances or requests which he or she knows or has reasonable grounds to know are unwelcome is guilty of the offence of sexual harassment and shall be liable to imprisonment for a term of not less than three years or to a fine of not less than one hundred thousand shillings or both.'
The Criminal Code in Lithuania states that: a person who, in seeking sexual contact harasses a person subordinate to him in office or otherwise by vulgar or comparable actions or be making offers shall be held liable for an act provided for in paragraph one of this article only subject to a complaint filed by the victim or a statement by his authorised representative or at the prosecutors request.
Philippino law defines sexual harassment as being an act committed in a work-related or employment environment when among other instances, a sexual favor is made as a condition in the hiring or in the employment of an individual. The penalty for this crime ranges from a term of imprisonment of one to six months and a fine of 10,000 to 20,000 pesos.
In 2016, Portugal made verbal and sexual abuse a crime.
Peru passed a bill that defines harassment as any act impacting the freedom and dignity or movement or another person's right to physical and moral integrity with such offences in public spaces carrying a maximum sentence of 12 years.
In 2014, Belgium passed a law that introduced considerable fines and imprisonment of up to on year for street harassment crimes.
In 2016, Nottinghamshire in England made misogyny a hate crime. Described as 'incidents against women that are motivated by an attitude of a man towards a woman and includes behavior targeted towards a woman by men simply because they are a woman.' Chief Constable Sue Fish said, 'what women face, often on a daily basis is absolutely unacceptable and can be extremely distressing. Nottinghamshire police is committed to taking misogynistic hate crime seriously and encourages anyone who is affected by it contact us without hesitation.'
It is essential that sexual harassment is criminalised everywhere in the world. It must be criminalised because the harm caused is tremendous and can make the lives of those who are subject to it incredibly difficult and uncomfortable. No one ever, under any circumstances should be subject to lewd and degrading behaviour that causes so much distress and psychological harm.
It is essential that everybody, everywhere places pressure on their governments to implement laws that make sexual harassment not only illegal, but socially unacceptable. We as a global community need to work together to make it unacceptable for men to degrade and sexually humiliate women for their own perverse enjoyment.
Sexual harassment is a crime and must be treated as such.