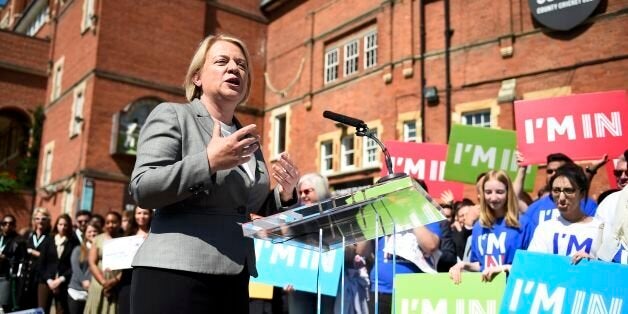 This is a hugely exciting time for the Green Party - and for progressive politics in Britain. By seeking the nomination to become the first job-shared leadership in modern British politics we are demonstrating our pledge to 'do politics' differently.
We share a burning ambition for our party to have more of an impact than ever before - but neither of us felt we could do the job alone.
Like any parent, Jonathan, who once confronted David Cameron over his battle to get his son into a local school, struggles to balance work and family life. With the barriers that a disabled child like his son Samuel faces, he just couldn't dedicate the time needed to be the sole leader of the Green Party.
Caroline has ongoing commitments as a dedicated constituency MP. If we do become co-leaders we'll be able to share the important task of travelling up and down the country setting out the Party's distinctive message and helping win more elections than ever before. Ultimately we both believe that by working together in this role we'll have a greater impact than either of us would alone.
It's no coincidence that we began discussing our joint vision for the Green Party at a protest against the closure of the Independent Living Fund.
We saw there the power of working together. But we also saw how politics marginalises so many groups because of a First-Past-The-Post System which doesn't allow their voices to be represented.
Our leadership campaign will focus on making sure more people get heard and we want an effective Green voice in every community to help that process.
In the coming years the Green Party must articulate a clear vision. We will be honest about the urgent need to redistribute power as well as wealth, and about the need to climate proof all that we do - not just treat the environment as an optional bolt on.
We will build a Party that reflects modern Britain and plan to break open the current closed political system, including by starting a debate about the role of progressive pacts in England and Wales.
We think a one-off 2020 general election progressive pact, on a case by case basis, as agreed by local parties, could be the basis for delivering a fairer voting system. If it happened it would only need to be in a handful of seats - but it could make all the difference.
For us the power of working together is about job sharing, harnessing the power of collective action at the grassroots of our party and starting a democratic revolution. Time is up for the two-party system - we want to seize this moment to create a new kind of politics that can in turn reclaim and reshape Britain - addressing both the cost of living crisis and the quality of life crisis too.
Jonathan Bartley is the Green Party work and pensions spokesman
Caroline Lucas is the Green MP for Brighton Pavilion