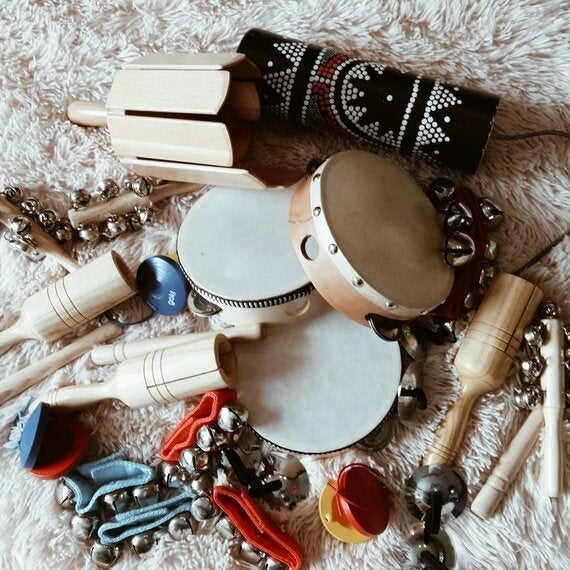 "As they grow, witnessing a baby's realisation that they can change and control something so dramatic that is outside their own limbs, is priceless."
"Oh please no, not 'til 9 o'clock!" rang the desperate words of my sleep-deprived, caffeine-plied husband in the early days of our young family. Our "noisy box" most definitely had "sociable hours" attached to it, and was not something to be opened up first thing in the morning... especially at the weekend.
Perhaps it was this time-constraint that added a sense of anticipation. Perhaps it was my own inner excitement that leaked out a little, when prising off the lid (at 9:01) in front of my 6 month old, revealing shiny jingle bells, real hide tambourines and beautifully patterned thunder drums. Whatever the reason, my almost-crawling daughter had the look of utter glee and excitement as she eagerly shimmied across the floor to get to this treasure, whenever it was taken off the (high) shelf that it sat upon.
Inside, we had the basic percussion instruments a small child might be interested in - a few shaky things, a few small drums and a pair of full-size cymbals that "Fun Auntie" decided would be a good gift for a 2 month old baby (until the time she babysat)! Following a little jaunt up to London to watch "Bang Crash Wallop," a children's introduction to the orchestra, and a couple of local children's theatrical performances, I was sold on the use of instruments with my still-very-young child. The music shops of Essex became frequent haunts as we playfully added to our stash. Pretty soon we had even discovered the delights of "sound effect" instruments like the vibraslap and the flexatone, and some tuned percussion in the form of beautifully coloured tinkling handbells.
But really, what can a baby possibly gain from musical instruments? Is it worth the investment, or even the additional caffeine required to find the energy and patience for a "noisy box" session? Even when it appears that an instrument is far too complex for their developmental stage, a very young baby might be absorbing changes in the atmosphere as instruments are played, they may be mesmerised by light reflecting off a pair of finger cymbals, the hand-painted pattern on an ocean drum, and the bendy movement of a kokiriko, or clatterpillar. As they grow, witnessing a baby's realisation that they can change and control something so dramatic that is outside their own limbs, is priceless.
As your child gains dexterity, and they're able to play their own instruments, fine motor skills are refined and brains are well-exercised, as they try to move several muscles at once, and understand from which part of the instrument these new sounds are coming from. Even wiggling a thunder drum in front of an 18 month old will result in them peering curiously down the tube, trying to see the source of the thunder clap.
There is a plethora of percussion instruments, readily available in any music shop, and the UK has them aplenty. They provide fantastic presents for children and grandchildren, and in all honesty you don't need an ounce of musical ability to play them and introduce them to your little ones. Each one encourages different developmental stages and aids fine motor skill development to a differing degree, but all promote a sense of rhythm, musical experimentation and excitable discovery.
And a handy little tip when all else fails in calming a fraught baby? Well, why not prise that lid off and give it a go. You never know when the sudden sound of an instrument from the noisy box might be the change in atmosphere that you both need. But perhaps stick to the gentler sounds of the handbells or flexatones; "Fun" Auntie's full-size cymbals might be a step too far!
Bio: Joss Astle is a self-confessed music shop addict, and the founder of Little Teapots percussion classes for babies and toddlers in Essex. Each week, join Ted on a themed percussion adventure and discover all manner of exciting percussion instruments on the way!