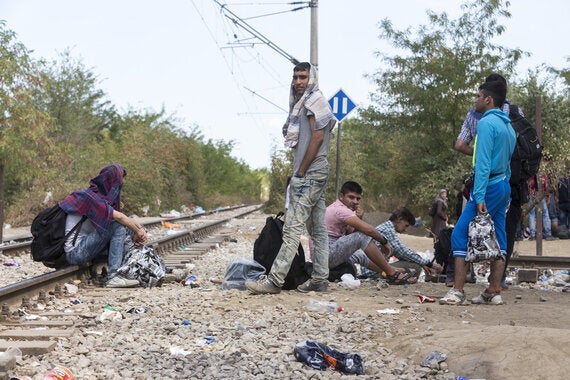 Deeply distressing images of a drowned young boy lying face-down on a beach near Turkey's Bodrum resort town are the latest in a long depressing catalogue that graphically illustrate the horror and desperation of hundreds of thousands of men, women and children caught up in the horror of war.
The response from most European leaders, including our own Conservative government, has been one of intransigence and inertia. However, increasingly, the people of Europe are of the view that the time has come to show a much more compassionate and practical response to those fleeing violence and oppression.
The young boy who drowned was Aylan Kurdi. He was three years old. He and his older brother were two of the 12 Syrians who died on their way to the Greek island of Kos in "unseaworthy" dinghies. They were fleeing from the northern Syrian town of Kobani, where concentrated violence between Islamic state (ISIS) fighters and Kurdish forces took place earlier this year.
At least 2,500 people have died trying to reach Europe since January. Others have risked suffocation, being crushed or dying from injuries and exhaustion from a cross-continental odyssey of false starts and failed attempts.
The hashtag that accompanied these latest photographs has captured the thoughts of so many paying witness to such disturbing events: #KiyiyaVuranInsanlik - humanity washed ashore.
Indeed, it's time we called the plight facing the hundreds of thousands of men, women and children risking their lives to reach Europe by whatever means possible what it really is: a humanitarian crisis. A crisis of proportions and deadliness not seen since the horrors of the Second World War. These people are not, as our government and the Daily Mail would have us believe, economic migrants - they are refugees.
However, while post-war European governments managed the resettlement of millions of refugees escaping from death, persecution and war-torn countries, recent years have been a spectacular demonstration of the continent's failure and lack of will to do the same for victims of modern conflicts and warfare, often on 'our doorstep'.
In the UK, the Conservative government has done much to stoke the fires of the Daily Mail's frenzied scaremongering on this issue. We have been warned of swarms of marauding migrants, whose numbers will flood the UK unless we increase our border defences. The focus has rested on Calais, where between two and five thousand refugees live in a makeshift camp near the Eurotunnel, relying on hand outs from individuals and local organisations. Home Secretary Theresa May is working with her French equivalent to heighten search measures, including the use of detection dogs, and invest in improved fencing, CCTV, flood lighting and Eurotunnel security. The UK has so far pledged £22 million to this end.
The government's reaction has not only been only grossly inappropriate, but wildly disproportionate, too: the inhabitants at Calais represent a mere 1% of those who arrived in Europe this year.
David Cameron has previously claimed the UK should not take in any more Syrian refugees, despite having one of the poorest records for resettling and granting asylum to Syrian refugees in Europe. In contrast, Syria's neighbour Lebanon, a country one hundred times smaller than the EU, has absorbed a staggering 1.2 million Syrian refugees into their total population of only 4.5 million.
Contrary to claims made this week by UKIP, Britain's membership of the EU is not part of the problem, rather it is the key to any hope we have of alleviating the plight of refugees and the communities struggling to cope with their ever-increasing number. To this end European heads of state working together to create a comprehensive strategy, founded on humanity and compassion, is what is urgently needed.
Razor wire and concrete walls erected by individual governments along national borders will not stop the attempts of people that have nothing left to lose from trying to reach European soil. They will merely serve to prolong and increase the hazards of their already desperate plight and to create a sort of hellish no-man's land for people unable to return home. As a result the camps in Calais, Kos and Budapest will only get bigger and more squalid.
European Commissioner President Jean-Claude Juncker is expected to announce that the European Union will relocate at least 120,000 more refugees, which will represent a tripling of previous suggested figures. It is crucial that Members of the European Parliament (MEPs) from across the political spectrum throw their weight behind such a measure. Sadly the UK government has demonstrated continued intransigence to establishing a pan-European response, having decided to opt out of all EU-schemes to tackle the crisis.
However opting out is to our profound disadvantage, and not only with regards to the UK's humanitarian reputation. With a rapidly ageing population and a labour force that is set to shrink, the European Union including the UK would do well to give a greater welcome to those in search of a safer life on our continent. Despite fears to the contrary, studies suggest that people who set up in a new country are much more likely to start businesses than the native population, less likely to commit serious crimes and are overall net contributors to the public purse.
It is to the great shame of our Prime Minister that his response so far to the global refugee crisis has been defined by, at best, platitudes and inertia. But it seems that images speak volumes, and the now daily human tragedy that has been unfolding before our eyes has become impossible to ignore, even for the UK government. Bowing to intense public and political pressure, on Thursday evening (3 September 2015) David Cameron backtracked on his previous position, by announcing that Britain would accept thousands more refugees fleeing from the Syrian civil war. It remains to be seen what this will entail in practice, but we sincerely hope that his suggestions become sizable and concrete commitments.
The UK has a proud history of welcoming refugees, including members of our families. As we face the worst refugee crisis since the Second World War, now is not the time to abandon our humanitarian tradition, hence we should and must help more. We call on David Cameron to step up and take responsibility.
Jude Kirton-Darling and Paul Brannen are Labour MEPs for the North East of England