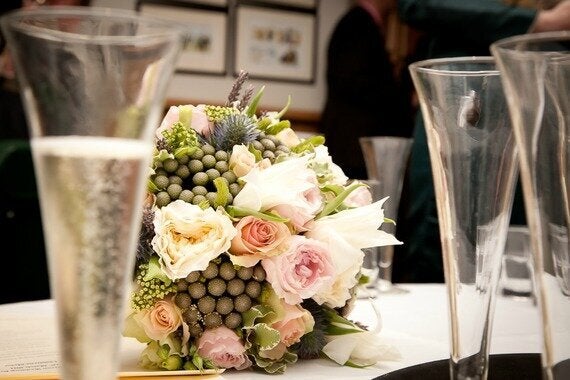 Last Saturday was a very special date for me. Well it would have been, if Roger were still here.
We should have been celebrating our five-year wedding anniversary. Saturday 12th March 2011 looked a hell of a lot different to the same date this year.
Five years ago that weekend was one of the happiest days of my life. It was the day I married Roger, my best friend and the man who made me laugh, made me feel spacial, made me feel safe. The father of my children, the one who I wanted to spend the rest of my life with.
Neither of us wanted a big traditional wedding so we'd tried to keep it fairly small and low-key, while still being a celebration and a day to treasure. We said our vows in a room packed with those closest to us at Harrogate Register Office, before we had our photographs taken on the steps outside and between the crocuses on The Stray in front.
We went on to our reception at The Wheatley in Ilkley, my hometown, where we felt like the luckiest people in the world. I'll always remember holding Roger's hand before we walked into the room for dinner, looking up at him and feeling like everything was perfect. It was such a wonderful day, so relaxed, happy, fun and full of love.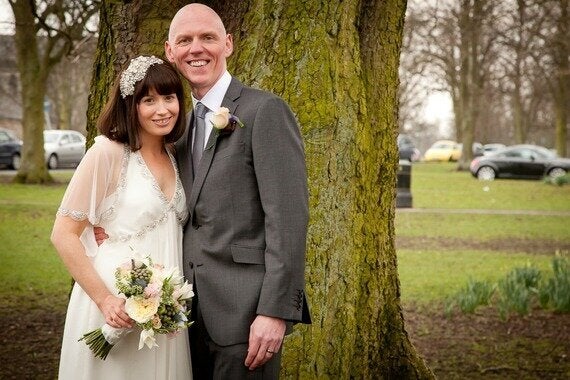 Looking back to our wedding anniversary last year, it came the day after Roger was diagnosed with bowel cancer. It was a massive moment in both our lives and the day everything changed. Encouraged by Rog to write about it on my blog, I started my post with:
"On Wednesday we were told my husband has cancer. The next day was our wedding anniversary. The day after that, we were told the cancer had spread."
For me, looking back to that moment when we were told there was nothing that could be done, that was the worst moment in all of this. The pain I felt on that day, the fear, the heartbreaking sadness, the tears have never been so painful as they were on that day. The memories of sitting in that horrible hospital room, feeling so cold, so sick and so sad, they are not the ones I wanted to be remember last weekend.
I wanted to remember the bond we had, the love we shared and the strength we tried to find to carry on when we knew the life we had together was coming to an end. That Roger's life was coming to an end.
I wanted to think about the smiles we shared as I walked into the register office on 12 March 2011. I wanted to remember the way he kissed me as soon as I reached the front of the room, nerves making him forget he was supposed to wait until after the vows. I wanted to remember the way Sam came to sit on my knee as we signed the register. The way we tried to take photos of us drinking tea in the Jag on the way back to Ilkley, but the grumpy chauffeur was having none of it. He clearly didn't know how much Rog loved tea.
I did look at our photos. I remembered our wedding day. I looked to the sky and I had a drink or two to mark the day. I even headed to The Wheatley with my sister, grabbed a quiet table, ordered a bottle of champagne and got quietly merry in the corner.
March used to be our favourite month. The month we got married, the month of my birthday, Easter usually drops in somewhere, the clocks change and spring is just about to say hello.
I still want March to be my favourite month, so I don't want to be too sad, I want to be thankful. Thankful that I met a man who made my life complete. Thankful that we had two beautiful kids who keep me going (and drive me crazy) now he's gone. Thankful that we had something many people never have.
I also want to be thankful that I have survived, that I'm here and trying to live my life the best I can with our kids in spite of the sadness. He would have wanted us to live. To celebrate, not crumble on the bad days. To reflect, but not to hide away. So that's what we did. Here's to you, Rog.
Related