Over the past couple of years, fewer things have made me happier than Danny Welbeck trying his hand at being a professional footballer. The only joy I got out of watching Manchester United in the 2012/2013 season was witnessing the hilarious cameo appearances of Danny Welbeck that rivalled Keith Chegwin's in the TV series Extras. Equally inept and similarly clueless, he was tolerated only because of his endearing effort.
One solitary goal in 27 league appearances and the worst conversion rate (4.2%) of any player - not 'striker', 'player' - to score a goal last year was enough to nail down his position in Roy Hodgson's England squad. Braces against the might of San Marino and a Moldovan goalkeeper who I strongly suspect is the little-known superhero 'No Hand-Eye Co-Ordination Man' essentially catapulted Welbeck onto the same platform as Falcao and Ibrahimovic. England, too, had a talismanic saviour.
Remarking on Welbeck's unparalleled talent himself, England manager Roy Hodgson said that Jay Rodriguez was called up to the England squad as "someone who can fill that [Danny] Welbeck role".
In danger of becoming the first human being to work himself into a sarcasm-induced coma, I cannot carry on this façade. What is he doing so unique in his performances that warrants a specific 'role' being named after him? What does he bring to a football team whereby a place in the starting eleven is automatically reserved for him? He was given a regular spot in the England team on the back of scoring one league goal in an entire season. Why not give the 'role' to something else with a similar Premier League record?
If Welbeck had the return of one goal and four assists playing for Fulham last season, would Hodgson start him for England? Of course he wouldn't. He wouldn't even subject himself to 90 minutes of football at Craven Cottage to watch him play. Should it not be easier to score and assist goals playing for the league champions? Yes - but Welbeck's style of play actively discouraged the scoring of goals last year. A huge 59.2% of his passes went backwards, for example. The man was dire and I made sure everybody knew it by highlighting his countless mistakes.
I'm not even angry that he gets to put on the England shirt and is paid thousands by Manchester United, I'm just disappointed absolutely seething. The only feasible explanations I can offer are that he's:
A) involved in some elaborate Punk'd prank with Ashton Kutcher or
B) that he's terminally ill and his entire career is built on a promise made by the Make-A-Wish Foundation.
I'll be honest; I'm a dedicated Danny Welbeck hater. In fact, I'm actually the conductor of the 'Danny-Welbeck-Is-Conning-A-Nation' express. My professional disdain and relentless criticism of the wage-thief now renders me immediately-synonymous with him to my friends. As such, any positive thing Welbeck does in his career is used as ammunition against me with frightening glee. The opening day of the season when Welbeck scored twice against Swansea was a dark day in my life. I received all sorts of correspondence from friends, colleagues and even rugby fans about what a cretin he'd made me look. One person genuinely took time out of his day off to drive to my place of work and gloat in my face. I literally wanted to assault any man, woman or child who sang the praises of Danny Welbeck with a print-out of his terrible stats.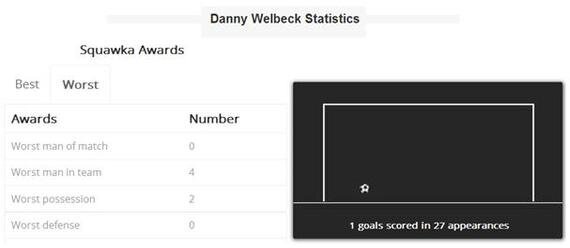 Exhibit A: Danny Welbeck's terrible stats. (Stats taken from www.squawka.com)
The only counter-argument I could offer was that he would show himself to be nothing more than a glorified mannequin once again in due course.
Sure enough, he then went on an eight-game, seven-and-a-half hour barren run in the league and I was surrounded by a tangible cloud of smugness.
Recently, this has not been the case. He is firing egg on my face with such uncharacteristic accuracy that I think the governing bodies should consider testing him for performance enhancing drugs. He went on a run of scoring six goals in six league games and appears to be thriving when playing as a lone striker. Danny Welbeck currently has eight goals for the season which seriously begs the question - "how drunk do goalkeepers get the night before they play Manchester United?"
If I could make just one tiny criticism of Welbeck's goalscoring escapades thus far - the only goal he's scored all season against a club in the top half of the EPL table came in a loss against Tottenham Hotspur. And whilst his shot accuracy has improved from 42% to a respectable 54%, he has still registered just one assist whilst his overall game has objectively declined since last year.

A comparison of duels won by Danny Welbeck in the 2012/13 season (left) and the 2013/14 season (right). (Stats from www.squawka.com)
I'm confident that Danny Welbeck is just going through a purple patch. But regardless of how he performs from now until the end of the season, he'll be going to the World Cup as an England player in June because he plays for Manchester United. That's not bitterness, it's the honest truth. Thankfully, at least we won't sacrifice any more valuable places in the squad to underperforming, overrated United playe-