In October 2014 I was at Dutch Design Week in Eindhoven showcasing handmade products from my sustainable fashion brand for the first time. We had a prominent space to display our textiles and we anticipated a big crowd of people for the event. Every year around 295,000 visitors from the Netherlands and abroad visit this design event that is spread across the city.
I was nervous but also excited, as it was the first time we had presented our brand in a public forum. When the first visitor stopped at our stand to touch, feel and try on our stoles, I made my pitch. "All our products are designed in Amsterdam and handmade in India by rural artisans", I said confidently. The response that I got was not what I anticipated. "Hmm okay. But do you use child labour?" It was the first, but not the last time I was asked that question. That day at Dutch Design Week, I was also asked, "Do your artisans work in good conditions?" "Have you visited your suppliers?" "Are the people you work with being exploited" and even, "do you make your products in sweatshops."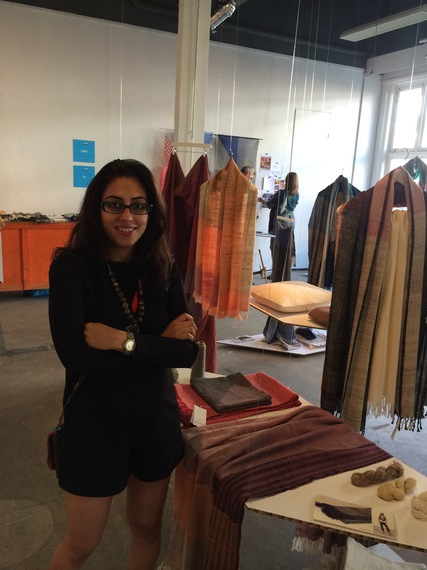 As the co-founder of a young brand of sustainable fashion, I realised then that I was being held accountable and answerable for my business. And just as I had been looking at hangtags and 'Made in' tags before making a purchase, consumers were doing the same with me.
Purpose and profitability - that's what consumers today demand from corporates - more so in the apparel industry.
As a response to this increasing tribe of the conscious consumer, in 2011, clothing giant H&M introduced their Conscious Collection using organic cotton, tencel and recycled polyester to make garments. Similarly, Zara launched the 'Join Life' collection in 2016, as a commitment from the company to produce responsibly, in addition to reusing packaging to reduce its waste. In May 2016, Inditex also released the names of their wet processing units in Bangladesh, China, India, Portugal, Spain, Turkey and other countries.
In the past, the demand for Social and environment responsibility from corporates was a gentle stream. Today is a raging current and tomorrow it will be a tidal wave. Consumers are changing and if corporates don't respond to that change, their sustainability will be under threat.
Data shows a clear link between doing good and doing well with customers. In a 2016 study on Corporate Social Responsibility by Nielsen, 30,000 people across 60 countries were surveyed to see how passionate they were about sustainability while making a purchasing decision. Sixty-six percent of global online consumers surveyed said they are willing to pay more for products (50% in 2013) and services provided by companies that are committed to positive social and environmental impact.
Some fifty-three percent of global respondents in Nielsen's survey say their purchase decisions are partly dependent on the packaging - they check the labeling first before buying to ensure the brand is committed to positive social and environmental impact.
During his farewell speech, former American President Barack Obama said that, "This is where I learnt that change only happens when ordinary people get involved, get engaged and come together to demand it."
His words beautifully summarise the power that people hold. Even the act of consumption is the equivalent of voting. Someone once said, 'Every time you spend money, you're casting a vote for the kind of world you want'.
We've continuously had to share our brand values with consumers, reassuring them at we were both socially and environmentally responsible in how we produce. So as a way of being transparent about our production process, we introduced a Talking Tag - a hangtag on each product with a unique QR code showing through photos and videos how the product was made and the people who made it.
As an entrepreneur who is part of this movement, I have taken a stance on sustainability for my planet, and the world that I leave behind for my two children. As a consumer, you can do the same. Stop to ask questions, just like our consumers did. Look keenly at the 'Made In' tags. Demand information on the environmental and social impact of businesses. Together, we have the power to shape shift behaviour.
Photo credit: Jolijn Fiddelaers