A plane full of teen beauty pageant contestants crash-lands on a deserted island. It sounds like the opening to a bad joke, but actually, it's the opening to Libba Bray's young adult novel Beauty Queens and the beginning of one of the coolest projects (okay, for sure the coolest project) I've worked on in my life thus far.
Stranded with nothing but their talents, their ingenuity, and the remnants of their evening gowns, the girls in Beauty Queens are forced to use their skills to work together and stay alive. As they get the chance to finally talk to each other and connect, they come to untangle the mess of conflicting expectations placed on them from all sides: to be pretty but not vain, clever but not brainy, attractive but in no way sexually independent.
Partway through the book they realize the endless ways that they've been socialized to take up as little space as possible, and to apologize for their every move. One of the characters proposes an idea for a whole new kind of event...
"You know, instead of some old, backassward pageant competition, we should have a con. A Girl Con! How awesome would that be?" Adina said.

"What would we do at Girl Con?" Jennifer said, giving the words a cheesy announcer's voice.

"We could have some wicked cool workshops -- writing, films, science, music, consciousness-raising..."

-- Beauty Queens, p. 152
A couple of years after I first read the book, some conversation started up between friends on YouTube, and we imagined what it would be like if such an event were real. Somewhere between the first video made in 2013, and July 2015, we decided to make it a thing--to create a space where we could share the things that girls, transfeminine folk, and non-binary people make, celebrate their survival, and validate their experiences and their pain.
Girlcon 2015 consisted of panel discussions on topics ranging from fangirls to witches, makeup to Black feminism, as well workshops on zine-making, self-care, and poetry. More importantly, it was a space constructed by and for girls and non-binary folk in which they could sit and talk and take selfies and be briefly released from the pressures of trying to live in a world that does not fully understand or value their existence. It was essential to our event that we include transfeminine folk and non-binary people, as well as others who don't identify as girls or women in order to make space for gender diversity, while still acknowledging the ways that femininity is devalued and policed in society.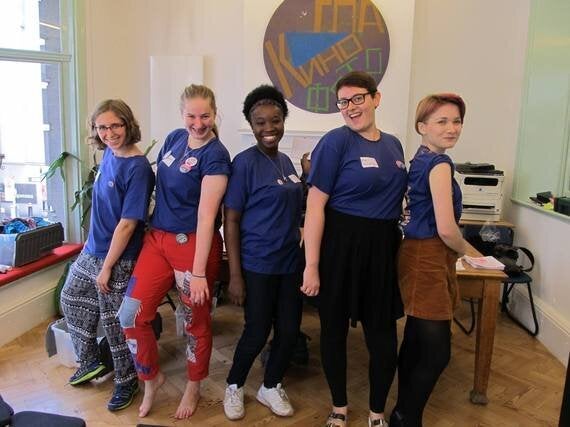 (photo credit: Kara Stanton)
This year our panels include discussions on feminist masculinities, combining crafting and activism, and living with mental illness. We're hosting workshops on writing poetry, getting started on YouTube, and deconstructing classism, as well as meet-ups for people interested in STEM (science, technology, engineering, and mathematics) and people who identify as asexual and aromantic.
As Girlcon is a hugely collaborative effort, here is a small selection of the programming of Girlcon 2016, in the words of the panel organizers themselves!
My name is Ayomide. I'm a history student and second gen immigrant, but mainly an uncertain twenty-one year old. I also vlog at elliesandpancakes. The panel I'm moderating is on Beyoncé's latest visual album, Lemonade, and what it means to black British girls and non-binary people. Lemonade feels like it belongs to me and is significant to me in a way that not many pieces of art are. I'm excited to hear what all the panelists have to say and see how they relate to it as black girls and non-binary folk, because there are so many noteworthy elements.
My name is Pip and I am co-ordinating the panel on disability. I am 21 years old. I have suffered with chronic pain from the age of eight, and tend to find that disability in young people is an issue that doesn't make it onto most people's radars. Along with the other three members of my panel, we're hoping to tackle some of the key issues linked to being a young person with a physical disability. These include internalised ableism, the struggle to meet or change beauty standards, and the differing problems that come with visible and invisible illnesses. We're also hoping to discuss some self-care techniques and provide support and resources to other physically disabled young people attending our panel.
I'm Nandie, an 18-year-old, biracial blogger from East London. The panel I'm organising is the POC makeup panel and we have 5 panelists and another organiser/moderator. It's so important to talk about the power of makeup, how it affects us and links to our identity. Having purely POC panelists of different origins feels like a good way to start getting some representation and understanding on the topic of makeup.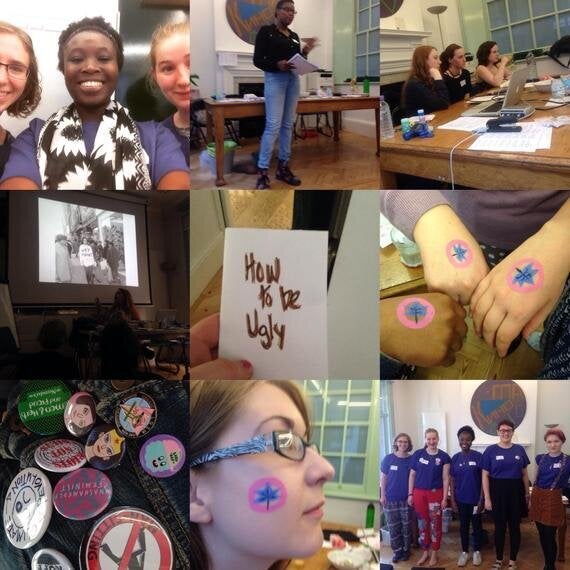 (photo credit: Anna Hill)
Girlcon is a free two-day event open to teenage girls, women, transfeminine and non-binary folk ages 13-24. It will be held at Woodhouse College in London, July 30-31. You can read more about it on our website or facebook, stay up-to-date with our twitter, and sign up for free tickets here.