At the age of 12, I was diagnosed with Ulcerative Colitis (U.C). I don't talk about it very often, because a) I find it difficult to effectively explain the condition to people, and b) I feel patriarchal society doesn't like it when I - a young woman - admit to being human and having bowel movements. If you'd like to know more about the disease and the symptoms, you can read about it on my personal blog here.
I recently turned 25, but for twelve years I let Ulcerative Colitis dictate my decision not to attend music festivals. This year, however, I discovered the Crohns & Colitis UK Facebook page - and I had a breakthrough. I read the endless streams of stories about people with severe Ulcerative Colitis who spend most of their life in hospital, rarely free from symptoms. It was a wake-up call for me. I realised I am incredibly fortunate to only suffer with mild U.C, and I shouldn't waste any more of my symptom-free time worrying about becoming unwell again.
So, I took a deep breath and agreed to go to The Isle of Wight Festival with my friends this year. I'm pleased to report I survived, symptom free, and had the time of my life in the process. I wrestled in jelly - which ended up on Sky Arts TV coverage of the festival - threw coloured powder at strangers, and chucked a pot of glitter across my face before seeing the inimitable Fleetwood Mac.
My first festival experience was so successful, it's prompted me to purchase a ticket for Bestival later in the year. Now I know I can cope, there's nothing stopping me. In celebration of this personal triumph, I've decided to share the 10 things I learned from my first full-on music festival in the hope it might encourage other people with U.C to embrace festival season too.
1. Anyone can handle a portaloo
I worked on my quads before IOW in preparation for squatting (that's a complete lie). You will want to avoid any kind of physical contact with the toilet seat if you can though, so upper-leg strength will be beneficial. Having a vivid imagination also helps, as it will distract from the sights and smells which surround you.
Top Tip: the portaloos run out of tissue and hand sanitiser at an alarming rate, so chuck some in your backpack before each visit.
2. Wearing make-up is pointless (unless it's glitter) and don't bother with a hair-brush or a razor. Let nature do its thing
There's so much more to do at a Festival than apply mascara, brush your hair, or shave any area of your body. You could be sun-worshipping in a hammock, screaming your head off on a fairground ride, or adoring the lead-singer of Coasts from a distance. Do not waste your time trying to look nice; the rain and sweat will wash away all your hard work. Just chuck some sunglasses on and embrace the elements; they will give you a charming, feral quality.
3. Don't underestimate the weight of two crates/40+ cans of cider. You will inadvertently re-enact the back-pack scene from Wild
I'm tall, strong(ish), and determined to prove I can hold my own. 'Holding your own' takes on new meaning, however, when you're lugging 40+ cans of cider across fields in one enormous back-pack with a broken zip. If you've seen Reese Witherspoon's back-pack scene in Wild you'll understand my pain. If not, a) watch the film, it's great! And b) death by back-pack is possible, but I narrowly escaped it.
4. Living in a field for four days is good for your soul/skin/sleep-pattern
Spending four days in a field, bathed in Sunlight will make you feel great. Vitamin D is my new drug, and I've never looked so bronze*. I'm a light-sleeper, but I experienced some of the best sleep of my entire life in a tent. I only needed 4/6 hours a night, and it was solid, undisturbed, enviably good stuff.
5. Vodka doesn't taste good when swigged from a plastic bottle
Sounds pretty obvious, but decanted vodka in a cheap plastic bottle is exceptionally unappetising. I discovered that 4-5 cans of Stella Artois pre-arena entrance set me up for the evening quite sufficiently, so I didn't have to abuse the spirits. Keep the plastic-infused vodka down to small swigs whilst watching the bands, and you'll be fine.
It'll help you to quickly identify your friend as she drunkenly stumbles in to your tent in the middle of the night, and it's handy on the morning walk to the portaloo. I also intend to use it as some sort of rave accessory at all future festival attendances.
7. Showering/being clean is over-rated
Not showering made me feel like a disobedient but cheerful child, and my stench wasn't as potent as I'd imagined it to be. A large pack of baby-wipes are an excellent shower substitute. You'll only need them to wipe off the jelly, glitter, and green & pink powder off, 12 hours after you've frolicked with strangers in said substances.
8. Wear knee-length socks with your wellies to avoid unsightly and uncomfortable rashes on your legs
A Self-explanatory and quite obvious point, but I only own walking socks that stretch to my ankles. Nothing worse than welly chafe.
I knew this before I went to The Isle of Wight Festival, but live music is unbeatable and definitely the best way to become a fan of a new or established band. Music is my best friend on a day when my body decides it's time for an unwanted U.C. relapse, but it's also my best friend on gloriously well weekends like The Isle of Wight.
10. Having Ulcerative Colitis doesn't have to hold you back - you can do anything
Maybe I didn't understand this because I was diagnosed when I was so young, but my recent epiphanies about U.C. mean I will never let Irritable Bowel Disease get in the way of a good time again. I've learnt to let go of some of the embarrassment and anxiety, and embrace my extensive periods of good health.
There's always the silent threat of a U.C relapse, of course, but the reward of attending a music festival is now so much greater than the risk. Whatever happens - I'll cope - because I always have, and I always will. Bring on Bestival - my body is ready.
*sounds own personal klaxon*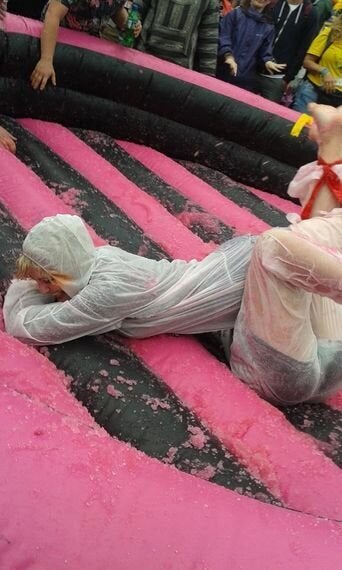 Related